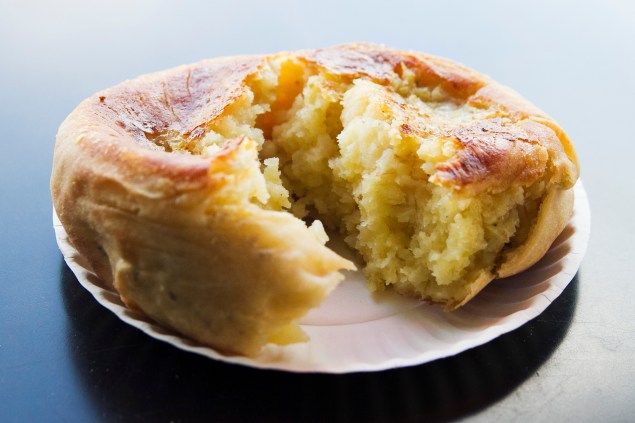 The small, historic Greenpoint Shul was stiflingly hot during Shabbat services last Friday, but downstairs, the air conditioning made it cool enough to want to eat heavy potatoes wrapped in even heavier dough. It was time to feast on knishes.
And as a mitzvah, on hand was Laura Silver, the world's leading expert on the knish, an honor she can claim by virtue of writing a book on the quintessential Jewish comfort food. So who better to tell a room full of Jews about the history of the knish as they're scarfing down the little treats?
Nobody, of course—zilch, zero, bupkis. Back in 2005, Ms. Silver discovered that her favorite knish shop, Mrs. Stahl's in Brighton Beach, had closed. As any longtime New Yorker knows, everything is fleeting and any treasured beloved local spot can vanish at any time. But rather than kvetch (or just kvetch) Ms. Silver decided to go on a literary quest. The result, Knish: In Search of Jewish Soul Food, made Ms. Silver, a food and culture writer, into the Mark Kurlansky of the knish. That, combined with comic timing worthy of the Catskills, means that Ms. Silver makes one hell of a guest at a Shabbat dinner.
Apologizing to Maurice Appelbaum, the earnest young Orthodox Rabbi valiantly running the weekly Minyan at the small, shoestring Shul at the nexus of Polish Greenpoint and hipster Williamsburg, Ms. Silver told the crowd that, historically, a knish has not always been a knish. As far back as Henry Roth and the Borscht Belt, the word has been used as a euphemism for the female anatomy. Oy vey!
Ms. Silver was liberal in other ways, too.
"Sure, why not?" she said, when asked if a knish could substitute the real stuff for sweet potato filling. She even acquiesced on jalapeno-cheddar filling, although she did draw the line somewhere: fill it with ham and cheese, and it is a hot pocket, not a knish. But sometimes, the traditional is best. Ms. Silver's favorite variety remains round (the round vs. square knish is an ongoing debate) and filled with kasha, which is buckwheat groats. But potato is good, too.
Like all humble peasant food, the exact history is hard to find. Nobody wrote down the first instance when mashed potatoes got wrapped up in dough. But the rise in popularity was, most likely, a product of Jewish immigrant nostalgia for the Eastern Europe that they had left behind. It was a cheap taste of home. And knishes were as plentiful on the Lower East Side in the early 1990s as green juice and fancy tacos are today.
"Where can we buy the book?" a man asked during the question and answer portion.
"Thanks, dad," Ms. Silver said to her proud father. One can find it at Word, the Greenpoint bookstore just down the street from the Shul. Barbara Silver, the mother of the author, was also in attendance, and wore a shirt advertising the book.
And why not? With a knish expert like Ms. Silver for a daughter, any Jewish mother would be kvelling.