Are you sure you want to endorse Fernando Cabrera for State Senate?
That was the message a slew of state and city lawmakers were looking to send to some of their colleagues, including Public Advocate Letitia James, in an open letter pointing out Mr. Cabrera's well-reported conservative views on issues like gay marriage and abortion.
"Your endorsements in this race are a deeply surprising deviation from your records of advocating for women and LGBT New Yorkers and your long record of supporting pro-equality, pro-LGBT, pro-choice, pro-woman candidates for office," the lawmakers and advocates, all of whom support Mr. Rivera's opponent, wrote.
Cabrera, a city councilman and pastor, is challenging incumbent State Senator Gustavo Rivera for his Bronx senate seat in a Democratic primary.
The open letter praised Mr. Rivera's record on gay marriage and abortion, two key issues for many Democrats, and was signed by State Senators Liz Krueger, Brad Hoylman, and Velmanette Montgomery; Assembly members Deborah Glick and Daniel O'Donnell; City Council members Corey Johnson, Carlos Menchaca, and Ritchie Torres; and representatives of pro-choice and gay rights groups.
"We are proudly standing with Senator Gustavo Rivera because he stands with all of us in demanding reproductive justice and full equality for all New Yorkers, and he has proven time and time again his commitment throughout his tenure in the State Senate," they wrote, before noting Mr. Cabrera has not done the same.
Ms. James was listed at the top of the letter's list of recipients, but it was also sent to Congressman Charles Rangel, who has fundraised for Mr. Cabrera, and others..
"Over the years, Fernando Cabrera has worked with the Public Advocate on economic justice issues throughout the Bronx. The Public Advocate does not share his views on LGBT equality issues, and continues to urge him to support LGBT rights and equality if he's voted into the New York State Senate," a spokesperson for the public advocate told the Observer.
Mr. Cabrera's views on homosexuality, out of step with those of many Democrats, have been in the news of late amid a video of him praising the government of the African country Uganda — which has strict laws that punish homosexuality with life sentences in jail, though Mr. Cabrera did not single out those laws while praising the government for its Christian leadership. He's also accepted money from Sean Fieler, whose comments about gay marriage have generated controversy and typically donates to Republicans.
Ms. James has never released a statement to endorse Mr. Cabrera in his State Senate bid, but she does appear on his campaign literature as an endorser.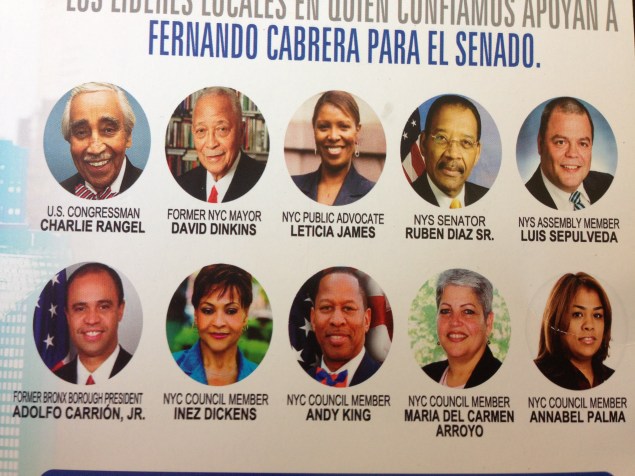 But at least one person also appearing on that literature — and receiving the open letter — denied choosing a side in the primary race: former Borough President Adolfo Carrion.
"I haven't endorsed anybody," Mr. Carrion told the Observer when asked about the open letter. "That's pretty funny. They wanna get me in a fight I'm not involved in. That's pretty cute."
Several lawmakers listed as endorsing Mr. Cabrera in the open letter and on his literature did not respond to requests for comment.
Mr. Cabrera's campaign also did not respond to requests for comment about the open letter or about Mr. Carrion's assertion he did not make an endorsement.
But in a statement released more than 24 hours after his remarks about Uganda sparked media coverage, Mr. Cabrera did look to defend his views on homosexuality.
"I do not support the persecution of gays and lesbians anywhere, whether it's in Uganda or right here in New York State. These are not just empty words, but are backed up by actions on my part. When a young gay man was attacked and beaten in my district I along with then Council Speaker Christine Quinn organized a really and spoke out against this violence," Mr. Cabrera said.
Mr. Cabrera called reporting on the Uganda issue — specifically naming a Crain's reporter — "dishonest" and said it implied he supported Uganda's anti-gay law, though that story includes a statement from a campaign spokesman noting Mr. Cabrera never specifically endorsed the anti-gay law.
"As State Senator, I will work aggressively to represent the interest of all my constituents.  Together, we can build a city and state that is stronger, fairer, and, yes, accepting for all New Yorkers," Mr. Cabrera said.