Leon Hess was angry with Mayor Ed Koch. Really angry.
The mayor didn't like football and, worse still, declined to attend Jets games at moldy Shea Stadium.
And that is a major reason why, 30 years ago this summer, the Jets left Shea Stadium and New York—a seismic move that left the Big Apple without an in-house N.F.L. team and changed the sports landscape of the outer boroughs and Long Island.
Worse still for Jets fans—it may have set into motion a decline in the team's fortunes. And somewhere along the way, there was the missed opportunity to sign a quarterback named Dan Marino instead of Ken O'Brien.
Hess, the no-nonsense billionaire Jets' owner, whose gleaming green-and-white gas stations dotted the Eastern seaboard, knew how to play tough. He had been the petroleum supply officer during World War II for one Gen. George S. Patton and his many tanks. Hess dealt one-on-one with a fellow in the Middle East named Moammar Khadafy. With a wry grin, Hess recounted sitting opposite the dictator as they negotiated oil prices, after Khadafy placed a revolver on the table between them—"and I'm here," added Hess, indicating his fearlessness. So he didn't much fear other N.F.L. owners, or even the most famous mayor in the world. And yet he was a sensitive soul when it came to his Jets. No one—not even Koch—dissed them.
Hess had chafed for many years at the way the Parks Department ran Shea. In particular, he couldn't abide those awful bathrooms. I couldn't blame him. There was a water drip coming down to my press box seat, squirting my Olivetti portable typewriter. It took Parks a year to fix the leak, so I could imagine what they couldn't do about major repairs. And of course the Jets also were second-class citizens to the Mets, who didn't want the grass ripped up during the baseball season, and who, to add to the insult, also made money from every hot dog sold at a Jets football game, and also kept the Jets' parking revenue. The Mets had been given this spectacular deal soon after they were created as a forlorn city hoped to erase the sting of losing the Dodgers and the Giants. The Mets even had the power to keep the Jets out if the Mets were lucky enough to get to the post-season. In 1973, the Jets played their first six games on the road because the Mets were in the World Series.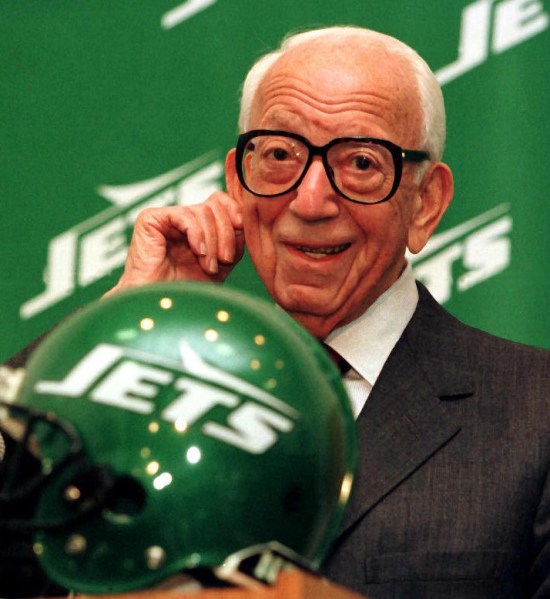 But Hess understood hardball. Although his Hess Corporation was a major contributor to the Metropolitan Opera, he didn't play second fiddle to anybody. He had bought the Jets a piece at a time, starting out sharing ownership (he chipped in $250,000) with a group of New Jersey-based millionaires, who had been his partners at Monmouth Park race track, and methodically dumping each of them to wind up as the team's sole owner. After the Giants moved across the river to the Meadowlands in 1976, Hess had often spoken to Giants' owner Wellington Mara about the possibility of sharing Giants Stadium. The deal would not be difficult, because Hess Oil was based in New Jersey, and Hess was one of that state's most important figures.
One day in 1983 Hess called me. I was surprised. In the 25 years I covered the team, he had given two press conferences. When I'd see him at the team's practice sessions, he'd call me over and whisper, "Don't put in the paper I was here. I'm supposed to be at the office." Photographers were not permitted to snap him or his family.
But now he was telling me he had grown tired of what he perceived as Koch's empty promises to fix up Shea, where the Jets had played since 1964. The city, knowing Hess was making gestures toward Jersey, came up with a vague plan to increase Shea's seating, to give the Jets a share of the hot dog revenue, to let them take in money from parking for their own games.
Then he read me a letter he had sent to Koch. It began, "Dear Ed," for there had been long-standing friendly ties between the men. Hess and his family had contributed almost $50,000 to Koch's unsuccessful bid for governor.
Hess sent me the letter in which he wrote, in part: "During your five years in office you attended only one JETS' game, in the company of Governor Carey, and then only stayed for a brief period."
Clearly this was a painful insult to Hess, but he was willing to stay if Koch could show him a viable plan to fix up the place. There was some talk about major renovations, but never any guarantee.
Hess' mantra was loyalty. He had been close to the Shah of Iran as a result of their oil dealings. So when the Shah was ousted, and then dying of cancer, Hess brought him to stay in his Park Avenue apartment while receiving treatment. Perhaps the final straw came at what Hess saw as an unforgivable snub. Koch's advisers, realizing Hess was serious about moving, made plans for Koch to attend the next Jets game at Shea. They called Hess, who had his private box spruced up. But alas—Koch's inner circle had forgotten that Koch's brother was getting married that Sunday, and Koch never showed up for the game.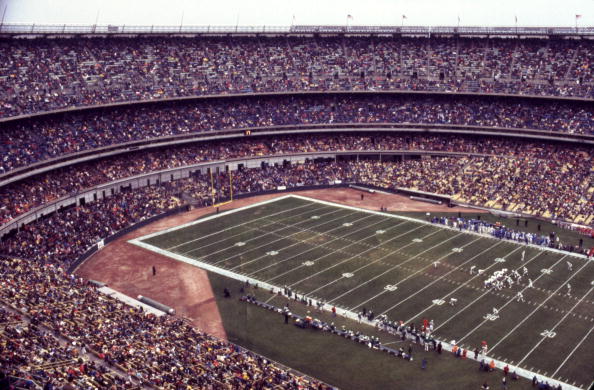 Hess gave Koch a deadline date to present a proposal—which wasn't met. Finally, an exasperated Hess said he'd move to Jersey, but would come back after five years if the city would put in place all the things it had promised—or better still, built a new stadium.
But if you're a Jets fan, and ponder all those bizarre events that have clouded the franchise, you may not want to read further. For had the Jets known a year earlier they were going to move to New Jersey, and not played in Queens, they might have wound up as a super-power instead of being a sometimes-good, often-bad team.
O.K., it's painful, I know. But let's take a look at some little-known what-ifs.
The 1983 draft was perhaps the most famous in N.F.L. history. Six quarterbacks were snatched on the first round—with John Elway going first. The Jets, searching for stability at quarterback, drafted far down since they had gotten to the American Conference championship game following the 1982 season, losing to the Miami Dolphins.
Mike Hickey was the Jets' draft guru, a fellow who, according to a rival personnel maven, didn't follow the crowd. Hickey loved finding gems hidden in obscure places. Sure, any scout could go to Ohio State or Notre Dame and find some big stud. Hickey was cleverer than that. He was fixated on O'Brien, a strong-armed quarterback who had played for the University of California-Davis—a school known more for its wine-tasting courses than its football program. But O'Brien also had an IQ greater than 130, and Hickey felt that the Jets needed a quarterback of high intelligence to run Coach Joe Walton's complicated offense. So Marino, hardly an A-student, was still on the board when the Jets' turn came. Instead, they snatched O'Brien from obscurity.
But there was one other factor in taking O'Brien, Hickey conceded to me some years later: O'Brien was drafted to fight the winds at Shea Stadium as well as many other factors. Shea had that open, exposed side and needed a strong-armed quarterback. But I wonder if Hickey had known that a year later the Jets would be at the less windy Giants Stadium, they would have been so enamored of O'Brien. And perhaps they might have become something more than "Same Old Jets." And perhaps their quarterback situation, a perennial problem since Joe Namath's decline, might have been solved. Perhaps.
Amid the chaos of a club in perpetual change, and ferment, there was a very human factor. If you walked through the offices of the Jets' training complex at Hofstra University in Hempstead, Long Island, you did not get the feeling you were at a pro football team's secret enclave, with its hush-hush, lips-buttoned atmosphere. Rather, you were at a family-run business where there were a lot of long-time employees who loved their jobs.
I remember the immediete smiles from Connie Nicholas Carberg (whose father was the team's internist and whose uncle was the orthopedist), and Kathy Reade, who greeted visitors; the friendliness of John Buschhorn, who was on the business side, along with Mike Gerstle, Bob Parente, and Mike Kensil (whose father had been the club's former head); the sometimes-guarded locutions of Steve Gutman, the team's president, but who also was an empathetic man who, unlike many football executives, allowed his humanity to show.
There were people like Frank Ramos, the club's forever public-relations guy, who grew up in the job working with the iconic Namath, and who had a fine eye for front-office talent. One of his summer interns was a fellow named Roger Goodell. Some years after getting coffee for his boss, Roger became the N.F.L.'s commissioner.
The training camp at Hofstra, of course, meant that almost all the players lived on Long Island. That was their home, not Giants Stadium across the Hudson. The Jets even built a practice field at Hofstra that mirrored the slope of the Giants Stadium turf, so that what they saw on Long Island was the same thing they saw in New Jersey. Still, the Jets were the only club in professional sports that played in a stadium named for another team. This was a significant aspect to the Jets that, I believe, played a role in their inability to sustain success: they were outsiders in their own home.
Every Saturday after practice, whenever they had a home game, they piled into team buses and left their real home, on Long Island, to sleep in New Jersey. They were all quartered at a hotel not far from Giants Stadium, and so for 24 hours were on the road—at home. "We play 16 road games," some of the Jets used to say.
Despite that inconvenience, they were still the New York Jets. A visitor to the training complex saw that Super Bowl III trophy in the lobby. And then in 2008, they decided to make the complete shift: the offices would be moved to Jersey, to a spanking-new complex in a place called Florham Park.
And what about those 80-or so Jets' employees, virtually all of them living on the Island? A few moved to New Jersey. Many more decided to commute. The Jets, generously, according to one ex-employee, gave retirement bonuses to others who declined to move and also paid for relocating those who wanted to follow the team.
Of course, the Jets have never come back, even though Hess had said they would if they could get a "first-class" stadium. Besides their training camp in Florham Park, they have been ensconced in MetLife Stadium since 2010. But at least one prescient New Yorker never expected them to return.
After Hess had announced that the Jets would make the move to New Jersey, but held out the promise he'd return, I had an interview with Mayor Koch.
"I don't think he ever intended to come back to New York," Koch said with some bitterness. And then he told me something I have never forgotten, one of those truisms you learn along life's road.
"Billionaires," the mayor of New York told me, "aren't stupid."