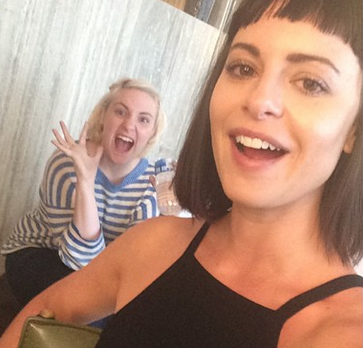 Lena Dunham is getting ready to embark on her book tour for Not That Kind of Girl, and she might be taking advice from fellow girl-power-self-help author Sophia Amoruso.
Ms. Amoruso, the balls-out founder and CEO of party girl garb emporium NastyGal.com, released her own tome, #GIRLBOSS, earlier this year. #GIRLBOSS tracks Ms. Amoruso's rise from dumpster-diving punk to ecommerce heavyweight, and is full of no-nonsense work and life pointers that could apply to any career path. It's a fun read, and worth the indignity of toting around a book with a hashtagged title.
Today, Ms. Amoruso posted a photo of herself and Ms. Dunham to Instagram. The caption: "@lenadunham and I have some shit up our sleeves and it's not from wiping." Stylish and witty! Ms. Amoruso is the coolest.
So what could these two be working on together? We've reached out to NastyGal's PR to find out. In the meantime, we can only speculate, but here are some things that would be really cool in case Sophia or Lena's people are reading:
• A tag-team TED talk about how making it in the business and entertainment world as a young woman. Maybe it could be a musical or an interpretive dance. Ms. Dunham could summon her sick moves from that Sia lip-sync.
• A Lena Dunham clothing line for NastyGal. We see ruffles, tulle and Peter Pan collars.
• A Sophia Amoruso cameo on Girls. She could play the scarily badass leader of a girl band who's going after Adam. It worked for Jenna Lyons!
• Ms. Amoruso appearing on Ms. Dunham's book tour. This is probably the most likely scenario. Hopefully it will consist of a Q&A-style convo between the two ladies.
Whatever these two are planning, it's sure to be funny, fun and stylish. Can't wait.