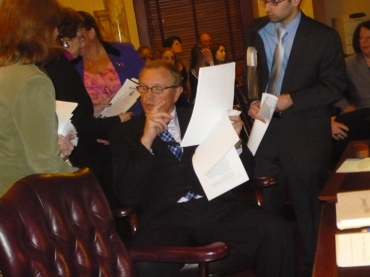 TRENTON – The Senate Judiciary Committee mostly enthusiastically backed Gov. Chris Christie's nominee to the Board of Public Utilities, over a reluctant no vote from Sen. Mike Doherty (R-23) and one notable abstention.
"My abstention speaks for itself," said state Sen. Ray Lesniak (D-20), Elizabeth, who left his intentions with Judiciary Chairman Nicholas Scutari (D-22).
Lesniak's lack of interest in embracing Assemblyman Upendra Chivukula (D-17) goes back to the 2014 Democratic Primary in the 12th District.
Chivukula aligned himself on the ballot with the veteran senator's longtime local foes: the group otherwise known as the Elizabeth Board of Education.
The assemblyman came in third in that race, behind the Democratic nominee Assemblywoman Bonnie Watson Coleman (D-15) and Senator Linda Greenstein (D-14).