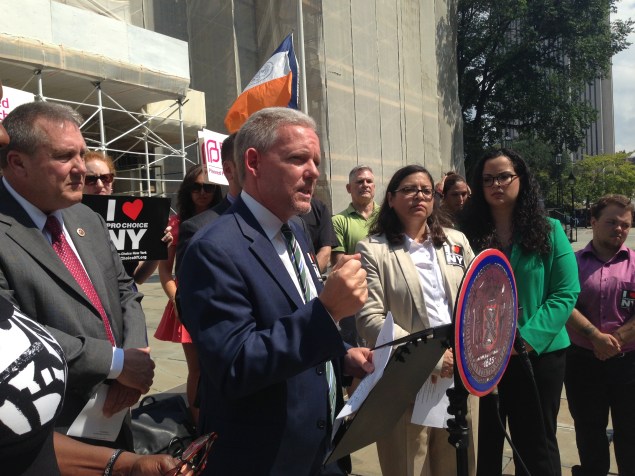 Even as Councilman Fernando Cabrera insisted Friday he did not support the harsh anti-gay laws of Uganda, a country whose "Godly" government he praised on video, his colleagues in the City Council slammed his comments and his record on issues that matter to the lesbian, gay, transgender and bisexual community.
"Today, somewhere in Uganda, there is a teenager. There is a teenager who is trying to come to terms with his or her sexuality, wondering whether or not they should live or die, whether or not they should commit suicide or they should take up the struggle to fight for equality in their own country," Council Majority Leader Jimmy Van Bramer, who is gay, said today at a City Hall press conference. "And Fernando Cabrera sent a message to those young people, intended or not: that we don't give a shit if you live or die."
In a video taken during a trip to Uganda, Mr. Cabrera — a socially conservative pastor challenging incumbent State Senator Gustavo Rivera in a Democratic primary — made no mention of the country's controversial law criminalizing the "promotion" of homosexuality. But he praised Uganda's "Godly people" in government, and its refusal to accept gay marriage in the face of U.S. pressure.
In fact, the U.S. has not pressured the African nation to adopt gay marriage — something the U.S. government has not even adopted — but has instead pushed back against the law criminalizing homosexuality, for which gays can be sentenced to life in prison, Councilman Corey Johnson said.
"He was either just factually wrong or just willfully misleading folks to try to score political points," Mr. Johnson, who is gay, said. "But whatever his point was, he is dehumanizing gay and lesbian people here in New York and in Uganda."
The Council members and other advocates for gays who gathered with them didn't just take aim at Mr. Cabrera — they also slammed fellow Democrats who have endorsed Mr. Cabrera, including Public Advocate Letitia James.
"Those who have endorsed him need to stop that as well. It is no longer acceptable and it is morally wrong not to support equal rights for LGBT people," Councilman Daniel Dromm said.
Ms. James' office said yesterday she does not agree with Mr. Cabrera's stances on gay rights but agrees with him on other issues. Today, Ms. James would not speak with reporters who tried to ask her about the endorsement as she walked through City Hall, saying she was late for a meeting.
Just 30 minutes before the gay and lesbian Council members gathered on the City Hall steps, Mr. Cabrera held his own press conference to insist his remarks praising the government in Uganda had been taken out of context.
"I find it appalling, I find it disturbing that anybody would insinuate that somehow I support these laws that have been put forth in the country of Uganda, in particular that members of the LGBT community should somehow be incarcerated for life — that's not our values, that's not what I stand for, that's not what I have stood for," Mr. Cabrera said at a press conference today.
Mr. Cabrera said his comments were meant to laud the democratic government that took over after years of violent dictatorship, and to call other Christians to seek office. And he insisted that, despite the video and his long-standing opposition to gay marriage, members of the LGBT community would still support him.
"I have many members of the LGBT community that voted for me before they'll continue to endorse me and be there with me. It's obvious through the polls, it's obvious through the last election that I won and where, overwhelmingly, it was a total landslide," Mr. Cabrera told the Observer. "They know I bring the resources, they know I treat everybody equally, they know I do this because I care."
Mr. Cabrera said his views on same-sex marriage should be welcome in New York, though the matter has already been legally settled by the legislative body he hopes to join.
"We have democracy here in New York City. A city that prides itself on tolerance should welcome this level of discussion," Mr. Cabrera said.
But the gay and lesbian Council members disagreed, saying Mr. Cabrera's views on gay rights were no longer acceptable.
"He must be called to the carpet. Enough is enough. We will not sit idly by while a colleague of ours believes we should not have equal rights," Mr. Johnson said.
Mr. Van Bramer also took issue with Mr. Cabrera's assertion that he had allocated money to groups benefiting gays and lesbians and his district.
"If somehow that's supposed to make it OK, what he has done, that further is an outrage," Mr. Van Bramer said. "That is taxpayer money that our community rightfully deserves."
Mr. Cabrera said he called the press conference at the advice of Councilwoman Rosie Mendez, a lesbian, who was among those blasting Mr. Cabrera at the press conference today.
"We had a tremendous good discussion today. It was actually at her suggestion that I should have this press conference," Mr. Cabrera said.
Ms. Mendez didn't characterize their chat in quite the same way: "We had a very lively conversation about his video," she began.
The councilwoman said she told Mr. Cabrera his support for civil unions rather than gay marriage relegated her to a second-class citizen.
"He told me that he is not, that the video was taken out of context. I told him I watched 20 minutes of the 30 minutes and that I was calling him out of courtesy to tell him that I was going to be standing with some of my colleagues denouncing that video," Ms. Mendez told the Observer. "Whatever he thought he said, I interpreted that as praising that government. I interpreted that as hatred against LGBT individuals, and that that policy against LGBT individuals there is OK — and it is not OK."