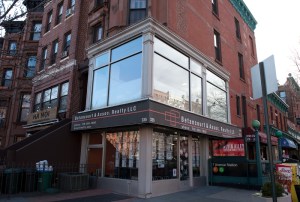 Luis Martinez, a residential broker who has been active for many years in Brooklyn—most recently as manager of the Warren Lewis Sotheby's International Realty office in Williamsburg—announced today that he has acquired Betancourt & Associates Realty, a 26-year-old boutique firm situated on a corner 7th Avenue property near Prospect Park. The previous owners, Tim Betancourt and John O'Reilly will stay on as agents with the company.
A neighborhood-centric firm since before so many admitted that the neighborhood was worth being centric about, Betancourt's lengthy local tenure and longstanding relationships held considerable appeal for Mr. Martinez, who, looking for a change of pace, had only just been lamenting the lack of small, reputable independent brokerages on the market, when he heard that Mssrs. Betancourt and O'Reilly were interested in selling.
"Betancourt's reputation for quality service and awesome record for repeat business really attracted me to it," Mr. Martinez said. "Its core agents have been together for years and years. It's a company that's well positioned to transition from old school Brooklyn to becoming, now, an NYC boutique REBNY member."
With the additions of Mr. Martinez, plus a marketing and operations manager and two new brokers, Betancourt's team is now 12 strong. (You might recognize one of the new agents, Ben Wartofsky—Mr. Martinez's business partner during his time at Corcoran—from his appearance on Last Comic Standing.) Over lunch recently at a small Italian restaurant in Park Slope, the new owner said that he intended to build upon the brokerage's extant business, expanding its reach to other precincts of the city and beyond. He suggested the possibility of seasonal pop-up storefronts; agents will be encouraged to operate independently, building their own brands in concert with the Betancourt umbrella.
Sotheby's, of course, has not been the only industry player to awaken to Brooklyn's lucrative possibilities. Douglas Elliman, Stribling, Brown Harris Stevens and others have established buzzing outposts. (Just a few doors down from the restaurant, we could not help but notice a Halstead office with a tres Brooklyn chalkboard easel declaring: "Agents On Duty.") But Mr. Martinez, who lives nearby, in a renovated condo occupying a former tool-and-die shop in Gowanus, did not appear deeply worried by the competition, confident that his office's area ties would continue to stand it in good stead.
"This business is all about relationships," he said. "Without that, you're just selling stuff."