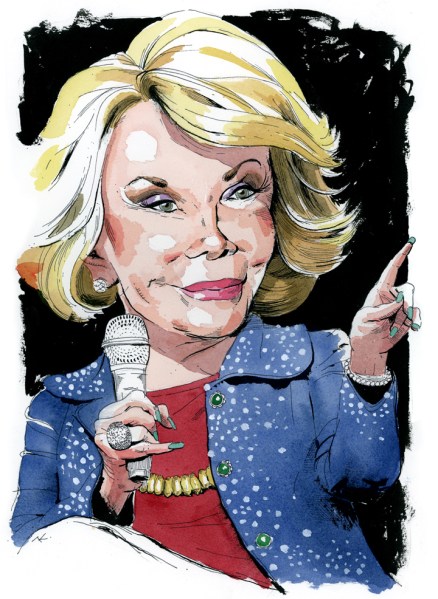 This wasn't supposed to be an obituary. She was supposed to beat the odds—like she had her entire life—just one more time. And then she'd wake up and read all the things people had been saying about her all week, before she was dead—or as she might say, when the fuckers really meant it.
These aren't suck-uppity celebrities here. These are real people (well, some are journalists, but still), many of whom had only one encounter with Joan Rivers—yet somehow that contact had a profound effect on their lives. That was the thing about Joan. She was never like the rest of the bitches. (Hello, Barbara Walters? Did you really just say in the Daily News, "She wasn't a great beauty and she didn't have great success with men"? Hahahahahaha! Oh, Joan, where are you when we need you?)
Anyway, one thing that was clear in the awful days since she went for that allegedly routine procedure and stopped breathing (Memo to Melissa: Sue the bastards!): she touched so many people out there. I mean, really, really touched. I was one of them.
I was a 23-year-old writer for Atlantic City Magazine. (The New Yorker was my second choice.) Joan was my first "celebrity interview." And a cover story! I was terrified, and I am not the terrified type. But this was Joan Rivers. At the time, 1984, she was the best thing to happen to Atlantic City since the diving horse. She had just secured the biggest entertainment contract in town, bigger than Sinatra's. She was at the top of her game. (These were the days of her awesome Liz Taylor jokes: "She's so fat, when she wears a yellow dress, 30 school kids try to board her." God, I loved that joke.) She had every reason NOT to indulge some idiot rookie writer from Atlantic City Magazine. But she did.
I remember arriving at her suite at Resorts International. Her husband Edgar, who would commit suicide three years later, was there with her, hovering around. At one point, their then-16-year old daughter, Melissa, called and it was the only time I saw him smile.
Joan sat right next to me on a couch in her tricked-out casino suite. I had stupid questions. She gave me answers that made my questions look smart. A few times, she held my hand. I remember that one of the neatest things I learned about her was that whenever she stayed in a hotel, she always took the miniature shampoo bottles home with her. And the little soaps and I think even the shower caps. She kept them in a closet in her home because she was terrified that someday she could lose it all. At least she'd have shampoo.
At the end of our interview, she peppered me with questions about whether I was dating anyone and whether he was marriage material (yes and no). She encouraged me to get with the program! Then she walked over to the bar in the suite and thrust at me an expensive bottle of Pouilly-Fuisse that Resorts had put there. Being a newbie and an asshole, I demurred. Oh, no, Joan, I cannot take wine from my subject! Journalists must have ethics! She laughed. Then she said, "It's a rich company, take it! And drink it with your boyfriend, whoever he might be."
As corny as this sounds—and Joan would hate corny—I somehow thought every other celebrity I interviewed in the years to come would be like Joan Rivers. I wish.
But she made me believe. She gave me confidence.
 ***
I was still in my senior year of college when I was lucky to land an internship at The Joan Rivers Show. It was my second day on the job when Joan personally called me into her office. She introduced herself and then introduced me to her Yorkie, Spike. This was right after the movie "A Fish Called Wanda" came out. Joan handed me Spike's leash and then handed me Spike and said "Take him for a walk and if you snap his neck, don't fucking come back!"and then she laughed. I was never so nervous in my entire life but needless to say, we both survived and bonded over the four years that I was on the show.
Joan was unbelievably generous and even though we were a cheap show with a bare bones budget, she would make sure the staff was taken care of, even if it meant a Joan Rivers Jewelry collection Faberge egg necklace (even for the men) for Christmas because the network wasn't giving us a bonus.
She would go to parties and grab as many "goody bag swag" that she could – for her driver, the drycleaner, the doorman,etc… She wanted to share her experiences with people who didn't have the opportunities that she had.
She wanted to make people happy.
—Jama Podell-Vitale, producer, Fox News
My father, an ob-gyn, grew up on Eastern Pkwy in Brooklyn, and in fact lived in the same building as Joan Rivers, who was then Joan Molinsky: Turner Towers. When we were growing up he told us that he dated Joan Rivers for a short time. We liked to think that her jokes re Ob-Gyns were in honor of him. When I was about 14, our family stayed at the MGM Grand in Las Vegas, after a rafting trip down the Colorado River. Who was playing that night but Joan Rivers. We got tix to the show and I coaxed my dad to see if we could get to see her privately. He and I left our seats and called the operator from a phone in the lobby…they connected him to Joan's dressing room. She told my father to come down and say hello…and so we went to her dressing room. Melissa was there – so young and adorable … I think a small dog, too. Joan and Dad chatted and caught up and I sat quietly, more awestruck by Melissa and what a lucky life I thought she must lead. We rode the private elevator to the stage with Joan and were led back to our seats. I told my disbelieving mother and brother what had transpired. They were sure we were trying to get one over on them. Then I described to a T what Joan was wearing…and out she came for her LV show. Joan, my dad's ex-girlfriend.
—Julie Wallach Hochman, Columbus, Ohio
I interviewed her years ago and adored her: She was one of those old pros who come to play ball and are thankful for what they have. After the initial interview, my editor had some follow-up questions I needed to ask her by phone. My father had just died and I was sitting shiva in my mother's apartment, which I told Joan when we spoke. She interrupted the interview to say, 'I have one piece of advice, anyone who wasn't nice to him when he was alive, fuck 'em!"
—Emily Listfield, writer
I worked for Joan for three years – she was amazing to me. I was her stage manager, but I was also working after hours at the Naked Angels theatre company. My theater was down the street from Barney's where she went many days after work. She would sometimes give me a ride and then buy me some item of clothing. Since I was her stage manager, my work attire was usually jeans and a tee shirt, so she would add to my wardrobe with something beautiful I wouldn't ever get for myself, like a silk scarf or suede skirt. She sent me roses on Naked Angels' openings—long-stemmed pink roses that literally came up to my chest—and she donated all sorts of furniture to the company, which we used as set pieces for years. But the most generous and incredible gesture was that a week after I left her show, my dad was diagnosed with an extremely rare brain cancer – she found out and had an oncologist from a very prestigious NY hospital look at his scans and consult on his case at Hartford Hospital in Connecticut. When he died a month later she called, sent food and flowers (the first basket literally couldn't fit in our back door), talked to my mom and sent us a beautiful letter. She remains one of the greatest ladies I have ever known.
—Julianne Hoffenberg, Director of Operations at The Gathering for Justice
In 1979, I was a journalism major at Temple University, working on the school newspaper. Big hubbub on campus as Joan Rivers showed up at the Student Activities Center to promote her movie Rabbit Test. I happened to be tasked with getting the 'celebrity interview.'
I was a kid. I was an amateur in every sense of the word. First of all, the fact that she agreed to take time out of her schedule to speak to me was shocking. I was not unaware that she had more important interviews lined up, no doubt, especially with the promotion of a movie. Not only did she agree to speak with me, but she was patient with my questions, some of which were totally inane, and treated me with respect and kindness. I remember loving her detailed answers, complete with great quotes; answers all given in a pronounced New York accent.
I will never forget the kindness she extended to me at what I'm quite sure was a very busy time. She was completely gracious, and made me feel like a pro–even though clearly, I was not.
—Wendy Gordon, Flash Public Relations, Washington, DC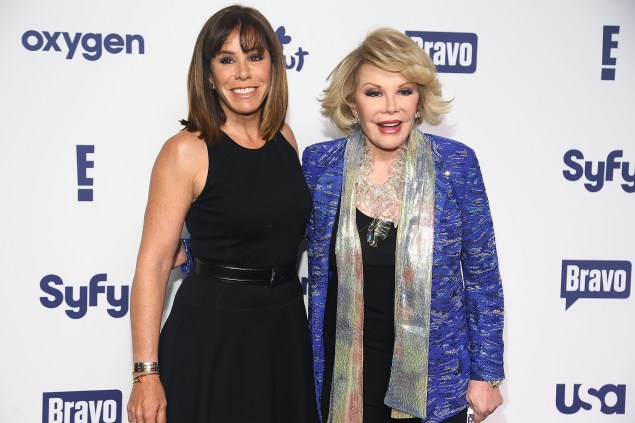 She had other writers, and funnier ones, but when the University of Pennsylvania asked Joan Rivers to give one of the commencement addresses in 1989, she asked me to help her write it. I think she wanted to present herself as a lady and spare her daughter Melissa, who was in that graduation class, the embarrassment of her brutal, self-deprecating humor. I'd gone to Harvard and trafficked in New York society — Joan's bet was that I knew how to talk to "those people."
I did. But could Joan? To develop the material for her talk, I pelted her with high-minded questions. But as soon as I started quizzing her, Joan turned into the bigmouth comedian who lived for the approval of her audience.
With one exception.
"Joan, how do we treat the little people?" I asked.
"Why, we treat them better," Joan replied. "We only shit on people at our level or higher."
Over the next few years, I saw that was so. Every time I went to dinner in the ballroom that once belonged to J.P. Morgan's daughter, Joan would call for the waiters, cooks and kitchen staff to come out. She would thank them. And the guests would applaud. I never saw another New York hostess do that.
I last saw Joan a few months ago, at a lunch. I mentioned that my wife and daughter never missed Fashion Police.
"Your daughter?" she asked. "How old?"
"Twelve."
A young fan! That gave Joan huge pleasure.
"Give me her name and address."
I did. Joan left. Someone said that had been an empty exchange, Joan playing to the crowd — my daughter would never hear from her. But a few weeks later, a package arrived. A Fashion Police badge. A bracelet from the Joan Rivers Collection. And a lovely hand-written note.
And I thought: The little people, we treat them better.
—Jesse Kornbluth, author and editor of HeadButler.com.
The first time I interviewed Joan Rivers was in 2000 a few months before my wedding. She liked my ring and we were off to the races. Melissa was there too, and we talked about how mothers always think they know best. I wound up tearfully telling them my mom had died. The next day I received a gift from Joan with a note saying: "Your mother would be so proud of you."
A few years later, it was the only time I ever had a spot on the red carpet at the Oscars and I was literally behind a hedge that made it all but impossible to get anyone to talk to me. While we were waiting for the stars to arrive, Joan happened to see me. I joked I might as well go home. She said, 'You're coming with me.' She took me by the arm – I wound up standing just outside E!'s shot. 'Now you'll get a raise!' she said.
I'm still using the readers she sent me from her QVC line, because she sent me a carton of six! I had told her I ordered a tortoise pair and I loved them, and in a matter of days, six more arrived at my address. With a leopard case. You know, she never went anywhere without pieces of her QVC line to give out. Last year at Michaels, she reached in her bag and gave me a pair of earrings. I saw her do that to a lot of people in that dining room. And, they were pretty. She has exquisite taste.
—Diane Clehane, entertainment reporter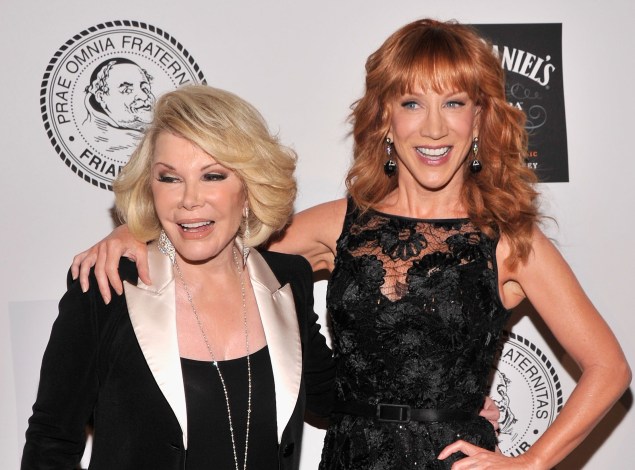 I first met Joan in Atlantic City when she was an opening act. And playing in the gay night clubs on Kentucky Avenue after her set (she was always trying out new material). Then her big break! She was opening for Robert Goulet and he was "indisposed"—code for drank too much—and she was asked to go on for him as the headliner at Resorts. She was a BIG hit and the rest is history! That lead to that Fat Contract.
We connected when we discovered we were both Barnard Graduates. She was very smart and had street smarts too. And she respected education.
She would often invite me to come back stage, Her sister was there one night and she and Joan apparently had a very close relationship.
After one visit I sent her some flowers to her dressing room. When she sent me the most beautiful personal hand-written thank you on simple but elegant thick card stock, that made a great impression on me. Nobody has those social graces anymore.
—Fran Freedman, Publisher and founder Atlantic City magazine
I was at NY Fashion Week. The crowds applauded and parted for Joan Rivers as she took her front row seat at Badgley Mischka. I saw she was clutching kleenex, sniffling, dabbing at her nose. A cold, perhaps? But she was a pro, still her regal self. Crowds then heaved in the direction of the requisite flash-in-the-pan psuedo-celebs and I found myself face to face with her. "I'm sorry if you're not feeling well," I told her. She nodded her elegantly coiffed head at me. "Can I just say, you look fantastic for being sick," I continued. Then she reached for my hand — her kleenex in the other — and told me I was a doll. For that, I'll love her forever.
—Tracy Sefl, Democratic political consultant
When I did my first book of six-word memoirs, I reached out to Joan. She immediately replied, "Furious! Had same idea for 7!" A few moments later, she shared the six-worder we used in the book: "Liars! Hysterectomy didn't improve sex life." My parents never tire of recounting how they used to see her in small clubs when she was just getting started. Best part was, the six-word community started spontaneously doing six-word tributes to Joan.
—Larry Smith, founder of the Six-Word Memoir project
In the spring of '85, my partner Jerry Taylor and I were putting together a parody of Cosmopolitan Magazine. We were struggling for a good cover idea and someone came up with trying to get Joan Rivers to do a cover shoot. We didn't think it was possible but we were going to try, and so we called her agent. Next thing we know, we are sitting across from Joan and her husband Edgar in an elegant suite discussing in detail what the cover joke was going to be. She's smart, funny, knowledgeable and straightforward. She has no entourage. It's just the four of us. We come to an agreement on her fee and it's done. We're in a state of disbelief. We got Joan Rivers—THE Joan Rivers—for our Cosmoparody cover?!
Joan shows up on time, ready to work. No shoot's ever easy, except this one is. Joan hits her marks, gets it done and in the can. The shot is pure Rivers, dressed to the nines, gleaming red lipstick and nail polish, blonde hair in a bouffant to end all bouffants, and, this being Cosmoparody, the elegant, refined Rivers is way out there with a perfectly displayed Cosmo cleavage shot.
She hit it out of the park. Again.
—Edward Shain, President, TSM Publishing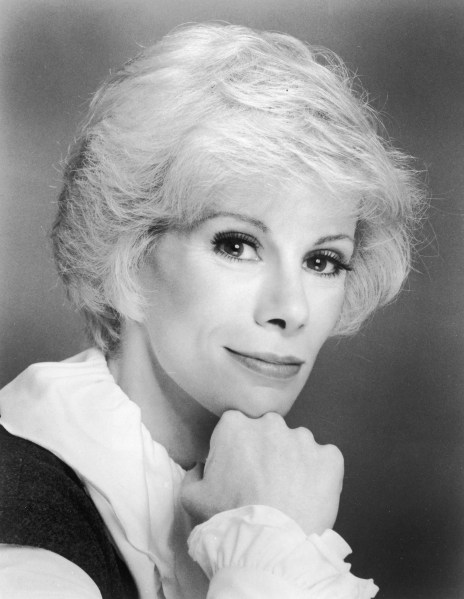 Joan was my Valentines date two years in a row—and probably one of the sweetest Valentines dates I ever had. Back in the early aughts I was sole guest two V-days in a row on her WOR radio show. I had written relationship books so we were doing girl talk dispensing 'love wisdom.'
We joked that we should probably make it an annual affair since men were so unpredictable. I knew she'd be wickedly funny but she was also incredibly sweet. The second time I was on, Melissa was going through her divorce and during commercial breaks Joan kept asking me advice about how to be a support to her daughter during this rough time. Her love for Melissa then and now is what she lives for.
—Sherry Amatenstein, relationship therapist
In the fall of 2011, I was taking a profile writing class at NYU and also working as an intern at NBC. I was a fan of Joan's my entire life, even though I spent most of my life in Brazil. When I moved to New York, I lived a few blocks from her building on 5th Avenue and always wandered by thinking, 'What if I met her?' i wasn't a stalker or anything! I just loved her! Well, while I was interning at NBC, I heard she was going to show up sometime that month. Luckily on that same week I heard the news, my professor at NYU brought Jonathan Van Meter, who wrote the brilliant New York magazine piece about Joan, in to speak to our class. Being a huge fan that I am, I had him sign a copy of the story for me. I carried that autographed copy for days until the day finally came: Joan showed up for an afternoon show on NBC.
While she was leaving the floor on her way out, I totally misbehaved (we had rules about how not to approach celebrities), and ran after her.
While she was getting on the elevator, I yelled "Joan no!", then showed her the signed copy…Oh boy… she was so surprised.
Not only did she sign it for me, she even made a joke of how she was wearing a wig at the time the picture was taken for the story.
She was sweet, witty, sarcastic (of course) but extremely loving. Although there were probably nine people around, trying to build a wall against crazy interns (me), she looked me in the eye and said: "Thank you for this surprise."
When I came back to class and reported all this, my professor was mortified, and bitch-slapped me in front of the whole class.
Weeks later, I interviewed Graham Reed, her assistant, for that same NYU Magazine class, and I think I redeemed myself. Until today, he and I are still good friends.
—Joaquim Andrade, Journalist in São Paulo, Brazil
(Author's note: Joaquim was my student and he did in fact redeem himself. He got a well-earned A. His Elizabeth Taylor obsession is a whole other story.)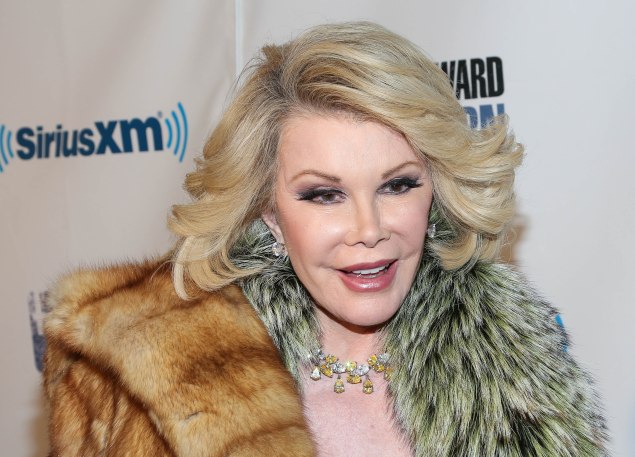 I was a guest on her syndicated show when my mom was dying of cancer. She called my mom at the hospital to cheer her up. The nurses didn't believe it at first but Joan has a way of convincing people. Because of her my mom was moved into LBJ's former presidential suite at Bergstrom Air Force Base Hospital in Austin. There is no better medicine that someone can give someone near the end of their life than laughter and that she did. And I will always be grateful. The day of my mother's funeral I flew back to New York from Austin to do Joan's show the next day. Our wonderful producer Jama Podell-Vitale put me up in a suite at the Plaza Hotel. And Joan gave me the most beautiful pep talk the next day. She said shortly after her mother died she was back on stage in Vegas. She said you have to get back on the saddle. She said that is what my mom told her when they had their talks. The only people freaking out that morning were the make up folks because we were about to go on live and we all had tears in our eyes.
Also, I slept in accidentally one day while doing a remote for the show in Los Angeles. Joan was pretty pissed off and I was fired for 30 minutes. But I got a call to get my butt to the studio to appear at the end of the show. My present was a brand-new alarm clock! LOL. I used it well. I am still not a morning person.
—Michael Castner, Clear Channel.com.
I just worked with her on a book project, "Eating Delancey," a history of the disappearing Jewish foods of the Lower East Side.
I was such a fan of her fabulous filthiness from afar that I was literally struck silent when a dear friend introduced us backstage after a show of hers a few years ago. All week long, I had been planning my outfit for that night — to best highlight some of the outrageously large baubles from the Joan Rivers QVC jewelry line, which she had gifted me via my friend. I had seen her documentary "A Piece of Work" and remarked to my pal, "She wears all of her own QVC stuff in the film with furs and heels and it looks soooooo glamorous!!! I want some!" A few weeks later, a box arrived, full of necklaces, one larger than the next – a gift from Joan. Upon meeting me, Joan immediately noticed I was wearing one of "her" necklaces and remarked, "Oh so YOU'RE the one who loves the big crap! No one wants this stuff anymore; they all want me to make the dainty shit. P.U.!"
The next time I met Joan, she pointed to another large necklace I was wearing, motioning for me to "take it off right now" so she could examine it, which she did, closely, and we talked jewelry again. And since you need j-e-w to spell jewelry, I should also tell you that after I interviewed her for "Eating Delancey," she remarked to my friend, "You know, I could turn up the house lights at any show and ask the audience, 'Who's the biggest Jew here?' and everyone would point to Abbe." Joan, you are more precious than the biggest rock at Tiffany's!!!
—Abbe Aronson, founder of "Abbe Does It" (event planning and PR)
I visited her at her home on the Upper East Side in 2000 for a story about "celebrity." On the train there, I bought that week's Star magazine, and my eyes fell on the headline, ""JOAN RIVERS PLASTIC SURGERY TRAGEDY." Midway through the interview, I showed it to her. She looked and screamed, "I got a full page!"
–Michael Klein, Philly.com.
She gave me my start in TV, 20 years ago. She let me in, ya know? That's when I knew I'd "make it." I'd leave the Daily News and do her talk show. She had a "Gossip, Gossip, Gossip" segment – and she booked me every Friday. During commercial breaks she'd always tell me to "knock down every damn door they put in front of you." But I got to see a really sweet side to her one day. After we'd done a bunch of shows together she turned to me and just started to talk about her late husband. "You know what I miss the most about him? I miss coming home from the some big affair or dinner party and saying to Edgar, "Did you see what that bitch was wearing? And he let me just talk and talk and talk. That's what I miss most about him being gone. He loved anything I said to him."
—AJ Benza, author and producer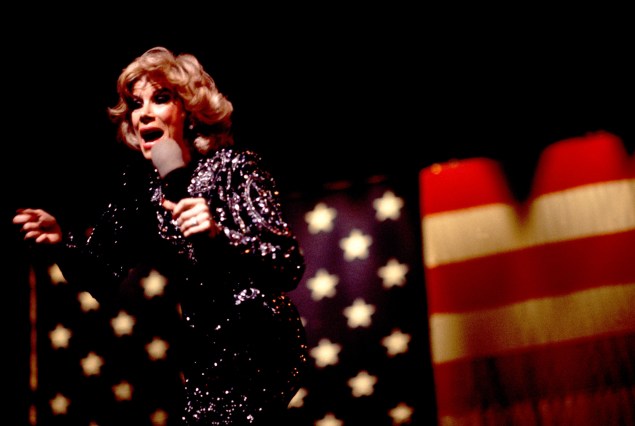 I did a profile of JR for the Sunday Times Magazine in 2006. She loved that I was born the same year as Melissa, days apart. We had a good interview and that was it; we didn't keep in touch. Four years pass. My publishers are looking for appropriate people to give blurbs for a collection of humor columns that is about to be published and they suggest I ask Joan. I am hesitant and assume she will say no. But she says yes. She went out of her way when she had no reason to. I believe people who were lucky enough to be in the path of her generous spirit will never forget how it made them feel.
—Ariel Leve, journalist
My first job after college was as the receptionist at The Joan Rivers Show. I got there super early on my first day. Then Joan walked into the office with her bodyguard and Spike. I didn't expect anyone to be there that early, and I was reading a TV Guide with Joan on the cover from a few years back that I'd found in the office.
Joan: "Where'd you get that?"
Me, terrified: "I found it."
Joan: "I hate that fucking magazine."
Me, stammering: "I am so sorry."
Joan: "Do you know why?"
Me: "No."
Joan: "Because they had the nerve to put my real fucking age in there, those fucking assholes."
Me: "I am so sorry, I'll throw it away."
Joan: "NO, don't throw it away! I'm on the COVER!"
Me: "Ok oh my God ok I am so so sorry."
Joan: "Relax, angel. I'm just kidding. Get used to that."
She left the office shortly after that, but not before turning to me at the door to say, "If that bitch Elizabeth Taylor calls, tell her I'm dead!"
And that was just my first day.
—Dominick Pupa, comic and TV producer