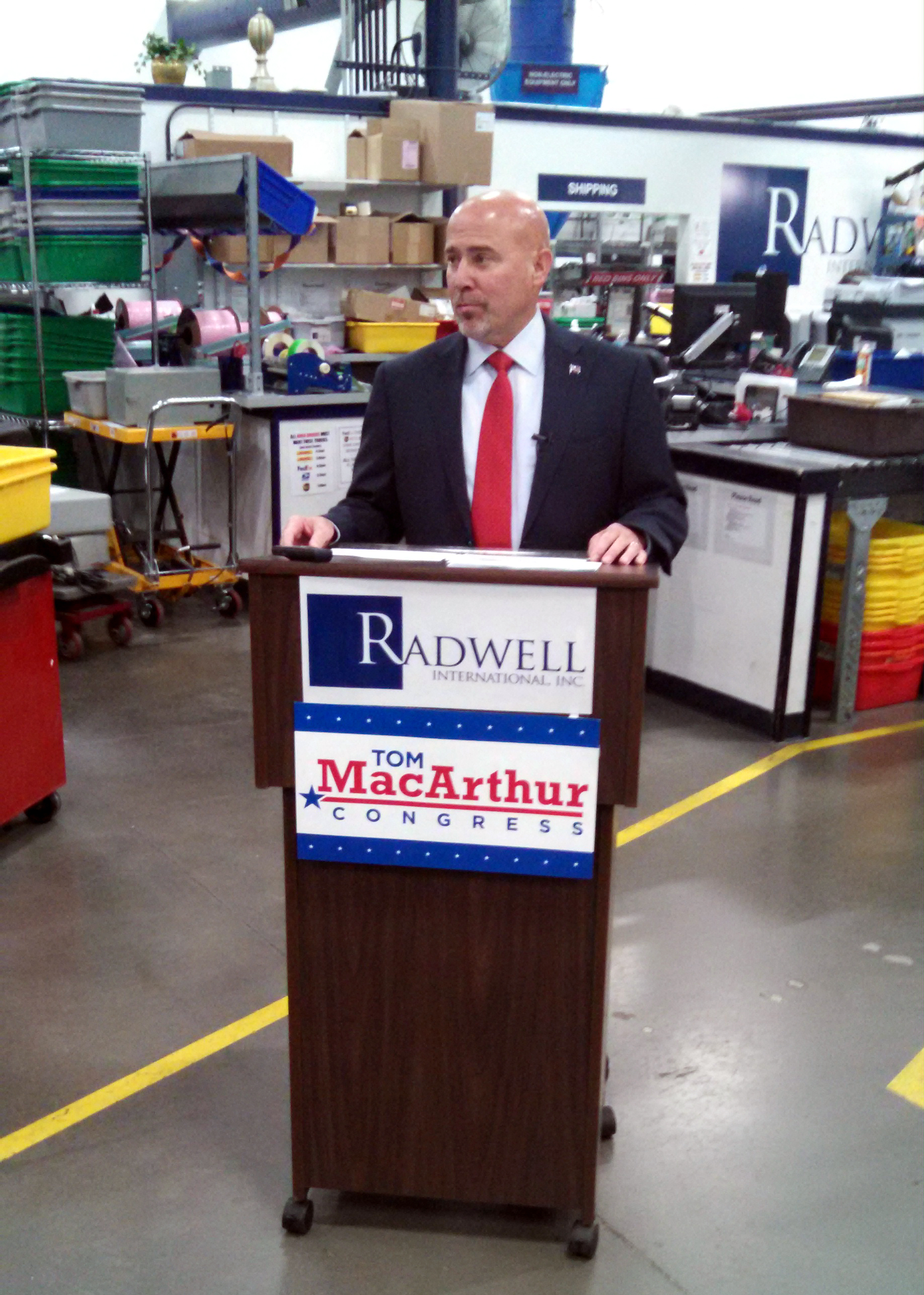 LUMBERTON – Republican businessman and congressional candidate in CD3 Tom MacArthur said today that he supports aiding "the people who are on the ground fighting" against the terrorist group ISIS/ISIL in the Middle East, indicating that he'd likely fall among those in Congress who voted this week to arm and equip moderate rebel fighters in Syria.
"I called probably a month ago now for strong actions against ISIS," MacArthur said during a press conference today at Radwell International, a electric parts and equipment company in Burlington County, where he unveiled and 11 page job plan for kick starting economic growth in the South Jersey district. "I do support expanded airstrikes in Iraq and in Syria, I support training of troops, Iraqi troops, Kurdish troops, reliable Syrian troops, because they have to take this fight, it's their neighborhood, they have to take the fight against ISIS. And make no mistake about it, ISIS has to be crushed. They have to be. They're devastating a region of the world that we have a key interest in. And so I support strong action."
Just yesterday, the Senate threw its support behind the measure proposed by President Barack Obama to fund and train Syrian rebel groups — to the tune of $500 million — fighting against the Islamic State in the region, a day after the House gave its own stamp of approval. Pressed by PolitickerNJ if he agreed with the president's strategy, which also includes increasing airstrikes and humanitarian aid in Syria and Iraq, MacArthur answered confidently, if not a little indistinctly.
"I believe we do need to fund the people who are on the ground fighting," MacArthur said. "They have to fight directly, and our support will help them."
It wasn't the only policy issues the candidate, facing off against Democratic contender Aimee Belgard in a bid for the open congressional seat in CD3, addressed today as he stood among dozens of Radwell workers piecing together small electronic components, circuit boards and sockets, under the blaring florescent lights on the company's factory floor. He also mused more broadly about Congress' role in funding the economy.
"Sequestration was a failure to make choices," MacArthur said. "And Congress' goal is to lead and part of leadership is to make real choices about where to invest funds. The problem with sequestration is it made across the board cuts that hurt this district, that hurt the joint [military] base here, hurt people who were furloughed and now not able to make a living for their family. The federal government needs to make real choices about national priorities and spend adequate money where it needs to be spent. Sequestration, shutdowns, they don't help."
On a local level, MacArthur said he aims to bolster Burlington and Ocean County's economies by growing jobs for middle-class families. That includes securing the future of joint military base McGuire-Dix-Lakehurst, fixing a "broken" healthcare system, and supporting alternative energy in the region.
He said his commitment to those areas — as well as the fact that he showed up to talk to reporters today — attests to his strength as a candidate.
"I could go on for hours, because I've spent hours thinking about these issues," MacArthur said. "And I think that points out a dramatic contrast between me and my opponent in this race. I have met many [people] over the past several months trying to figure out how the federal government can help them in their areas. My opponent, by contrast, while I'm presenting this, she thinks the priority is to attack me for personal donations made with my own money. What does that do to help anybody to get back to work and help their families and build a better future? It does not. And I want to say here that we need serious people that have relevant experience that are willing to work with other people, that can go to Washington and try to help our federal government to do things that help job creation and not hurt, and that is the only way we can get people working again."
Asked how he intends on getting such an aggressive jobs plan carried out, MacArthur pointed to his professional background as an insurance executive and experience working with businesses like Radwell.
"Things are difficult. But the place we're standing in with the dozens of people around us working, that was difficult, that was difficult over a long period of time. But that's how business gets built, that's how it gets accomplished. And I do want the job, one because I believe I have the relevant experience to make a difference in this area, and two I've got the will and the focus on working with other people. We don't need more hyper-partisanship in Washington."