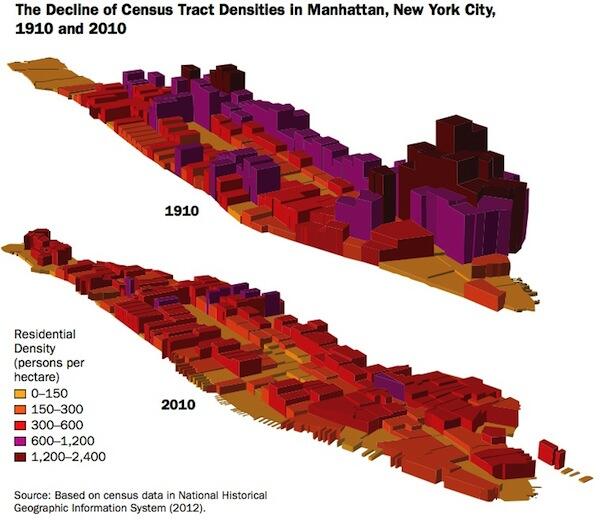 Manhattan is home to some of the world's most iconic skyscrapers. But despite its abundance of upward real-estate, a map created by Shlomo Angel shows the city actually has a lower population density as of 2010 versus 1910.
Mr. Angel's map comes from his book Planet of Cities, part of an upcoming New York Public Library presentation by the NYU Stern Urbanization Project and the NYU Marron Institute for Urban Management.
The reason for the density disparity? Manhattan's population peaked in 1910 at over 2 million, and has since fallen to 1.6 million. Vox reports that the decline in density was caused by an influx of commercialized buildings and bigger apartments. In 1910, a large portion of Manhattan residents lived in tiny tenements, with the working class crowded into apartments, squeezing many into a room. Many residential areas were later overtaken for commercial use (a trend that is now reversing itself) and the tenants pushed out into other areas.
Or maybe everyone is just moving to Brooklyn.
(Correction: This post originally stated that Manhattan had double the population today as in 2010. This has since been corrected in the text.)