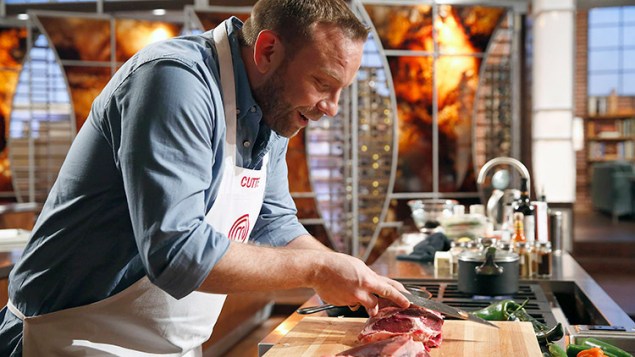 Only five home cooks left and after a two hour episode there will only be three. It's getting real. We are down to the real contenders and Cutter.
Before we get into the details of this epic battle I need to apologize to Leslie. Last week in my recap I inadvertently attributed a bland steak to him, a steak that was indeed not his. I tweeted my apology at Leslie and like a gentleman, he retweeted. Leslie is my new favorite. #TeamLeslie
Back to the kitchen. The 5 enter to the same action movie score of orchestra music as always but it is even more dramatic. Maybe it's more cellos. Opening clips roll of Leslie saying he's going all the way and Christian talking about his dream of having his own food truck. I'd call a five star restaurant a "dream" and food truck more like a "Plan B". Christian is in the clip of death position but there's no way the producers will remain that predictable now that we're down to the final 5. Right?
Mystery Box time. The judges stand on the stage in front of a huge box bigger than the three of them together. There are also boxes in front of each of the home cooks. Gordon instructs the five to lift their boxes to reveal…nothing. Graham announces that those boxes are empty because the most important ingredient is in the big box. The judges step aside for the reveal.
As the big box is raised you can see feet. There are people standing in the box. Looks like MasterChef is finally going for the cannibal challenge, the most forbidden meal of all. Are they on international waters? No, it's just a boring visit from everyone's loved ones. Christian's fiance, Elizabeth's husband, Courtney's six-year-old brother, Leslie's wife and Cutter's dad are all there.
Each loved one is asked to name the meal they miss the most, not having their cook around. The home cook then must make an elevated version of that dish in 60 minutes. They all go to the pantry together to select ingredients and then the loved ones step aside to watch the cooking. Leslie's wife misses his Herb crusted rack of lamb. Cutter's dad requests a blackened red snapper steak. Elizabeth's husband wants some Italian meatballs and grits. Christian's fiancé picks Seafood gumbo. Finally, Courtney's six-year-old brother wants mac & cheese.
Judge talk. Joe is worried that Christian won't have enough time to prepare seafood gumbo because that's a dish that normally takes 2 hours to cook. Graham thinks Courtney has it the toughest because he doesn't know how you elevate mac & cheese. Good point, Graham. Maybe we should take a look at any hipster restaurant menu from the past ten years. Oh yeah, lobster truffle oil mac & cheese. That stuff is the best. Say what you want about those people but hipsters but know how to eat.
The judges check in on the home cooks. Gordon asks Christian how he plans on elevating his seafood gumbo. His plan is adding andouille sausage for a taste of New Orleans. Taste of New Orleans in the gumbo you say? Nope, don't think that'll work. Joe and Graham ask Elizabeth about her meatballs and grits. She explains that, "grits are the polenta of the south." Also, the meatballs are going to have five meats in them.
Time's up. The judges have been watching and tasting and they have chosen the top three. Courtney, Christian and Elizabeth make the cut. The judges are impressed by all three but Elizabeth wins it. She's now made it to the top 4 and gets to go to the pantry with the judges to find out what her big advantage will be.
Back in the pantry the judges reveal to Elizabeth the elimination challenge the other 4 will have to face. Each home cook will have to prepare either an ox heart, veal brains, lamb tongue or buffalo testicles. Elizabeth's advantage is she gets to pick who has to cook what.
In the kitchen the judges reveal the proteins in the challenge but not Elizabeth's decisions. The home cooks go to the pantry to see what they have to work with and select their ingredients. Cutter got the heart, the brains are Christian's, Leslie has the tongue and the balls are all Courtney. They have one hour to make a restaurant quality dish out of their protein.
Christian stumbles right out of the gate. He is trying to make brain ravioli but he doesn't have any cheese. When Graham and Joe check on Christian he seems very out of sorts. His brains are already cooked and he's not sure how he's going to stuff the ravioli. Graham says that just the brains in the pasta will be too rich. Joe has never heard of anything like what Christian is attempting. Everything is a mess and he eventually has to abandon the ravioli idea. Christian restarts his pasta for some reason so he decides to fry his brains and make a brain parmesan over pasta.
Hands in the air. Let's see who's going home. Christian is up first. His dish looks thrown together and the judges all noticed that he was struggling the entire time. Joe says the brains are cooked beautifully and the pasta is ok but the sauce is bad. Graham also thinks the brains are cooked well and taste good but the dish doesn't make any sense. Graham adds, "This is probably the worst dish you have given us." It looks bad for Christian.
Testicles are next. Courtney prepared them as fried medallions over mixed vegetables. It scores big with all the judges. Gordon says it looks beautiful and is delicious. Graham agrees and says Courtney has shown everyone how badass she is. Courtney is still the one to beat.
Leslie's braised lamb tongue over parsnip puree with spinach and bok choy is up. Right away Gordon notes that the dish look clumsy. After tasting it, Gordon says that Leslie did not clean the tongue properly so there is some "garbage" in there. Joe also doesn't seem too impressed with the meal calling it, "not great."
Cutter time. He prepared a seared ox heart with a stuffed poblano pepper and Mexican corn salad. Right away Graham says it the best looking plate Cutter has put up so far. Graham says it's cooked beautifully and think that Cutter is finally arriving. Cutter's timing is amazing. He gets to stink most of the time and come through once and look like a star. Joe is very impressed and says the rub that Cutter used on the heart makes the dish.
Best dish of the night goes to Courtney. Cutter gets sent up to the balcony as well. So it's either Christian or Leslie. Joe's about to announce the loser when he is dramatically stopped by Gordon who asks in the loudest whisper ever if they really have to send someone home. What? If Gordon doesn't know, who does? The judges huddle up again and decide it's goodbye Christian.
While he's saying his goodbyes to the judges, Gordon offers to help invest in his food truck launch. Well, he says, "if you're looking for an investor call me." That's a little vague and I doubt Christian has Gordo's phone number. The prophecy of the opening clip of death is fulfilled. Bye, Christian. Good luck with the truck.
That was so much fun let's do it again. The four enter the kitchen to face a team challenge. Since Courtney won the last elimination challenge she gets to pick her partner. The winning duo will not have to face a pressure test. It's a tough call for Courtney. Leslie has been great when he's paired off with others like Ahran and Elizabeth. Elizabeth is strong competition and sticking her with Cutter could get rid of her. After weighing the options Courtney goes with Elizabeth because more than anything she wants to win.
Leslie and Cutter do not get along at all. They were both pulled aside by Gordon twice for yelling at each other the last time they were on a team together. This was probably a smart move by Courtney. What Courtney forgot though is that Elizabeth hates her. So that's two teams fighting.
In the pantry there are four crates each marked with a home cook's home state. Each team has to choose to use only one of their two options. That's New York or Pennsylvania for the ladies and California or Texas for the men. Leslie doesn't want to start a fist fight with Cutter so he agrees on the Texas crate. The women decide on the PA crate. With the contents of those crates and whatever they need from the pantry the two teams need to make an appetizer and entree in 60 minutes.
Cutter and Leslie are making a rib appetizer and a steak entree. Courtney and Elizabeth are preparing a trout and poached pear appetizer and pan seared venison medallion entree.
"Medic!" Cutter yells out because he's sliced into his finger. Gordon comes over to calm down Cutter, "It's not as bad as you think."
Courtney and Elizabeth are fighting. The pear turned into mush that Courtney thinks is fine but Elizabeth thinks is garbage. Gordon spits it out when tasting it. They are not communicating well and Elizabeth feels micromanaged by Courtney. Gordon tries to get them to refocus.
Leslie and Cutter aren't getting along great either. The steak sauce won't reduce because it's all fat, and so it has to get tossed. The two are bickering but still nothing as bad as last time they argued.
Hands in the air. Courtney and Elizabeth' appetizer is first. They serve Gordon a pan seared rainbow trout with poached pear and cheddar cheese. Gordon doesn't like it. "Such a weird combination." Graham points out that cheese and fish don't go hand in hand.
Cutter and Leslie bring up their ribs. Gordon looks at it and says, "What the fuck is that?" The presentation looks terrible. The ribs taste good but the dish is not restaurant quality. Joe is also unimpressed.
Elizabeth and Courtney present their entree next. The venison is cooked perfectly and presented well but the mashed potatoes are disappointing.
Team Leslie and Cutter are bickering about the sauce that got thrown out while they're serving the steak entree to Graham. Gordon notices that the steak in undercooked although it tastes good and the mashed potatoes and vegetables are not seasoned enough.
This is a lot closer than it should be. The women should have buried the men but now it's about who was not as shitty as the other. That honor goes to Courtney and Elizabeth. Watch the pressure test from the balcony because you're in the top 3.
Leslie vs Cutter. The two finally get to go head to head and see who is better. When Graham mention that Leslie is a stay-at-home dad Cutter fake laughs to mock him. The fake laugh is right up there with calling people chief in the most annoying of dick moves.
The pressure test is based on the California box that they didn't chose during the team challenge. Each of the judges has come up with a dish featuring ingredients from the California box. Joe's dish is sea urchin risotto. Graham's dish is jidori chicken teriyaki over forbidden rice. Gordon's dish is a tuna nicoise salad and soft boiled quail egg. Cutter and Leslie have 90 minutes to make all three.
The clock starts now. They are both going at full speed. The ladies in the balcony are cheering on Cutter. Leslie has never been very popular but the women probably want the softer competition of Cutter if he advances.
The risotto has Cutter thrown. He started it too early in his cook, and so it became a practice risotto. Graham sees that Cutter is flustered and helps calm him down.
It's a battle and the time is going quick. As a matter of fact, times up. Oh crap, Leslie forgot the quail eggs in his tuna nicoise salad. Enough talk. Who's going home?
Joe steps up to judge the risotto. They are close but round 1 goes to Leslie. In round 2, Cutter wins on the jidori chicken teriyaki. Graham says Leslie lost because he didn't get the glaze on the chicken. Now they are tied.
The tuna nicoise will determine the winner. Gordon tastes Cutter's tuna. It's undercooked and cut roughly but everything else tastes great. Leslie's dish looks thrown together and he's missing the quail eggs. The tuna is cooked beautifully, the vinaigrette is good, but the potato is undercooked and there are those missing eggs.
It's close, very close but finally, Cutter is going back to Texas. The top 3 have been chosen.
Cutter has a tearful goodbye and says nice words about everyone including Leslie so he leaves with some class.
One week left. Another 2 hour episode where Courtney, Elizabeth and Leslie battle for the top prize. My pick is Leslie. #TeamLeslie.