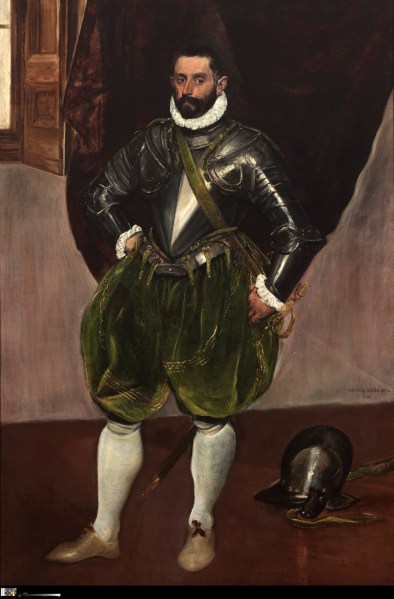 El Greco, at just 29 years old, and fresh from the tutelage of Titian, moved from Venice to Rome in 1570. He was looking for work and patronage, but soon found he was painting in the shadow of the celebrated Roman portraitist Scipione Pulzone. While posterity has rightly held the former painter to be far the greater of the two, a remarkable boutique show of only two pictures reignites their artistic rivalry and illuminates the times in which they lived.
Facing off at the Frick Collection are two of these artists' life-size military portraits of men in gleaming armor. El Greco's full-length Vincenzo Anastagi from the Frick hangs beside Pulzone's three-quarter-length Jacopo Boncompagni on loan from a private collection. "Men in Armor: El Greco and Pulzone Face to Face" pits the two, painted about a year apart (c. 1574) in Rome, against each other. On view through October 26, call it an amuse-bouche meant to awaken our senses to New York's bountiful El Greco feast on offer this fall.
"Men in Armor" sets in motion Gotham's commemoration of the 400th anniversary of the death of the Greek-born Spanish painter (born Domenikos Theotokopoulos, 1541-1614). It will be followed this November by the Metropolitan Museum of Art's mini-retrospective, "El Greco in New York," which will pool the Met's nine El Grecos with the six from the Hispanic Society of America. A concurrent show, "El Greco at The Frick," will highlight its own three El Grecos, which cannot be loaned.
The Frick has consistently mounted small, complementary loan shows that highlight artworks in their collection, deepening our experience of Memling, Veronese, Vermeer and Manet, among others. Unlike most of these exhibitions, which bring in works by the same artist, "Men in Armor," organized by Frick curatorial fellow Jeongho Park, considers El Greco's innovative genius through contrast and comparison with one of his contemporaries.
The paintings in "Men in Armor" have compelling, overlapping backstories. Pulzone's portrait subject at the Frick, Boncompagni, was the son of the reigning pope. Boncompagni had recently promoted Anastagi, El Greco's subject, to sergeant major in the Papal Army. This occasion may have been what prompted the commissioning of El Greco's portrait of the middle-ranking nobleman, which could have led (but seemingly didn't) to further and more prominent Italian commissions. In 1576, El Greco left Rome for Spain, where he lived and flourished until his death.
Mr. Park's pairing is a stroke of curatorial brilliance. But the show's wall and catalogue text portray El Greco as a calculating careerist painting primarily "in order to win favor from powerful patrons." The curator contends that while in Rome El Greco chose to paint in the manner of Titian because, among Rome's powers-that-be, Titian's art was in vogue. This assumption not only misunderstands the messy, enigmatic lineage of artistic influence, it also reduces the mysterious business of art into the humdrum art of business.
In the confounding case of El Greco, artistic influences besides Titian included the imminent frontality and compartmentalization of post-Byzantine icon painting; the surging dynamics of Tintoretto; and the rhythmic musculature of Michelangelo. All were synthesized—reborn—in El Greco.
Curatorial demystification notwithstanding, "Men in Armor" is an extraordinary show that builds dramatically when its paintings are allowed to speak for themselves, in dialogue, as they do here to great effect.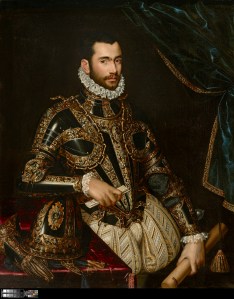 Pulzone's Boncompagni is opulent, meticulous—a full-on presentation piece jammed with symbols. Its figure is decked out in resplendent parade armor—a beetle-black metallic surface decorated with intersecting ribbons of gold and silver, which loop and curve like a busy highway interchange. These bands are crowded with religious and mythological scenes, animals and figures, all swarming around the luminous surface like bejewelled bees.
Extremely detailed, almost fussy, Pulzone's portrayal makes Boncompagni feel staged—nearly smothered by pomp and circumstance. This is accentuated by the painting's enveloping black background, which threatens to swallow him; by the Weeble-like wobble of his ornate breeches, into which his torso is wedged like a mollusc into its shell; and by his pinched head, which teeters on his high lace collar like an egg in a cup.
In El Greco's tour de force, Anastagi's plain black field armor is not symbolic window dressing but, rather, feels like a natural extension of the body, a second skin. Here El Greco merges wall and floor planes into a flat, vertical, airy field, which hovers ambiguously between room and landscape, between atmosphere and solid.
Anastagi is fierce yet distant. He exists neither inside nor outside but somewhere in-between. A broad crimson curtain attaches to and flies behind him, suggesting wing, cape and whale tail. It scoops him into the rectangle—wedging and spearing him into place, as he rocks off center, breaking his landing. It also penetrates and opens the back wall of the painting, oddly pressing him forward yet also threatening to pull him back into space.
You can almost feel the whiplash, as he swoops down like an avenging angel; the triangular flash on his breastplate cutting like a knife, diving like the silvery beak of a bird-of-prey.
Both of these pictures strive to present their sitters in the most revelatory light. But they convey very different attitudes toward portraiture. In Pulzone's Boncompagni, a blue velvet curtain is pulled aside to reveal the man. In El Greco's dynamic portrait, Anastagi arrives like a force-of-nature.