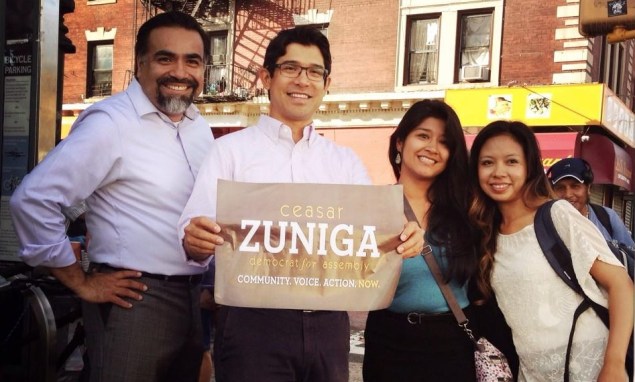 Councilman Carlos Menchaca today threw his weight behind Ceasar Zuniga, the upstart challenger to 20-year incumbent Assemblyman Felix Ortiz–whose Brooklyn district overlaps heavily with Mr. Menchaca's own.
The freshman councilman announced his endorsement of Mr. Zuniga, a member of the local community board, outside the 36th Street train station in Sunset Park–the heart of Mr. Ortiz's turf, which stretches from Red Hook into Bay Ridge. Mr. Menchaca said that his first eight months in office had shown him that the area needed new, more reform-minded leadership in the lower house of the state legislature.
"We need to send a very particular kind of person to State Assembly," said Mr. Menchaca. "We need to not only clean up New York City, we need to clean up Albany. And that's why we're sending Ceasar Zuniga to the Assembly. It is time we send fresh, new blood into the Assembly."
Mr. Menchaca, however, refused to fault Mr. Ortiz for any specific policy. Instead, he simply insisted that the time had come for someone to replace him.
"It's important we recognize the incredible work both these candidates have done for their community," said Mr. Menchaca, who co-chairs the City Council's Brooklyn delegation. "What we're saying today is that we need to send Ceasar to Albany. We need that fresh look at how politics works."
Mr. Zuniga thanked Mr. Menchaca for his support, and vowed to help develop Sunset Park's largely decrepit ex-industrial waterfront in a manner that will not lead to gentrification. The key, the candidate argued, is preventing residential development along the shoreline.
"We cannot allow the waterfront to become mixed-use, because the developers are going to come in and price us all out of this neighborhood," Mr. Zuniga said.
Mr. Zuniga also noted that Sunset Park remains low-income despite lying between prosperous Park Slope and Bay Ridge.
"You look to the north and south of us, and you have to understand why this community doesn't have the amenities, the resources, the political leadership that we deserve," said Mr. Zuniga.
Both Mr. Zuniga and Mr. Menchaca are Mexican-American, a growing demographic in the district. Last year, Mr. Menchaca ousted incumbent Councilwoman Sara Gonzalez–who, like Mr. Ortiz, was born in Puerto Rico.
Mr. Menchaca acknowledged that ethnic concerns played a part in his decision to back Mr. Zuniga, who he claimed was better equipped to represent the poor.
"The demographics in this community are incredibly dynamic. What's happening is that the voice of some of the demographics in this community, including the public housing and the new immigrant voices, are not being heard," Mr. Menchaca said. "It is important that the demographics represent their leadership."
Mr. Zuniga, however, stressed that principles are more important than nationality. The candidate noted that the district is very diverse, and home to large populations of Chinese-Americans, Puerto Ricans, blacks and whites.
"It just so happens that we're Mexican-American," Mr. Zuniga said. "What really matters is that we reflect certain values, not that the representative matches the demographics in some way."
Mr. Menchaca is a member of the City Council's Progressive Caucus, which is closely allied with Mayor Bill de Blasio. But his endorsement of Mr. Zuniga comes just days after Mr. de Blasio backed Mr. Ortiz.
Mr. Menchaca is also a close ally of Congresswoman Nydia Velázquez–another Puerto Rican-American–who has also endorsed Mr. Ortiz.
Mr. Ortiz was first elected in 1994.