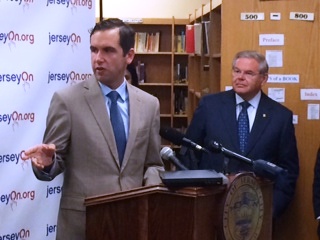 JERSEY CITY – U.S. Sen. Bob Menendez (D-NJ) was not yet prepared to say who he was going to support among the potential Democratic candidates vying for governor in 2017.
"That's a lifetime away. I am not even thinking about it. I've got to get through [incumbent Democratic U.S. Senator] Cory Booker's election, and I've got to get through a presidential election," said Menendez outside of Lincoln High School in Jersey City on Monday.
Menendez's comments came after he spoke at a press conference to announce the launch of JerseyOn, a new non-profit aimed at helping students in low income areas to achieve their greatest educational potential by providing broadband access in their homes. In attendance at the event was Jersey City Mayor Steve Fulop, seen by many observers as part of a troika of potential 2017 Democratic candidates that includes State Senate President Steve Sweeney (D-3) and former U.S. Ambassador to Germany Phil Murphy.
While the New Jersey gubernatorial derby may be run early if Gov. Chris Christie leaves his post sooner rather than later to seek the 2016 Republican presidential nomination, Menendez was still in no hurry to pick a Democratic horse for 2017.
"We're far away from even thinking about it," Menendez reiterated.