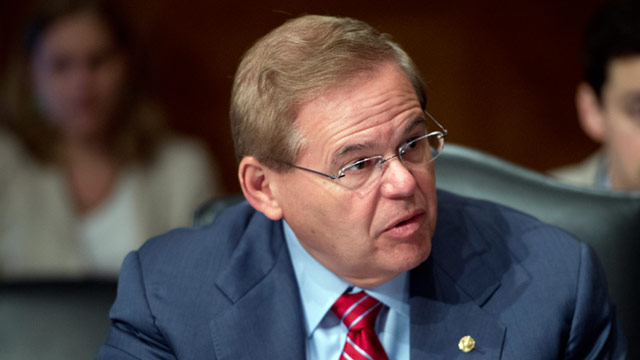 WASHINTON, D.C. – Speaking as chairman at a Senate Committee on Foreign Relations hearing on Capitol Hill today, U.S. Senator Bob Menendez (D-NJ) said the United States and the Obama Administration "would be fools" not to take the terrorist threat posed by the Islamic State in Iraq and the Levant, a growing militant group in the Middle East, seriously.
Menendez addressed other members of the committee as well as Secretary of State John Kerry, who testified there on behalf of the administration and its strategy for dealing with the crisis.
"This is what we know about ISIL: It has brutally, mercilessly, barbarically followed through on its threats to kill American hostages James Foley and Steve Sotloff," Menendez said during his opening remarks. "It beheaded British aide-worker, David Haines on Saturday and threatens to execute another British citizen, Alan Hening. It promotes genocide against anyone who does not share its warped version of Islam: moderate Sunnis, Shias, Christians, Yazidis, minorities. It enslaves women and children. It has seized U.S. and Iraqi military equipment and has built a formidable fighting force.
"It's pumping oil and selling it to the tune of one million dollars a day to fund its brutal tactics, along with kidnappings, theft, extortion, and external support. It is recruiting disciples for its unholy war at a frightening pace from Europe, the U.S., and anywhere they can find disaffected people. These foreign fighters are crossing from Turkey which – because of fear or maybe ideology – has declined to participate in the effort to counter ISIL. It has declared the territory it occupies a caliphate with intent to seize more territory from U.S. partners and allies – from Jordan to Saudi Arabia to Lebanon. The risk to Jordanian and Lebanese stability is real, it's urgent, and it's grave.
"We would be fools to not take this threat seriously," he added. "ISIL is an enemy of the United States and the civilized world."
Kerry's testimony today ventured to clarify the administration's position on the issue, which many believe has turned into an international crisis with ISIS taking control of large swaths of Iraq and Syria. President Barack Obama last week laid out an expanded military campaign, calling for increased U.S. airstrikes to thwart the advance of ISIS in the region, as well as humanitarian aid drops to help Iraqis threatened by the militants.
Obama has, however, seemed to rule out combat-boots-on-the-ground as an option, telling a group of military servicemen at the MacDill Air Force Base in Florida earlier today that he will "not commit you and the rest of our armed forces to fighting another ground war in Iraq."
Instead, he's advised sending up to 300 military specialists into Syria to help arm and equip moderate rebels in their fight against ISIL there — a move Congress is also expected to vote on by the end of this week.
"Whether in Iraq or in Syria, these terrorists will learn the same thing that the leaders of Al Qaeda already know: We mean what we say," Obama said. "We've always known that the end of the war in Afghanistan didn't mean the end of threats or challenges to America."
Kerry reiterated those sentiments at today's hearing, maintaining the administration's new efforts do not include combat troops and that the U.S. "will not go it alone."
"It's important for people to understand that there is no U.S. invasion," Kerry said. "The invasion is ISIS into Iraq. The invasion is ISIL into Syria. That's the invasion. And it is destructive to every possibility of building a state in that region."
For his part, Menendez — who earlier this summer told PolitickerNJ that he "obviously … does not support nor would I any combat boots on the ground" — would not go so far as to support a ground campaign against ISIS. But in an interview with CNN's Dana Bash before today's hearing, he did express strong concern over allowing ISIS to operate uninhibited in the Middle East and left the door open as to what tactics the U.S. should use going forward.
"I'm convinced that we are at war with ISIS and we need to defeat ISIS before they create the operational capacity to have the ability to conduct a September 11th-like attack," Menendez said. "That's critical."
Menendez said he wants to see the U.S. achieve the "ultimate goal" of defeating ISIS — but hinted that that might involve a move more direct than continued airstrikes.
"We have to think about what is necessary to defeat ISIS," Menendez said.