When Chris Altchek and Jake Horowitz hatched PolicyMic four years ago, they were as earnest about the enterprise as one would expect from high achievers who entered adulthood during the hopeful optimism of Barack Obama's first presidential campaign.
Mssrs. Horowitz and Altchek, both from Westchester, met in jazz band as high school students at Horace Mann, where Mr. Horowitz was also the editor of the school newspaper. After graduation, Mr. Altchek went to off to Harvard while his friend headed West to Stanford to study political science then work for The Carnegie Middle East Center in Beirut and Change.org.
The two, who stayed in touch, loved to debate public policy, even if they rarely agreed politically. What they did share was a vision for an online space where young people could talk about big ideas.
Using the lofty rhetoric of world change that is de rigueur among tech start-ups, they started a beta version of PolicyMic in 2010. They were both 23 at the time.  "Our goal was to help our generation talk about the issues that really matter," said Mr. Horowitz, now editor in chief of Mic.
Mr. Altchek, the more right-leaning of the two, was in the lucrative but notoriously grueling Goldman Sachs investment analyst trainee program. Many of his cohorts at the bank thought he was crazy when he quit in early 2011 to devote himself full-time to the start-up.
But those Goldman perks came in handy. To start the company, the two founders each raised $75,000. Mr. Altchek contributed his annual bonus. The pair lived and worked in two floors of a rented Harlem townhouse and raised additional money from family and friends.
"We didn't really know what we were doing so we took a start-up, entrepreneurial approach, which was to try a bunch of different things and see what worked and what resonated," Mr. Horowitz said.
The founders of Mic are now 26 but look even younger. Although they wear the button-down plaid and well-tailored jeans that are standard uniform for male media types, they look preppier and more put-together than many of their counterparts.
Central to the original business plan was a contributor model, which Forbes and Huffington Post were already deploying successfully.  Mic layered on a system for upvoting other readers' comments, which was a point of differentiation back then. Together, the politics-heavy coverage and social features were billed as "Twitter meets The Economist."
PolicyMic had over 1 million uniques a month by July 2012, according to internal company metrics. As successful as the model was in bringing in content and readers—particularly young 20-somethings who were used to discussing political issues on Facebook rather than reading The New York Times—it did not ensure quality, a gap that was highlighted when PolicyMic invited contributors to apply for writing fellowships and realized that none had the chops to make it as writers.
Without a consistent voice and with big-name media including BuzzFeed and Gawker  ramping up their own contributor models, PolicyMic struggled to gain traction as a brand. By 2013, the founders decided to pivot away from the contributor model and hire writers to report and repackage news of interest to millennials, a lucrative demographic that has become the brand's defining characteristic.
"Our value proposition is we understand smart millennials, we can help reach them on a deeper level," he told the Observer over watermelon lemonade coolers at a Le Pain Quotidien near the former Mic offices (they left Midtown for hipper Hudson Street last month). In multiple conversations, the Mic team was quick to cite the spending powers of the 80 million millennials, half of whom are college-educated and most of whom are addicted to smartphones.
In March, the start-up raised $10 million in a Series A round of funding, led by Netscape's Jim Clark. Venture capital firms like Lightspeed Ventures, Lerer Ventures, Advancit Capital, Red Swan, the Knight Foundation and Digital News Ventures again invested, bringing the total funding to $15 million since launch.
Following the most recent cash infusion, the company dropped the 'Policy' from its name. Rebranded the snappier Mic, the site got a bold, approachable new look along with verticals such as sports, culture and gender identity.
"Policy is wonky and nerdy. Jake and I are wonky and nerdy, so it fit," Mr. Altchek explained. Like Silicon Valley tech guys, the founders of Mic are fond of describing themselves as nerds. "We realized the brand PolicyMic was going to limit what audiences thought we would cover, and the brand Mic actually has a lot of potential to become something big if we do it right and become a real household name."
The investment also let the company hire a larger staff (there are now 35 full-time employees) and move to more spacious offices. On a typical day, Mic runs around 30 stories—a mix of evergreens and quick hits—across its seven verticals.
The content itself makes it clear that writers and the readers are in it together as a generational contingent. Headlines, like conversations with the founders, are liberally peppered with words like "Us" and "Our," as in, "Ebola May Spread to America Sooner Than We Think." Other stories cop the treacly tone so popular on Upworthy and its ilk. "This Lovely Family Ran Into an Unexpected Visitor at Stonehenge," proclaims one recent headline atop a photo of a stunned looking British family posing in front of the tourist sight with Barack Obama. "At Last, Some Actual Good News in the Ukraine Crisis," another recent title reads.
Mic stories are simplified but accessible, like the classroom edition of Time for Kids for social media. The approach that is helping attract advertisers who want to be associated with the young and upwardly mobile.
As is the trend in media these days, Mic is forgoing banner ads altogether in favor of what John Oliver famously called "repurposed bovine waste" but news organizations refer to by the more benign sounding term: "native advertising."
"What's the last banner ad you clicked on?" Mr. Altchek asked. "Millennials specifically grew up with it and grew up ignoring it and are completely immune to that type of advertising." Branded content, according to his optimistic assessment, offers companies a chance to "connect their goals and values with our audience and in an authentic, interesting, engaging way [that] will lead to a better user experience."
Last month, the company announced partnership deals with Cole Haan and Cadillac. The fashion brand signed on to sponsor a series on young female leaders reshaping things. The luxury car company bought a 10-part series highlighting innovative entrepreneurs. And the ad deals represent a departure from the conventional wisdom that blue-chip firms don't want to be associated with polluted rivers in Mexico and radioactive waste missing from Kazakhstan.
"While I don't buy a lot of arguments made about millennials vis-a-vis our purported apathy, entitlement, and so on, it's common sense that we know a different set of facts about the world than our parents do," Identities section founding editor Samantha Meier, Harvard '12, said in an email (she left in December for The Public Goods Project). "We've only been alive for so long."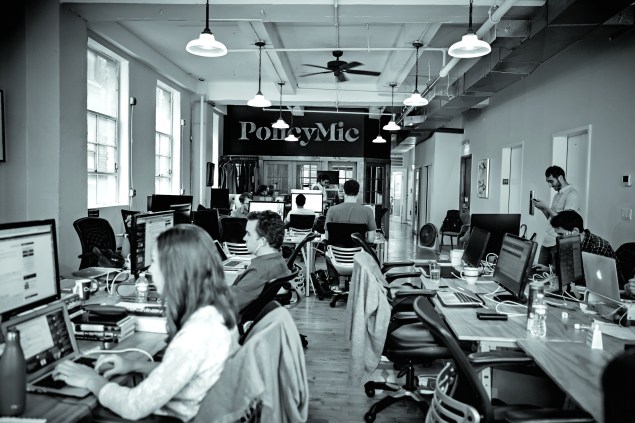 When pitching and assigning stories, editors and writers are instructed to ask themselves whether they would share it with their friends at dinner or online.
That editorial mandate can be seen in recent posts like "An Open Letter to Vladimir Putin: You Suck," "A Brave Gender Non-Conforming Teen's Fight Is Exposing This Absurd Double Standard" and "16 Incredible Facts Will Change the Way You Think About Africa." Stories are SEO friendly and ready to go viral. Despite the claims of the founders, the headlines pander to the target audience because they imply that millennials like their news like they like their social media: conversational and inclusive.
"When we have a meeting and we need to figure out how to talk about the Israel-Palestine conflict in a way that's interesting, we know exactly who we're talking to and exactly what's going to work and what's not going to work," Mr. Altchek said. "So we can attack a complicated issue, make it smart, but also talk to a very specific audience very well. And I think that's actually a very big advantage, because a lot of media companies have to serve a lot of different people and don't end up serving anybody that well." The result is complicated stories broken down into bite-size pieces.
The founders mostly steer clear of the "m" word when speaking to their audience because the "term millennials is a term young people don't like," according to Mr. Altchek. Instead they pepper conversations with phrases like "our generation" and "young people"—in other words, the lucrative 18 to 34 demographic that has largely eluded legacy news outlets, despite their best efforts.
Last spring, as part of its new digital strategy, The New York Times released NYT Now, an app that features curated, breaking Times stories, and at $8, has a lower price point than a subscription. Even though subscriber numbers were lower than the company had hoped, the paper's top brass repeatedly touted its youthful reach during a second quarter earnings call in July. News Corp. has also been rumored to be working on a mobile app targeted at the profitable youth demographic.
Investors see moneymaking potential in Mic's youthful audience. "The VCs believe we are at the beginning of the big revolution and if you can get in early enough, you can amass a massive audience relatively cheaply and then either monetize through IPO or sell to a bigger company," media analyst Ken Doctor explained, citing sites like BuzzFeed, Vox and Vice as evidence of the trend. The sites may not make money, yet, but investors eager to reach that youth demographic are willing to bet on its potential.
"In just three short years Chris and Jake have taken the business from start-up to being a very important and very credible news outlet. This kind of growth only happens for investors now and again, when a launch really strikes a nerve with a chosen audience," Stephen Colvin, Lerer Ventures' executive-in-residence said in an email. "This millennial audience is the most difficult to reach consumer group in the world and Mic provides the perfect platform for marketers to not only target these consumers but engage with them across desktop, mobile and social, where not surprisingly, Mic is incredibly strong."
While Mic isn't the only company that claims to understand millennials, it manages to flatter both readers and writers by positioning itself as the voice of its generation, one that grew up believing in its own virtue.
Unlike Vice, which trades on the badass cool of its slacker, Gen X outsider status and history of druggy, hipster pranks (a reputation that has somehow remained despite the wholesale establishment embrace of Rupert Murdoch money, an HBO series and the now-debunked prospect of a CNN merger), Mic is an earnest cheerleader for the Generation Y its founders represent and purport to understand.
If Vice founders Shane Smith and Gavin McInnes spent their 20s doing blow and hanging out with strippers, the young Mic founders look like they spent their formative years beefing up college admissions resumes by building houses for the underprivileged and cramming for AP exams.
BuzzFeed courts the same demographic as Mic, but it does so by being cynically self-aware about what makes a 20-something want to share something on a social network: broad nostalgia for childhood in the form of quizzes and GIFs, mixed in with in-depth reporting that may not pay the bills but gives it media cred. Gawker media, which counts on 20-something readers to bring in page views, may have softened its early snarky outsider stance that made readers feel smarter and cooler than the establishment it took potshots at, but it is still a long way from the pragmatic idealism spouted by Mic's founders.
Not that the content is really that different from some of the more earnest fare on BuzzFeed or less saccharine stories on Upworthy. It relies heavily on aggregation and SEO headlines. But it's all in the positioning. Mic is the Tom's Shoes of the media world, appealing to a generation that has found a way to commodify social change, making the world better one purchase at a time.
The relaunch party at The Wooly in June was all start-up level optimism and earnest excitement. Fresh-faced millennials chatted about making serious content fun. Bartenders in American Apparel tanks emblazoned with the new media company's even newer logo passed around signature cocktails, eagerly downed by a crowd still excited by unlimited jalapeno margaritas. Instead of smokers huddled outside, people lined up to get photos taken holding signs that said "awesome." Selfies, not cigarettes, were the vice of choice.
There was no typical media party grousing from clever bloggers or despair about the future of news from seasoned reporters. The young employees celebrating their new site, like the readers they write for, seemed to be in thrall of a world where two young, well-educated kids from Westchester can start a media company with little more than a Goldman bonus, contributions from well-off family, friends and VC firms, and some talking points.