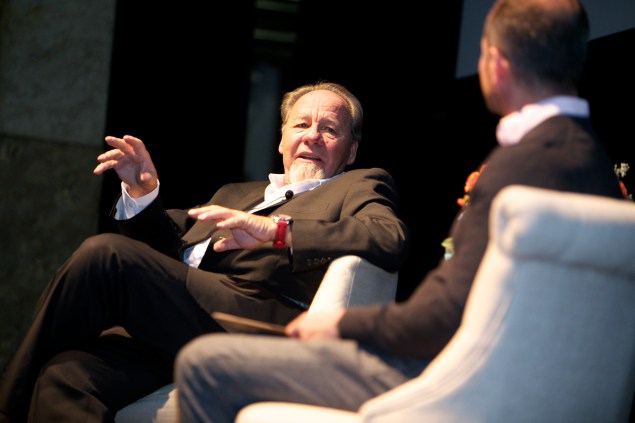 This past Saturday, Michael C. Gross, Pratt alumnus and award winning art director, attended the Institute's annual Alumni Day to participate in the program "Creative Conversation." Best known as the creator of the famous Ghostbuster's logo–an iconic image that jumpstarted his career in film–Mr. Gross sat down with Pratt's Film and Video Chair, Jorge Oliver to discuss his rich career in front of an audience of alumni, students and the general public.
As Michael V. Sclafani, Director of Alumni Relations, said, "There is so much more to him than just this logo." Mr. Gross has designed posters for the Mexico Olympics in 1968, some of which are displayed in the Museum of Modern Art, worked for Esquire, the Mobil Oil Company (he left after being reprimanded about how he worded his memos) and is even responsible for the success of National Lampoon. When he was partner in the design firm Pellegrini Kaestle and Gross, his clients included John Lennon, the Muppets, and Columbia Records.
On stage, Mr. Gross looked relaxed, answering questions with witty and detailed anecdotes. When asked when he first discovered he was an artist, Gross replied, "All I knew was I could draw at three years old." He claimed the first time he ever realized art held power was in the fourth grade, when he drew naked women and passed them to the class bully in an attempt to get on his good side. He said, "It is one thing to draw for yourself, and one thing to see art affect other people."
When Mr. Gross finally reached Hollywood, he landed his first film after three weeks, even though he claims now that he knew nothing about movies. Ivan Reitman and Mr. Gross had a long partnership that began with Gross's first animation film, Heavy Metal, and Mr. Gross served as an associate producer with Mr. Reitman again on Ghostbusters–the audience leaned forward a bit at the mention of the famous film.
The iconic symbol was, in fact, originally intended only to be seen on the side of the van and on the Ghostbuster's jackets. The icon "grew out of something that was almost purely accidental," Mr. Gross said. Columbia Pictures did not own the rights to the name 'Ghostbusters,' but the studio was in talks to acquire it. So when the team wanted to release a teaser poster, they were still not allowed to use the name. In a moment of artistic genius, Mr. Gross told them to only use the logo. He attributes the logo's success to circumstance: "They couldn't say Ghostbusters because they didn't have the name yet."
After 11 films, Mr. Gross ran out of steam and left Hollywood. He moved to Italy with his wife, twenty-one bags, and a dog, where he tried painting. "I discover[ed] I'm a shitty painter," he said wryly. Now he lives in California where he can "paint when I feel like it and photograph when I feel like it." Which is an understatement, because Mr. Gross has curated for the Oceanside Museum of Art and has had a few exhibits of his own paintings featured in others. Mr. Gross was diagnosed with terminal cancer, which inspired him to be a part of the project Flip Cancer, a movement using art to inspire, comfort and raise money for cancer patients.
As for his fake-it-till-you-make-it Hollywood career, Mr. Gross told the Observer, "In any place where you feel you are driving forward and you got to take that leap or that chance: yes, don't be afraid of lying about what you know—if you have the courage and the belief in the back of your head that you can learn it fast enough… You just got to land running and then you walk around as if you know what you're doing and then you go home at night and you vomit. You just have to go in. You have beliefs and dreams and you pursue them."