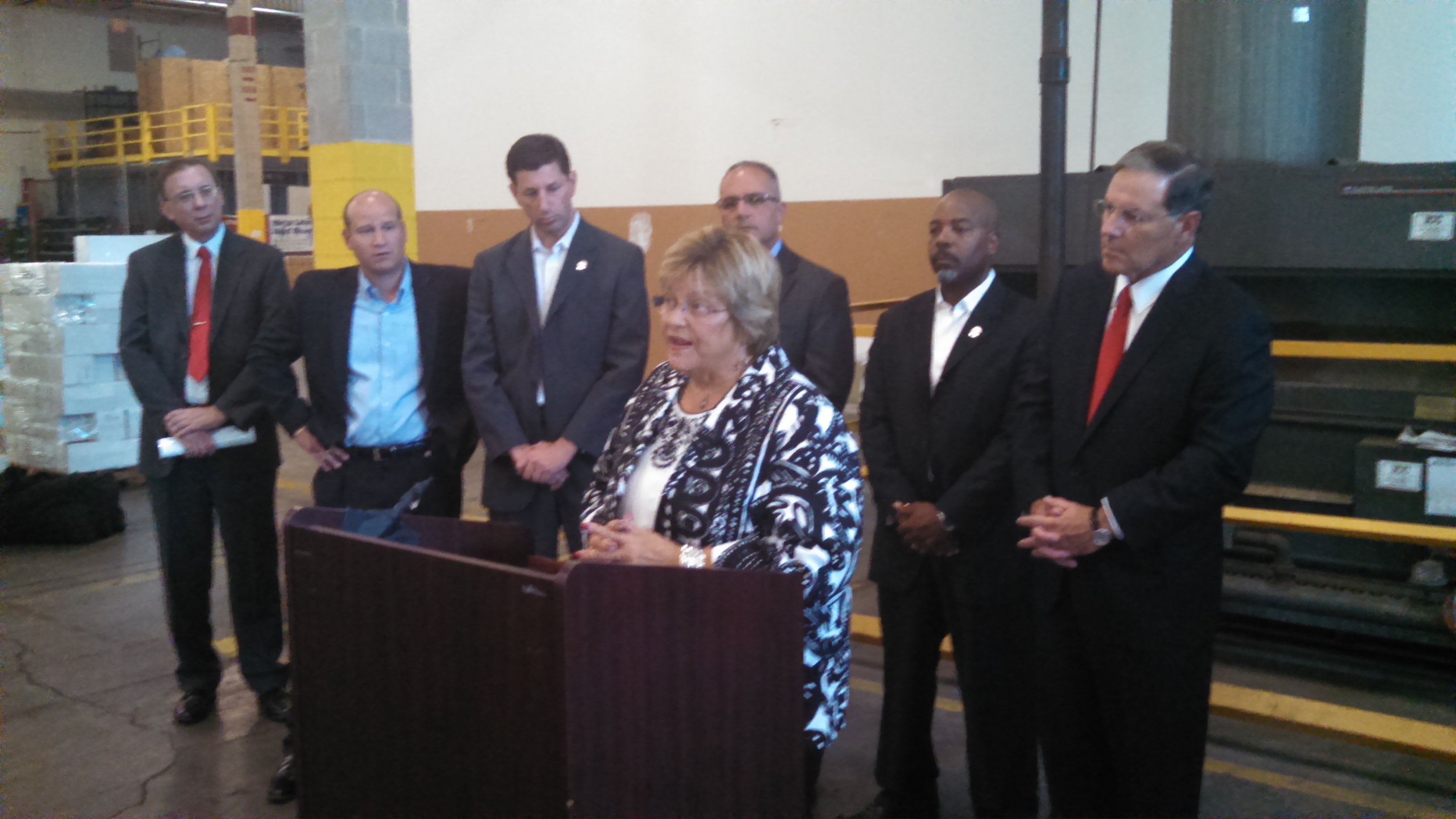 SOUTH PLAINFIELD – Over the hum of industrial machinery at the factory of plastic bag manufacturer Glopak Corp here, Assembly Minority Leader Jon Bramnick and a handful of Republican Middlesex County mayors and councilpeople chastised top lawmakers in Trenton for their handling of the state's finances and economy in recent months, imploring them to start to "unfreeze opportunity in this state" through tax breaks and better business incentives.
The visit continued Bramnick's "Real Talk to Restore Fiscal Sanity" tour, which he's used to engage New Jersey residents, business owners and elected officials across the state to address issues like education funding, pension and healthcare benefits and political elections.
"I'm here basically to say the following: this is a statewide discussions and pep rally for jobs," Bramnick said. "And I have to tell you, you couldn't get a better set of cheerleaders here."
Following a tour of Glopak's facility, which included its factory floor and outdoor solar field, Bramnick and local Republicans leaders like Old Bridge Mayor Owen Henry, South Plainfield Matt Anesh and South River Mayor John Krenzel blasted Trenton for mismanaging the state's economy, and offered their own pointers on how to reign in what they called wasteful and inefficient spending.
"In terms of brining in business, it's best if the government is run efficiently, and that's what South River does," Krenzel said. "And it's our hope that the people in Trenton will run the state the same way."
Krenzel said the first thing Trenton has to do is "pay it's bills."
"You've got to take care of expenses, and you've always got to watch expenses." he said. "The two parties need to come together and do just that. If you don't do that, then you keep going deeper and deeper into debt."
Echoing the sentiment was Henry, who said that in the last three years, Old Bridge, a city of 65,000 residents, has reduced its budget from $56 million to $53 million and has brought in business and development projects, including a 5-story, $40 million expansion of Raritan Bay Hospital.
"We don't run our town like a business, but we manage it like a business. And because we manage it like a business we have saved the taxpayers millions and millions of dollars each year," he said.
"Old Bridge is doing it's part," he added.
Many of the officials' gripes came down local issues, like high property taxes, finances for public services like police and fire, and increasing economic incentives for local business like Glopak, which moved to South Plainfield from Newark several years ago. But they also noted their concern over problems with the state's pension system, currently suffering from almost $90 million in unfunded liabilities, as well as a nearly $1 billion budget deficit.
Bramnick said he's proposed measures aimed at addressing those problems, including a constitutional amendment aimed at making the state's legislative districts more competitive so that "people running for office have to answer to what the average voters wants, not the wing voters." He's also proposed the legislature create long-term planning committees to tackle issues like the underfunded pension system.
Today, he asked legislators in Trenton to "put a freeze on regulations, a freeze on new mandates on business, and start to unfreeze opportunity in this state."
"To be here in Glopak tells you the following: that New Jersey can do it," Bramnick added. "If you have local leaders who can facilitate and work with business you can get what we have here, a business open 24 hours a day, seven days a week. Now that's what we're talking about in New Jersey."
Bramnick said he chose Glopak for today's visit because the innovative steps the company has taken to lower cost and boost efficiency, including a rooftop and backyard solar field.
Also present was East Brunswick Council President Camille Ferraro and South Plainfield Councilmen Alex Barletta, Rob Bengivenga and Derryck White.
Asked where the all Democrats were, Bramnick laughed.
"Not here," he said.