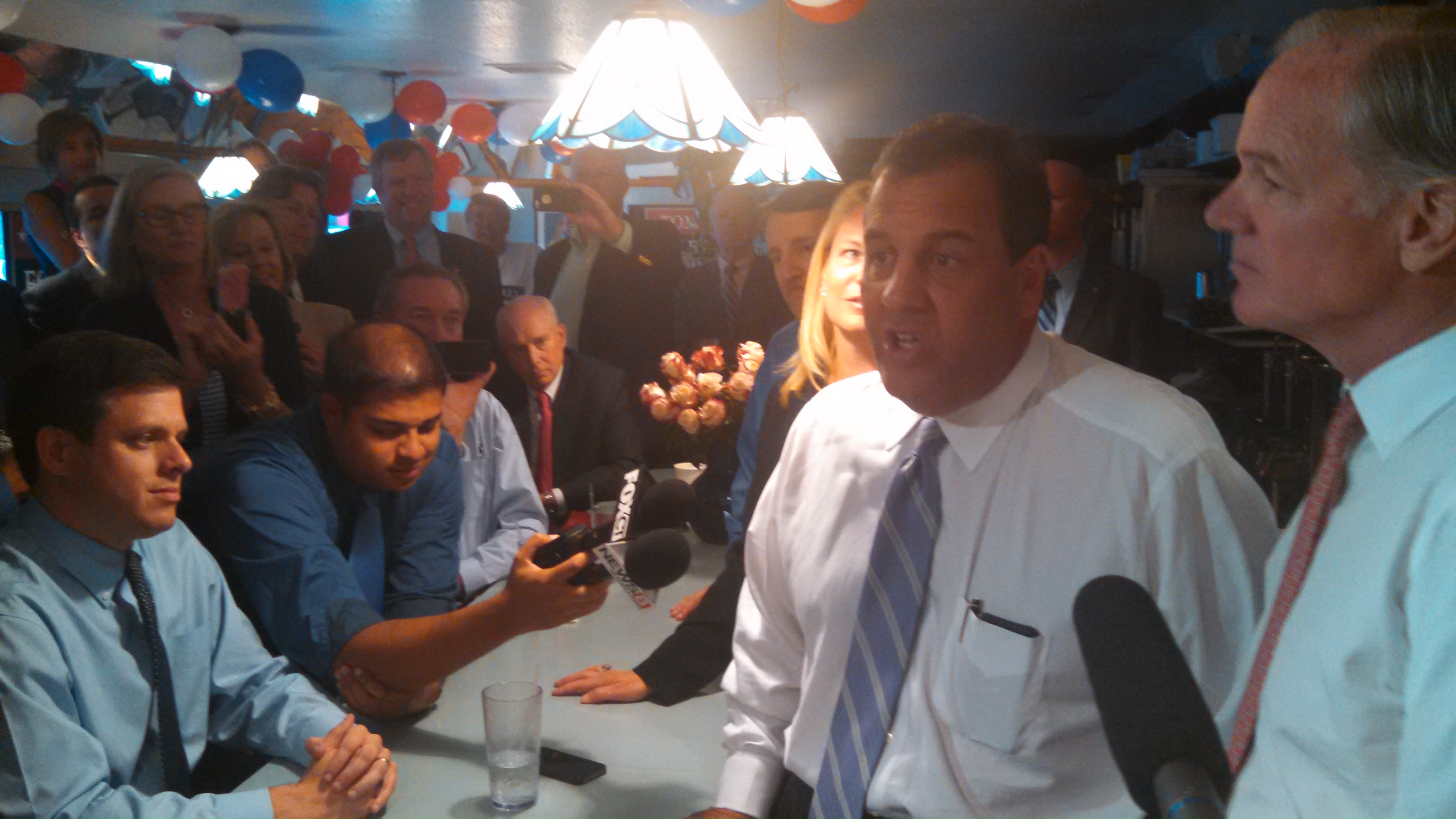 STAMFORD, CT – Round two of Chris Christie's stumping streak with Republican hopeful Tom Foley in Connecticut shared many of the same optics as the New Jersey governor's first visit here.
There was the setting — a diner, again, this one called Curley's, and more Jersey-looking than the last (the owners here once fought off an attempt by current Connecticut governor and Foley opponent Dan Malloy to develop the dirt lot upon which the restaurant sits).
There were also the protesters — dozens of them lining the sidewalk across the street, touting signs saying "Enough Gun Violence" and blasting the conservatives for their staunch positions against gun reform at a time when the country still reels from mass shootings like the one that took place in Newtown last year.
Lastly, there was the press — reporters clambering on top of each other for pictures and sound bites as Christie and Foley squeezed their way around the too-small establishment to shake hands and snap selfies with devout supporters.
For Christie, however, all that was noise. He was here to show his support for Foley, who's up against the challenge of unseating current Gov. Dan Malloy in the November general. (A Quinnipiac University poll released earlier this month found Foley leading the Democratic incumbent by a 46 to 40 percent margin).
"What they really want is someone who knows how to run a government, who knows how to make sure he gets out of the for entrepreneurs in this state, for people who want to build and create jobs for Connecticut citizens, and that's what this race is all about," Christie said as he stood beside Foley during the pair's retail stop here today. "Gov. Malloy is going to try and make it about 18 different things, none of which have to do with his record over the last four years."
Again, Christie slammed Malloy for the neighboring governor's four year track record on jobs and the economy, and urged the handful of supporters in the room to "[force] him to stand up for the record that he's created."
"Tom Foley is going to lay out the vision for the next four years, and that contrast will be clear for the Connecticut voters," he said. "And I cannot wait to come back here in January and watch Tom Foley take the oath of office for the next governor of Connecticut."
Asked by one reporter if the New Jersey governor — a Republican Governor's Association chairman who's lately been touted as presidential material ahead of the 2016 primaries — came here today to show the world that Foley is a "Christie kind of Republican," he scoffed.
"I'm here to show that he's the kind of Republican that Chris Christie supports," Christie said.
"I'm from New Jersey — I understand what it's like to be a Republican running in a state like this," he added.
Christie's weight was also a topic of discussion after it was reported this week that he told GOP donors he had lost 85 pounds. He said that exact number was inaccurate, though he noted he has lost considerable weight since undergoing lap band surgery earlier this year.
"I got elected to office at my previous size," he said, brushing off the suggestion that he's begun sliming down to better appeal to voters and donors ahead of a presidential primary run.
Christie's visit here today capped off an itinerary that began this morning in Illinois, where he stumped for GOP gubernatorial nominee there, Bruce Rauner. Throughout all of his travels as RGA chair in recent weeks — which have taken up a considerable chunk of his time — Illinois and Connecticut are the two state he's visited the most. He said he intends to continue to make them a top priority going forward.
"The only challenger state that I have visited more is Illinois," Christie said when asked where Connecticut ranks on the list of other challenger races he's supported. "And the only reason for the is I visited Illinois before I came here this morning. So I'll be back again and again. There's not doubt that Illinois and Connecticut are the two most important challenger races in the country."
Foley, for his part, praised Christie's support, as well as the RGA's "big wallet."