Modern Farmer has hired Cara Parks as executive editor. The Hudson, N.Y.-based magazine that combines lush photos with coverage of food, farming and country living, launched in April 2013 and hit big with the New York media world, a position that was cemented last year when the publication won an ASME award last spring.
"I think that Modern Farmer is very much the authority in this area, and we just want to make sure that people are getting all the news and content they need to interpret what's going on," Ms. Parks said. "We'll definitely be doing a higher volume of stories and covering a large range of subject matter within the field of farm, food and lifestyle."
Ms. Parks, who was the deputy managing editor at Foreign Policy and the world editor at The Huffington Post before going freelance in 2013, is replacing Reyhan Harmanci, who left for Fast Company in August. In her new position, Ms. Parks will oversee all of the magazine's platforms, including editorial content and the push to develop the website, live-events and e-commerce.
"What's really exciting to us about Cara's experience is that not only has she spent the last year running around, visiting farms and writing, but she was at Foreign Policy, which has kind of a similar structure," Modern Farmer editor in chief AnnMarie Gardner told the Observer. "Maybe they didn't have cow week, but they have eight issues a year and a very robust website and we are looking at really growing our digital property in a big way."
Ms. Parks is still in the process of moving to up to Hudson, but since she spent the past year and a half traveling, said that the move was "an easier transition than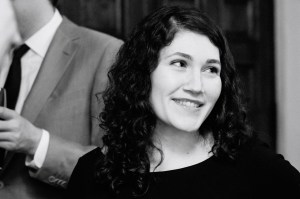 it would have been for a lot of people." Also, as Ms. Gardner pointed out, her new hire went to Bard College, in Annandale-on-Hudson, so she is familiar with the area.
"I'm so happy to be back in the Hudson Valley," Ms. Parks said. "I know what I have to prepare for, winter-wise."
Ms. Parks is the first in a string of hires, expansion and partnerships on both the editorial and business side, Ms. Gardner said, which includes a collaboration between Modern Farmer and Muck Boots that will be unveiled next month.