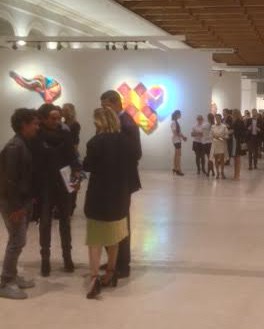 Before the VIP opening of Cosmoscow art fair yesterday, a curator made a remark about the state of collecting here in Moscow that struck us as rather blunt but perhaps also spot-on. Though the fair has two rock-star female co-directors in Margarita Pushkina and Sandra Nedvetskaia–both of whom, as we learned last night at a blow-out bash at art-laden pop-up restaurant Door 19, are not afraid of the dance floor–it seems the boys are doing the buying.
"Ninety percent of collectors are men, and Russian men need to make the decisions themselves," the curator said, with the booths at the fair unfurling bedside her. "They don't want people telling them who to buy."
How this reality manifests itself is on display most visibly in the Collector's Eye section of the fair. Set at the to the left the entrance, prime real estate, the section features works from the collections of Russian bigwigs such as Konstantin Grigorishin, a metals billionaire, and Dmitry Kostygin, an online retail billionaire.
Whatever the strategy of these powerful Russian collectors, it seems to be working. In Collector's Eye is a stunning Cecily Brown and a Christopher Wool from 2003–both of which were snapped up by their current owners on the primary market. And there's a series of Christopher Williams photographs, and an Urs Fischer installation. Pretty impressive.
The keenly watched fair in Red Square is something of a suspenseful test of the contemporary art market in Russia: Will wealthy collectors who are supporting the art market globally be willing to buy art in their own backyards? The results so far: These People Who Make Their Own Decisions have zeroed in on what they want. "The Russian galleries, they've been doing very well," said Ms. Nedvetskaia, who before coming on board to Cosmoscow was the director of Christie's Russia.
Indeed, the local heroes at Triumph Gallery report that they did sell two larges pieces by Moscow-based collective The Recycle Group, for $25,000 each, to the same Moscow-based collector. But how Russian, exactly are these works?: One is called They Killed Kenny, Stan and one is called They Killed Kenny, Cartman–for some reason, they feature South Park characters as deities in a stained glass window.
"And we have some very happy campers," Ms. Nedvetskaia said with a coy smile, gesturing behind us, to the Michael Werner gallery booth.
Yes, New York's own Michael Werner Gallery is the big winner so far. It parted ways with Portmanteau, a work by Marcel Broodthaers from 1965 that features eggshells stacked on a coat rack. No price was announced, but a director said the works at the booth–which include James Lee Byers and Sigmar Polke–were on sale for as much as 2 – 3 million euro.
Some of the more stunning pieces for sale here have yet to find a home. There's a George Condo at Massimo de Carlo on sale for 600,000 euro that's yet to go. And the giant Alex Katz at Galerie Javier Lopez is on sale for $700,000. "People take their time here," Ms. Nedvetskaia said, looking radiant while standing in the main artery of the fair, gobs of couture-clad striking women walking by. "It's not like in Basel, where everything is pre-sold," she went on.
No, Art Basel this is not. For instance, they don't have breakfasts with spreads of blini and caviar and sturgeon and Champagne in Basel, like they do in Moscow. They don't have bars where the vodka flows like water in Basel (or, at least, not many), like they do in Moscow. And they don't have the Red Square in Basel.
And as for the spirits of everyone out here, even if some sales are still on the horizon: We're currently at a party hosted by Interview Magazine Russia surrounded by blonde women with long legs in fur coats and bearded artists at a piano bar dotted with strange potted flora and lined in gold, so clearly there's some celebrating going on.