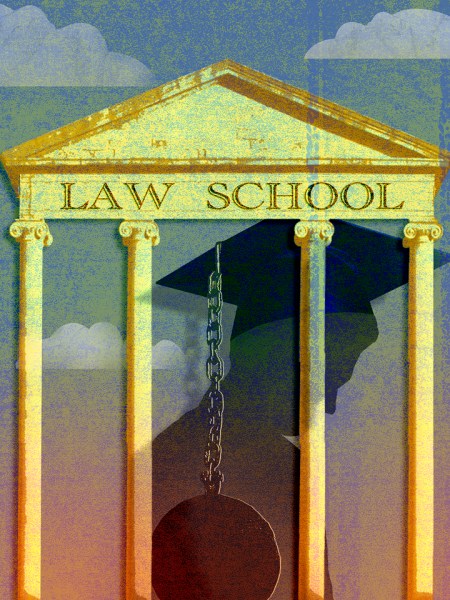 It is a risky proposition getting a graduate degree in the humanities these days, what with the prospect of crippling debt and high unemployment rates. But enrolling in a law program is among the riskiest of all.
"Law school is a major gamble," said Daniel A. Hochheiser, a criminal attorney and managing partner at New York-based Hochheiser & Hochheiser. "It works only for a minute number of students, leaving the majority of students holding the bag, entering a saturated market struggling with debt."
In 2013, the average public law school graduate carried a debt of $84,600, while graduates of private colleges incurred $122,158 in debt. At the same time, legal firms are cutting back on hiring, causing a glut of attorneys and rising unemployment.
In 2012, only 56.2 percent of all law school graduates found full-time employment in their chosen field, and nearly 28 percent were unemployed or underemployed, according to Law School Transparency, a reform group.
When the end result, it seems, is likely to be high debt and little to no employment, one has to wonder why more wannabe lawyers aren't screaming "Objection!" before they apply.
And yet, while law school enrollment has dipped—total enrollment at law schools from 2011-2013 fell, by 6,000 students, to 150,111—would-be attorneys keep coming in droves, despite the mountain of evidence that suggests they should pursue another career path.
While there will always be those for which law school is a fallback, there are some who choose law out of a sense of moral duty, the path to lawyerhood a quixotic endeavor in the face of seemingly insurmountable odds.
***
Rosa Valiente, a director of housekeeping at a trendy downtown New York hotel, exemplifies that spirit. "I want to help people," said Ms. Valiente, 28, currently in a pre-law program at the City College of New York. "I'd like to work with families dealing with domestic violence or family law."
Ms. Valiente, who is well aware of the debt she may take on, is earning A's in her pre-law program and expects to apply for scholarships and grants to reduce the financial burden associated with graduate degrees. Since she has a good-paying job in the hospitality industry, she's saving money, she said, and studying with an LSAT trainer to heighten her chances of acceptance.
A sunny outlook, for sure, until one realizes that acceptance is only the beginning, and guarantees nothing once you are but a single cog in the post-graduate machine. Plus, the school's caliber plays probably the biggest role in his or her chance employment, according to Mr. Hochheiser.
"The reality," he said, "is that only the top students from Harvard, Yale and Stanford, or who make law review, are going to get guaranteed financial success after law school."
Oliver Bateman, an assistant professor of law at the University of Texas at Arlington, qualified Mr. Hochheiser's sentiment, but in far blunter terms.
"If you're not going to be first at a mid-tier or lower-level school," Mr. Bateman said, "you may as well be last."
Paul F. Campos, author of Don't Go to Law School (Unless) and a professor at the University of Colorado Law School, contends that law school makes sense for a select number of students. "Some people," he said, "can go to law school without incurring much in the rate of financial risk because they get large scholarships or they come from the economic background where the cost isn't particularly significant."
So, more good news for prodigies with trust funds. But most students who don't have first-rate connections or a loaded bank account are not so fortunate. "If you're an average middle-class kid who has a debt-financed education and attended a school that doesn't place many of its graduates in high-paying, entry-level legal jobs," Mr. Campos said, "it's an extremely risky proposition—and a bad one."
Not everyone in the field, however, is quite as negative.
Nick Allard, dean of Brooklyn Law School, remains optimistic about law graduates' futures. The demand for lawyers, he said, "is building up in new fields such as privacy, compliance, Internet law, health and energy."
Mr. Allard, it appears, can back up his words. A whopping 90 percent of Brooklyn Law School graduates in 2013 found full-time employment, Mr. Allard said, thanks to a number of programs the school has introduced, like Business Bootcamp, co-taught with staff from Deloitte, which prepares lawyers to enter the business world, and an accelerated two-year program. To address rising costs, Brooklyn Law will reduce tuition by 15 percent starting in 2015, financed by needs-based aid and support from alumni, among other things.
"Law schools need to make sure all prospective students are told up front what school will cost and what sort of job market they'll be entering," Mr. Bateman said. "If this information can't be placed on the front page of a law school website, if the school is concealing that information, then they have no reason to be in the legal education business."
Transparency has been heightened at many law schools, thanks in a large part to a recent series of New York Times articles by David Segal. In the past, some law schools didn't post their post-graduation employment rates or didn't make it easy to figure out exactly how much the entire law school package—including tuition, room, board and living expenses—would cost.
"Potential law students have access to way more information compared to a few years ago," Mr. Campos said. "Law schools were engaging in highly deceptive tactics; today, not nearly as much."
The University of Texas at Arlington's Pre-Law Center, for instance, serves as a resource for pre-law minors with liberal arts majors. "It prepares them to make an informed decision of whether they want to go here," Mr. Bateman said. "You have to excel at every stage in a crowded market."
But while the market is indeed crowded, a student who gravitates to less populous areas like Kansas, South Dakota or upstate New York may hang up a shingle and thrive. Conversely, if one wishes stay in the thick of things, one must be very patient.
Take, for example, Hanni Fakhoury, 31. Mr. Fakhoury graduated from the University of the Pacific's McGeorge School of Law in 2007. He worked part-time, had paying internships and left school with about $90,000 in debt. Most of that loan has since been repaid, he said.
His goal was to become a public defender. Recognizing that he wasn't a Harvard grad, he sent out 100 packets of résumés, cover letters and writing samples to different law firms around the country. Vying for a job at the San Diego public defender's office, he had to argue before a mock court of appeals, and he was hired in 2007.
Fast forward to 2011. He attended a job fair and secured a job as a staff attorney with the non-profit Electronic Frontier Foundation, based in San Francisco. He now specializes in criminal law as it pertains to surveillance and cybercrime.
"Going to a $40,000-a-year legal aid job won't pay the $100,000 in debt," Mr. Fakhoury said.
ne way to alleviate the debt problem would be to encourage more attorneys to pursue public interest law, said Mr. Allard. He'd like to see loan forgiveness and financial support programs for attorneys who agree to practice public service for several years.
And the future isn't hopeless, as Mr. Hochheiser suggests. Trimming law school programs to one year, he said, would cut debt and teach students how to think like a lawyer. Students could then serve a two-year residency at a firm, after which they'd enter a practice.
Mr. Bateman, for his part, recommends that law schools offer two-year programs, which would include a one-year apprenticeship, for which students would be paid.
Mr. Campos proposes that students take the LSATs several times to obtain as high a score as possible, but remains skeptical of the prospects for all law graduates. "We're producing twice as many graduates as there are jobs for lawyers," he said. "We need to decrease the supply and decrease the cost."
Yet those who want to study law, it seems, will continue to do so, despite whatever setbacks stand in their way. "One chooses to go to law school because they want to study law," Ms. Valiente, of City College, put it simply. "The end result has nothing to do with the cost."