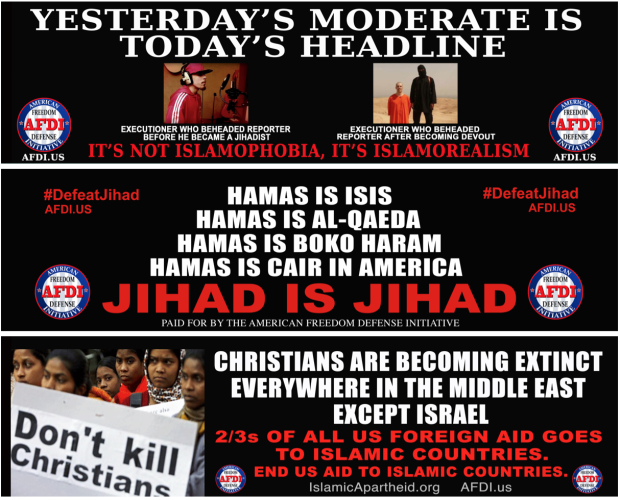 A horrifying new controversial, anti-Islamic ad campaign is coming to an MTA bus or subway near you. The New York Daily News reports that the advertisements will be placed in 100 buses and two subway stations, despite the MTA's best efforts to prevent their printing.
The series of six ads were paid for by blogger Pamela Geller and the American Freedom Defense Initiative (AFDI). The Daily News writes that the MTA tried to veto the ads, saying they violate its policy against "demeaning language." A judge overruled, on the grounds that the MTA was violating Ms. Geller's First Amendment rights with their prohibition. The agency has since updated its policy to include a disclaimer on incendiary ads that the viewpoints do not reflect theirs.
The new warning doesn't tone down the images featured. They include photos of James Foley before his execution and Adolf Hitler meeting with "his staunch ally, leader of the Muslim world, Haj Amin al-Husseini." Not to mention the anti-Islamic rhetoric, proclaiming "It's not Islamophobia, its Islamorealism," among other incendiary phrases.
This isn't Ms. Geller's first foray into advertising. Coincidentally, she got her start as an associate publisher at the Observer in the 1990s. More notably, she was behind the Anti-Ground Zero Mosque Ads in 2010. Her website asserts that the new ads are intended as educational. The goal is to persuade young American Muslims to reject ISIS and this view of Islam. There's even an Indiegogo campaign in search of funding for more ads ($1,000 gets you a signed poster for your dungeon).
Perhaps Ms. Geller and her supporters were feeling ironic with one variation of the advertisement, featuring the photo of Hitler and a plea to "Stop the Hate."