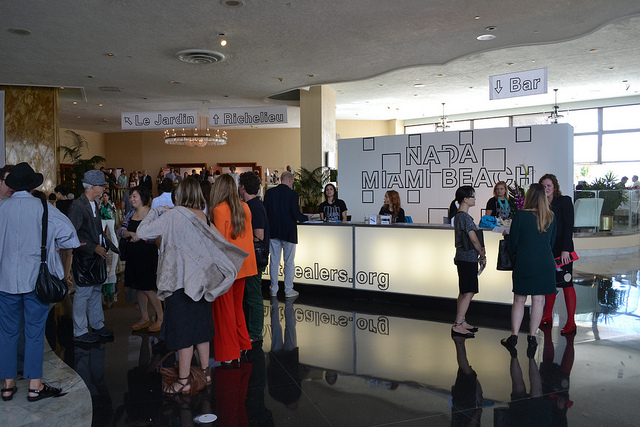 New York's summer may be winding down, but things are already heating up for December's Miami Art Week. NADA Miami Beach 2014 has released its exhibitor list for the 12th edition, which will run from December 4-7. This year's fair will total 74 galleries, with exhibitors hailing from 34 cities and 18 different countries.
With just a few more than last year's total tally of 70 galleries, this year's fair boasts 15 first timers—many international—including Andersen's Contemporary (Copenhagen), Aoyama Meguro (Tokyo), HIGH ART (Paris), with Future Gallery (Los Angeles), Chapter NY (New York), and LULU (Mexico City) featured among this year's 19 projects.
"This year's program is a testament to the growing international footprint of our organization," fair director Heather Hubbs told The Observer in an email. "We look forward to presenting our most diverse and dynamic fair to date."
Some other exciting things to look forward to are solo projects from Bjarne Melgaard (Rod Bianco), Eli Ping (AND NOW), Bas van den Hurk (Rod Barton), Lucy Dodd (David Lewis), Maximilian Schubert (Eli Ping Frances Perkins), and a recreation of Rainer Ganahl's "El Mundo" (Kai Matsumiya).
Here is complete list of exhibitors:
Galleries:
247365, Brooklyn
Adams and Ollman, Portland
American Contemporary, New York
AND NOW, Dallas
Andersen's Contemporary, Copenhagen
Aoyama Meguro, Tokyo
APALAZZOGALLERY, Brescia
The Apartment, Vancouver
Rod Barton, London
Nicelle Beauchene Gallery, New York
Rod Bianco, Oslo
Bill Brady Gallery, Kansas City
Brennan & Griffin, New York
Callicoon Fine Arts, New York
Shane Campbell Gallery, Chicago
CANADA, New York
Galerie Bernard Ceysson, Luxembourg
CLEARING, Brooklyn
Lisa Cooley, New York
COOPER COLE, Toronto
CourtneyBlades, Chicago
Creative Growth, Oakland
Thomas Duncan, Los Angeles
Eleven Rivington       New York
Derek Eller Gallery, New York
Thomas Erben Gallery, New York
ESSEX STREET, New York
Zach Feuer Gallery, New York
Foxy Production, New York
Frutta, Rome
François Ghebaly Gallery, Los Angeles
Laurel Gitlen, New York
The Green Gallery, Milwaukee
Jack Hanley Gallery, New York
HIGH ART, Paris
Natalia Hug Gallery, Cologne
Ibid, London
International Art Objects Galleries, Los Angeles
Invisible-Exports, New York
The Journal Gallery, Brooklyn
JTT, New York
Karma, New York
Galerie Parisa Kind, Frankfurt
KINMAN, London
Koenig & Clinton, New York
Galerie Christian Lethert, Cologne
David Lewis, New York
Locust Projects, Miami
LINN LÜHN, Dusseldorf
Marlborough Chelsea, New York
Martos Gallery, New York
Galerie Max Mayer, Dusseldorf
MISAKO & ROSEN, Tokyo
MUJIN-TO Production, Tokyo
Night Gallery, Los Angeles
Overduin & Co., Los Angeles
Eli Ping Frances Perkins, New York
Simon Preston, New York
Ratio 3, San Francisco
REGINA REX, New York
ROBERTO PARADISE, San Juan
SABOT, Cluj-Napoca
Federica Schiavo Gallery, Rome
Seventeen, London
TIF SIGFRIDS, Los Angeles
The Sunday Painter, London
Temnikova & Kasela, Tallinn
TEMPO RUBATO, Tel Aviv
Tomorrow, New York
Rachel Uffner Gallery, New York
Proyectos Ultravioleta, Guatemala City
Jonathan Viner, London
White Columns, New York
Young Art, Los Angeles
Projects:
Artist Curated Projects, Los Angeles
Alden Projects™, New York
Bodega, New York
Chapter NY, New York
David Petersen Gallery, Minneapolis
Future Gallery, Berlin
Grand Century, New York
Glasgow International / Whitechapel Gallery, Glasgow + London
Independent Curators International, New York
The Lodge Gallery, New York
Lulu, Mexico City
Magic Flying Carpets, New York
Kai Matsumiya, New York
KAYOKOYUKI, Tokyo
P!, New York
Rob Tufnell, London
SculptureCenter, New York
TRUTH AND CONSEQUENCES, Geneva
XYZ collective, Tokyo