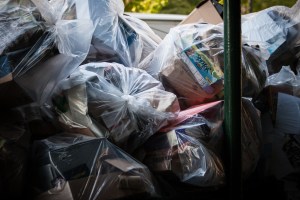 It's hard not to notice New York's abundance of trash. One day, the sidewalks could be covered in bags leaving little room to walk (34th street, we're looking at you) and then the next, it's all gone. Where does our trash go? According to the New York Times, not the greenest of places.
"New York has always struggled with where to dump its waste," Kathryn Garcia, Commissioner of the New York City Department of Sanitation, told the Times. Ms. Garcia stated that the city currently produces 10,000 tons of residential waste annually. Until it was outlawed back in the early 1900s, this waste was dumped into the ocean. The next solution was landfills and incinerators, but those quickly filled up. Now: at a cost of about $300 million, the city sends its waste by truck to New Jersey, Pennsylvania, Virginia, and upstate New York. According to Ron Gonen, former Deputy Commissioner for Recycling & Sustainability, Dept. of Sanitation, "New York currently exports 85% of waste to landfills."
The next move in waste management is significantly greener. The Department of Sanitation began collecting organic waste materials on a small scale as part of its NYC Waste Less program in 2012. Mr. Gonen stated that these materials make up about 35% of the waste stream. Not hard to believe in a city like New York, where restaurants dominate the streets. According to the New York City Department of Health and Mental Hygiene website, there are 10,240 restaurants in Manhattan alone.
By taking organic waste out of regular trash piles, the city saves money and is more environmentally friendly. All that food waste could be rerouted to a compost facility plant, used to benefit New York as fertilizers or renewable energy. In fact, it already is in use, with organic collection taking place in parts of Staten Island, the Bronx, Brooklyn and Queens.
National Geographic wrote that similar composting programs already exist in San Francisco and Seattle. New York's organic collection program is still in pilot-form, but in 2011, it was codified into law, requiring that the pilot be carried out until 2015. There's no word on when the program will branch out into Manhattan, but we certainly hope that it's soon.