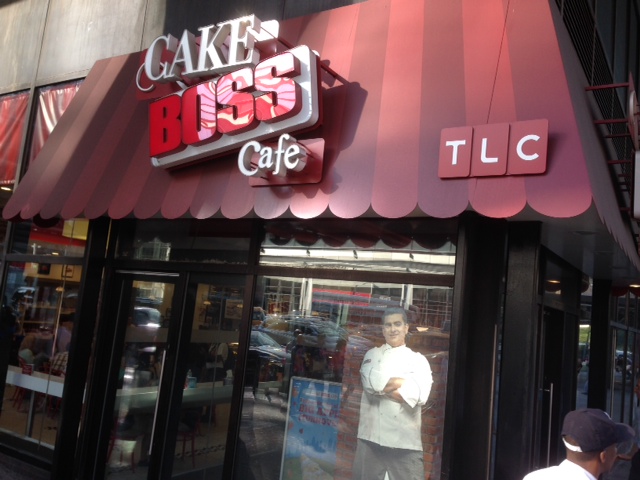 HOBOKEN – Celebrity baker Bartolo "Buddy" Valastro, Jr., the head baker at Carlo's Bakery in Hoboken, is also known as the "Cake Boss." Famous throughout New Jersey from his reality television show on TLC, Valastro has made his support of Gov. Chris Christie clear, endorsing him for re-election in 2013 and allowing the Republican governor to campaign in his famed store on Washington Street in Hoboken.
Now, Valastro apparently wants to put his dough where his mouth is. A source has told PolitickerNJ that Valastro has sent a fundraising solicitation to the New Jersey GOP in order to raise money for Christie's birthday cake. The solicitation is expected to be received today, according to the source. Christie will turn 52 years old on Saturday.
Two recent events have swirled Valastro into the orbit of Christie's political mixing bowl.
The Port Authority of New York and New Jersey's board of commissioners' operations committee gave Valastro a lease at the Port Authority Bus Terminal in New York City in 2012. The Cake Boss' outlet there opened just a few months before Valastro endorsed Christie in August 2013. David Samson, a Christie ally who was then Port Authority chairman, recused himself from any matters that led to the bi-state agency authorizing the lease. Samson, who resigned his Port Authority position in March, has been subpoenaed to produce documents by the state legislative committee investigating the George Washington Bridge access lane closure controversy, also known as the Bridgegate scandal.
The woman at the center of a state judge nomination controversy earlier this year fueled in part by Gov. Chris Christie implied that the Cake Boss played a role in her ongoing troubles.
A package of nominations for judges before the state Senate judiciary committee got derailed on June 30 when one of the nominees for judge, former Christie administration Director of Employee Relations David Cohen, got snagged when state Senate Majority Leader Loretta Weinberg (D-37) brought up a June 21 letter from a former Christie administration employee who asserted that Cohen did not adequately address her boss's behavior toward her.
The Democratic members of the committee moved to put off Cohen's nomination until July 10, in order to give Mariella Morales, the author of the letter and the former deputy executive director of the Center for Hispanic Policy, Research and Development, the opportunity to testify before the committee. The confirmation hearing for the other judges up for nomination was subsequently pushed to the same date.
Christie's response was to pull all of the nominations.
In an exclusive interview with PolitickerNJ, Morales declined to discuss the political machinations surrounding the judicial nominations. But Morales alluded to the alleged participation of Valastro.
According to Morales, she applied to Valastro's company's corporate offices in Jersey City in March 2013.
Morales held several positions in the Governor's office from January 2010, when Governor Christie took office, until September 2012, when she resigned.
Morales,an accomplished amateur pastry chef, implied that her resume, full of references to her service in the Christie administration, potentially dented her chances of employment with Valastro, a strong Christie supporter.
"It's just common sense that in light of the political nature of the resume and a standing relationship between both parties, that if you want to verify whom this individual is, and there are references on the resume, you check the references," Morales told PolitickerNJ. "It makes total common sense that somebody would make a phone call to check the person applying out."
Morales was ultimately not employed by Valastro. Valastro did not return a call from PolitickerNJ seeking comment.
In a recent email message from Valastro distributed and paid for by the New Jersey Republican State Committee, the Cake Boss makes it clear why he's supporting Christie. His support includes baking a cake for the governor for a fundraising event in honor of Christie's birthday to be held at the East Brunswick Hilton on Sept. 10. Mitt Romney, the 2012 Republican nominee, will the most prominent name in a room full of supporters of Christie, who is considering a 2016 GOP presidential run.
"I am proud to call Governor Chris Christie a friend, and I am honored to have the opportunity to create a memorable birthday cake for him and hundreds of his guests to share," the email from Valastro reads. "I hope you will be able to join us for this special occasion, but if you are unable to make it, you can still donate $15 to sign the Governor's birthday card or $75 to send him a birthday message."
"See you next Wednesday to enjoy a great evening of celebration and delicious cake!" Valastro's message concludes.
Valastro did not immediately return a call left at the Hoboken location of Carlo's Bakery.