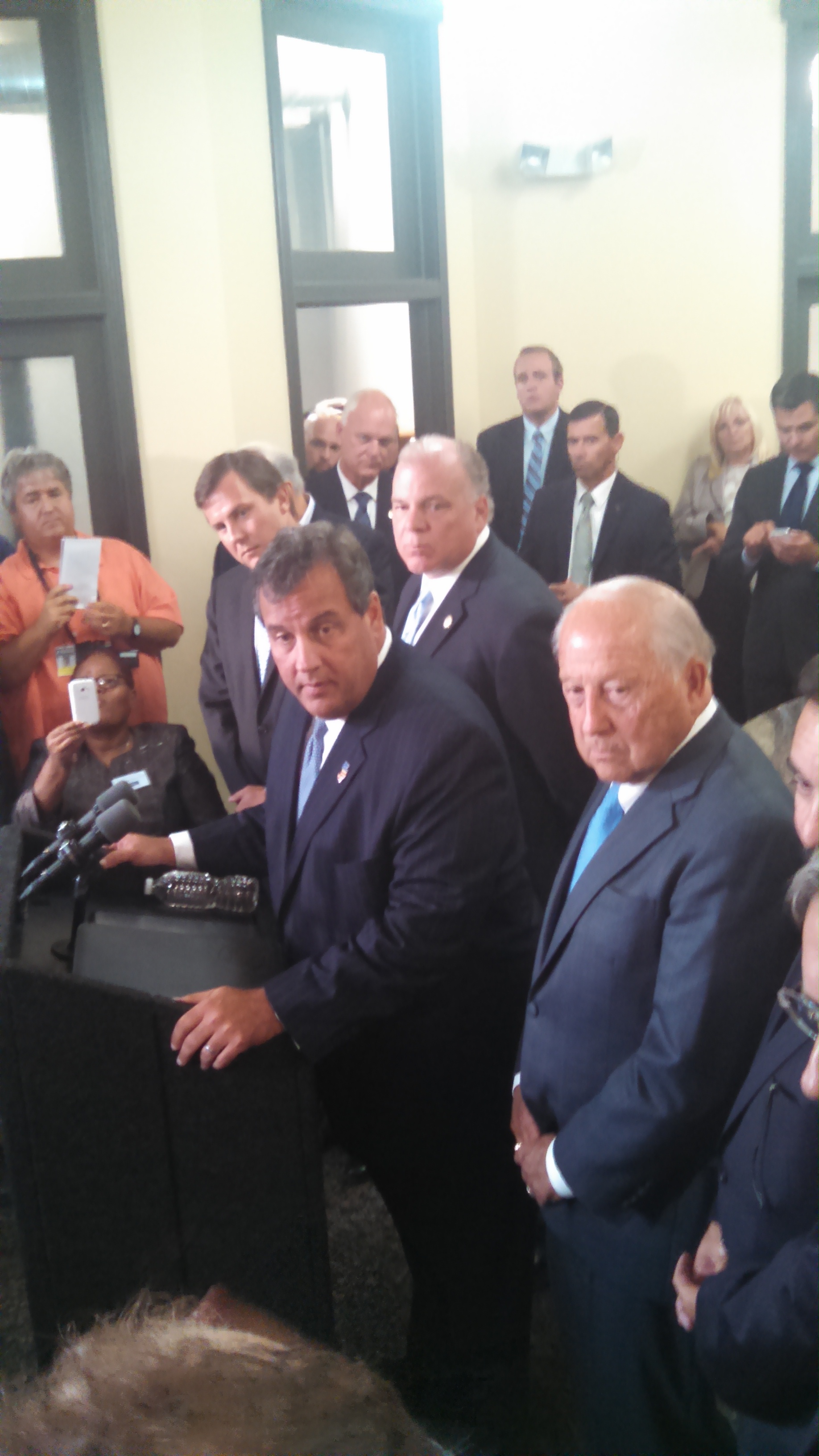 ATLANTIC CITY – Following a closed-door meeting of state lawmakers and local business leaders at the Casino Reinvestment Development Authority here today, Gov. Chris Christie, refusing to go into specifics on what was discussed, said that "everything is on the table" when it comes to finding solutions to Atlantic City's ailing gambling economy.
He did, however, play up the bi-partisan nature of the summit, which brought together lawmakers on both sides of the aisle and "all the major stakeholders."
"We are united in the idea that we have some short term work to do and some long-term work to do," Christie, flanked by counterparts in the assembly and senate, said during press conference following the nearly two hour meeting. "But you're not going to get from us today any specifics of the plan. Today was the beginning of a work-study. It was not a pretend meeting in there. It was 2 hours and 15 minutes of some candid discussion, some problems being laid on the table, some concerns being laid on the table, and ultimately some solutions being made on the table."
Few details were offered about those solutions however, with Christie maintaining that the decline of the state's gaming industry — which has faced increasing competition from out-of-state markets in places like Pennsylvania and New York — was "inevitable."
"I'm happy to consider everything, but I'm not committed to any one particular course at this point," Christie said when asked about various proposals to support the city's depressed and gaming-dependent economy, including increasing state oversight there.
Other state lawmakers who took part in the closed-door deliberations also attested to the meeting's cooperative nature. Senate Majority Leader Thomas Kean (R-21) called the meeting "extraordinarily positive and productive," while Assembly Minority Leader Jon Bramnick (R-21) lauded the legislature for coming together over the issue.
"We're all working cooperatively and that's what government should do," he said.
Senate President Steve Sweeney (D-3) called characterizations that the city faces certain death following the closures of four of its largest casinos "far exaggerated."
"We have nothing but up — and I'm not just saying that. We have a phenomenal resort city," Sweeney said, admitting later that "honestly, some mistakes were made — all of our eggs were put in one basket."
"We need top put the politics aside put the people first and recreate an Atlantic City that we know will be successful," he added.
Christie said today's summit marked the first of several meetings lawmakers plan to hold on Atlantic City's future. A second summit, he said, will be held in 45 days.
Asked whether he thought his support for subsiding the construction of Revel casino last year was a lost bet, Christie went on the defensive.
"When you go from a $5.2 billion market to a 2.5 billion market you have to get smaller," Christie said. "Of course I supported Revel opening — it was an opportunity to create jobs and their were plenty of people who invested private capital. Now I'm sure what they thought was it would be some other casino that would close and not Revel. They were wrong."
He added that there has been "not one nickel" of taxpayer money spent on the multi-million dollar project.