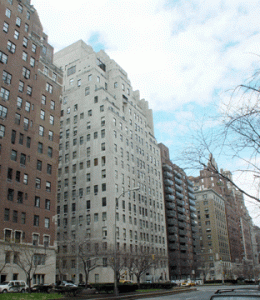 Homesickness may be the most common complaint in the diplomatic corps, but for many foreign emissaries posted to New York, pining for one's home country quickly gives way to a more pressing concern: the need to find any home at all.
While diplomatic status confers bragging rights and privileges the world over, it's a deal-killing disadvantage in New York City, where the international nabobs rank somewhere beneath the owners of large dogs and professional drummers on housing applications.
"In other countries, where ever diplomats go they are approved immediately—these are people with very high status who are vetted at the highest levels. But here's it's the opposite," grumbled one broker. "Diplomats have very high expectations, but at the same time nobody wants them. Many listings even come right out and say 'no diplomats.' "
Concerns about diplomatic immunity, security details, entourages and heavy entertaining schedules have sunk even the most prestigious prospects. While dropping "my neighbor, the ambassador" into cocktail party chatter holds undeniable appeal, many fear that the opener will lead to woeful tales of diplomatic immunity rather than witty anecdotes. 
This July, France—France!—was rebuffed in its bid to buy a sprawling duplex at River House for use as an ambassadorial residence. This despite the fact that the country was relocating its mission from what many consider to be the premiere co-op in the city—740 Park—where it has owned a magnificent apartment since 1978 with nary a complaint from neighbors.
"It is not in the interests of the residents… to cohabit with foreign emissaries who are, to a large extent, beyond the reach of the law," resident Elizabeth Kabler, herself the daughter of Ronald Reagan's chief of protocol and stepdaughter of the former ambassador to the UK, wrote in a letter to shareholders that was quoted in a recent Wall Street Journal article. (When the Observer reached Ms. Kabler on the phone, she had "no, no comment," apparently as unfond of journalists as she is of diplomats.)
The deal's collapse surprised even the most seasoned brokers, who expressed shock that as difficult an endeavor as getting a foreign government past the co-op board would have been attempted without total assurance from all parties involved that it would come off smoothly.
 "France getting turned down by River House? That feels rinky-dink on all levels, it should have been more vetted," opined one broker. Still, who would have expected the board to reject France?
"In this globalized world, with wealth being so much more sophisticated, it looks xenophobic to turn down France. It's not like it was Sierra Leone," the broker sniffed. 
Of course, when it comes to co-op board acceptance, some countries are more welcome than others.
"Putting aside the diplomatic complexities of ownership, countries that are considered prestigious by Americans—those that are stable democracies or constitutional monarchies—add cachet and even the most rigorous co-ops have allowed them in," said Sotheby's broker Meredyth Hull Smith. "For example, England had an apartment at 834 Fifth Avenue and 10 Gracie Square for a long time houses New Zealand. So for some countries, the gates are open."
Kirk Henckels, director of private brokerage at Stribling, said that with most boards "entertaining is really the big issue." A lawyer who has represented foreign governments in negotiations agreed that it's often the major stumbling block, but scoffed at "the idea that there will be wild soirees every week."
"That's not what they're here to do," he said, describing a recent dinner with a high-ranking official who didn't finish his first glass of wine.
Many boards are also turned off by the fact that in a majority of situations, it is the government purchasing the apartment for use by a succession of diplomats. "The board interviews one ambassador or consul and they love him, but in a few years that person is revolved out of the post," explained a broker.
But the foreign ministers of other countries get cold receptions right from the start. Brokers concede that many boards simply refuse to consider some governments, particularly buyers from "oil patch countries with f-you money" as one put it. For example, when Sheik Hamad bin Jassim bin Jabr al-Thani, the then-prime minister of Qatar and a member of that country's royal family made a bid to buy two apartments at 907 Fifth, the board didn't even deign to interview him.
As one resident put it to The New York Times, "Who needs 23 rooms? It would have to be a huge family, or maybe an entertainer. We don't know, but we'd rather not find out."
Mr. al-Thani eventually purchased developer Aby Rosen's townhouse on East 71st—a course of action many brokers try to steer diplomatic buyers of sufficient means towards. Indeed, the Qatari government seems to have absorbed the lesson, snapping up the Ellen Biddle Shipman mansion on Beekman Place shortly after for use as an ambassadorial residence.
Even condos have been known to go to extreme lengths to bar diplomats. One broker told the Observer that he recently received an email from the manager of a "prestige condo on the East Side" saying it planned to exercise its right of first refusal to keep a diplomat from purchasing a $6.9 million apartment. The building wanted to make sure that it wouldn't be out of pocket for long and that someone—perhaps his client?—would be waiting in the wings if it refused the diplomat.
It's not all idle concern. While diplomats often sign waivers of diplomatic immunity—and for countries who signed the Geneva convention, immunity doesn't even apply to real estate deals—the legitimacy of such waivers is debated. And it can lead to considerable legal complications.
Real estate attorney Steven Wagner, of Porzio, Bromberg & Newman, cited one case of an Astoria condo where a diplomat owner started subleasing his apartment to medical tourists, essentially turning the apartment into an extended stay hotel. When the owner finally agreed to submit sublease applications, they were in Arabic, sparking a battle over who should pay for the cost of translation.
Not to mention that getting a government to sign off on a purchase can be hellish—Rusty Thrasher, the owner of a Murray Hill brokerage, recalled the ordeal of selling a client's condo to Bangladesh.
"You wouldn't believe the number of people who had to come over for approval. Then I'd have one of the government's brokers say we're willing to buy at this price, while another one would call with a different price," Mr. Thraser said. I kept telling the owner, 'I don't think this is going to happen." The sale eventually went through, but not before another delay occasioned by the need for a State Department sign-off, which must approve the tax-exempt purchase of property by foreign governments

What's more, political unrest at home can bring domestic upheavals abroad. A 14-room duplex at 730 Park that was purchased by Yugoslavia in 1975 has sat empty since 1992, when war broke out in Balkans. Though the apartment is valued at more than $20 million, the five countries that split the shares—Serbia, Slovenia, Croatia, Macedonia and Bosnia and Herzegovina—have been unable to reach an agreement to sell.
Meanwhile, the townhouse owned by Iraq at 124 East 80th Street has, to the consternation of neighbors, been sitting empty since 2002, when Iraqi ambassador Mohammed Al-Douri was evicted in dramatic fashion, refusing to accept his subpoena and crying "I love New York!" Special assistant to the current ambassador Omar Humandi told the Observer that they've started talking to engineers and architects about finally renovating the place—an onerous task given that while the house has been abandoned since 2002 "not a dime has gone into it since 1991, when sanctions started."
And woe be it to diplomats who cannot afford posh condos or townhouses, those unfortunate house hunters with immunity but relatively meager housing allowances for the Manhattan market.
"Being a diplomat is bad, being a poor diplomat is really the worst," said Teresa Sola, a Citi Habitats broker, who specializes in working with diplomats and foreigners. Ms. Sola got into her line of work after she, a former diplomat, and her husband, a high-ranking UN bureaucrat, were rejected from an Upper East Side condo that had changed its bylaws to forbid diplomats from buying.
"The apartments that are more expensive tend to be more diplomat friendly, so if you can afford $15,000 or $20,000 a month, okay. But if you have just $3,000 or $4,000 to work with, you end up in a studio, or have to pay a lot of security and give up your immunity.
And for those who can't or won't? "You could end up in Queens," she said gravely, as though that were another country altogether.