Take note, everyone: this is how you win Fashion Month.
After opting out of the festivities in New York, London and Milan, Kimye cultivated some mystique for once. They were wrapping up Kanye's Yeezus tour in Australia for most of the past month, which left people wondering whether they'd appear in their favorite city, Paris, for any shows.
Today, hours after Kanye attended the Dries van Noten show (did Kim's invite get lost in the mail?) they finally materialized in the front row of the Balenciaga spring and summer 2015 presentation along with their daughter, North West.
http://instagram.com/p/tV8sd0l4n3/?modal=true
In this PR victory, which you have to admit is impressive, the family was referred to on Saks' Instagram account as "Alexander Wang's special guests."
What do you even do when you arrive at a fashion show and find that the Kardashian Wests are your seatmates? You thought you were going to just sit there and take in a bunch of cool clothes. All of a sudden, Carine Roitfeld is dropping by for a chat.
It is pretty remarkable that Kim has made it this far after having been allegedly banned from the Met Ball by Anna Wintour herself. We're not seeing Ms. Wintour in any of these photos, though — could it be that she's had enough of Kimye now that they scored the Vogue cover?
Also, this was a great way for Kim to make an entrance without looking like she's trying to compete with her baby sister Kendall, who was the unofficial It Girl of New York Fashion Week. Kendall has banned Kim from attending any shows in which she walks, sooo, guess she wasn't in Balenciaga.
It's only the second day of Paris Fashion Week, so it remains to be seen whether Kimye will be embraced by the city's other fashion power brokers. We know Mr. Wang, Ms. Roitfeld, Riccardo Tisci of Givenchy and Olivier Rousteing of Balmain are pro-Kim, and she's even posed for Karl Lagerfeld. Will her family receive the royal treatment at those shows, too, or will she and Kanye retreat now that they've made their presence known?
Either way, hopefully Kim will text her most notable former boss/frenemy after this, like, "Hey girl I'm spending ~1 night in Paris~ lolz why arent you here?"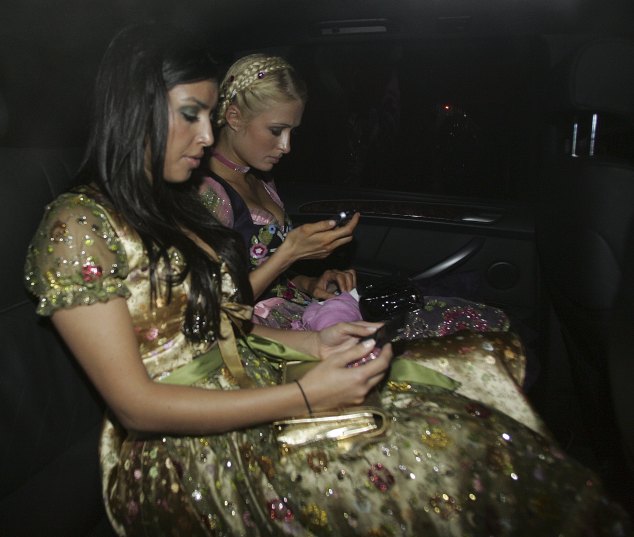 Despite Kim and Kanye's public-relations prowess, though, we have to point out that they are setting the bar really high as far as accomplishments go for little Nori. Like, are they even going to care when she loses her first tooth or gets a goal in her dinky little pee-wee soccer league? How do you ask your child to honor her bed-time when she got to stay up late last night to party with Alexander Wang?
Most importantly, how can you say no to this face?
http://instagram.com/p/tV1RojOPIa/?modal=true
Anyway, here's what the clothes looked like. Don't forget this is their day, too.
http://instagram.com/p/tVvh56kB1n/?modal=true