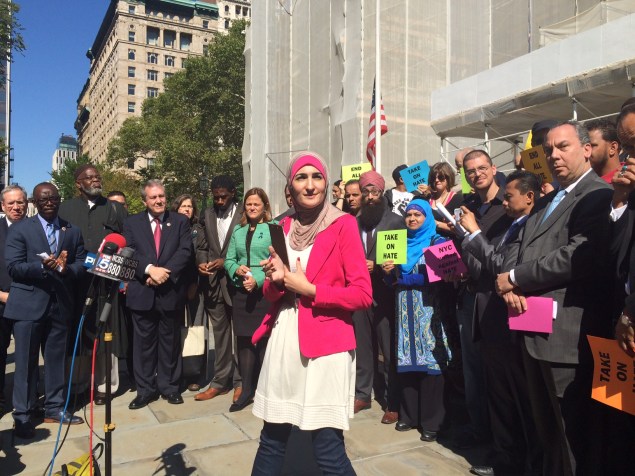 Dozens of elected officials, faith leaders and hate crime victims gathered in front of the steps of New York City hall Tuesday to publicly condemn terrorist organizations and denounce "Atlas Shrugs" blogger Pamela Geller's anti-Islam ad campaign, coming this week to NYC buses and subway stations.
Known for her public criticism of Islam, Ms. Geller, president of Stop Islamization of America, paid $100,000 for ads that will appear on 100 buses and at the entrances of the East 59th Street and Columbus Circle subway stations featuring American journalist James Foley, who was beheaded by ISIS, and Adolf Hitler.
"These ads are equating Islam to horrific groups like ISIS," said Linda Sarsour, executive director of the Arab American Association of New York. "We all condemn the actions of ISIS and terrorists who are committing acts against innocent people.
One ad shows the man some suspect of being Foley's killer, wearing headphones and a track suit. The ad reads, "Yesterday's Moderate, Today's Headline."
Another ad shows a 1940s photo of Adolf Hitler talking to a pro-Nazi Palestinian leader, under the words, "Islamic Jew-Hatred: It's in the Quran."
"Ms. Geller just practices hate and doesn't understand that one can be supportive of a cause without stepping over the line," said NYC Comptroller Scott Stringer, calling the ads "angry" and "racist."
But Ms. Geller said on her blog that the ad campaign is only "designed to increase awareness of the nature and magnitude of the jihad threat, and put an end to the denial and willful ignorance about that threat."
"Our ads are no more 'bigotry' than resistance to the Nazis was 'bigotry,'" Ms. Geller continued, calling Ms. Sarsour a "notorious anti-semite."
But Councilman Mark Levine, Chair of the Jewish Caucus disagreed.
"One of the ads that has been approved by the MTA makes use of Nazi imagery, something which is frankly taboo in the mainstream Jewish community," said Levine, adding that another ad was rejected by the MTA, which Ms. Geller is now challenging in court. "The ad that was rejected by the MTA had language that appears to be suggesting acts of violence against jews in a bizarre twist on an already hate-filled ad campaign."
As for the MTA, the organization's hands appear to be tied.
They tried to reject Ms. Geller's subway ads years ago, which called the enemies of Israel "savages." But a judge ruled that rejection of the ads was a violation of Ms. Geller's First Amendment rights.
After losing the battle, the MTA made it policy that all viewpoint ads must clearly state that the opinions expressed do not reflect those of the MTA. Ms. Geller's new ads will feature this disclaimer.
The ads will go up among growing concerns around ISIS, and at a time when NYC is experiencing an increase in bias attacks citywide, according to New York City Council officials.
"During the month of ramadan we had attacks on multiple mosques in New York City," said Ms. Sarsour, who just a few weeks ago was accosted on the streets of Brooklyn because of her faith.
Professor Prabhjot Singh of Columbia University, a Sikh, said he was also a victim of a hate crime a year ago.
"It was community not medical care that helped me feel strong again after I was attacked," said Mr. Singh, who had his jaw broken by a group of men. "That same night on the stretcher next to me was a Muslim woman who was attacked by the same group of men. Her story was never told. It seems like it's a hard story to tell, one that's being pushed down and silenced. These ads create environments where fear and distrust inevitably lead to hate crimes.
In a statement to the NY Daily News, Mayor Bill de Blasio condemned Ms. Geller's ads calling them "outrageous, inflammatory and wrong."
Public officials and community members are now asking for the mayor to take things a step further and place ads that promote unity next to Geller's.
"We need NYC's elected officials to denounce such messages in a way that reaches those who cannot avoid seeing them—as they ride the subway or buses to school and or work," said Donna Nevel, reading a the letter to Mayor de Blasio that she and 38 other members of the Jewish community signed, including former Manhattan Borough President Ruth Messinger. "These ads are pernicious. But bigotry will not prevail if our city drowns out the hate with a message of respect and safety for all communities."
Brooklyn Borough President Eric Adams said the ads are "irresponsible" and will only serve as a call to action for purveyors of hate.
"New York is still a target, we're hearing every day that ISIS is threatening to come," said Mr. Adams. "When you have ads of this magnitude you are actually adding to a public safety concern. To say that a particular religion is hateful is the wrong message to send and it is a very dangerous message to send. It is no different than standing in a crowded room and yelling 'fire.'"