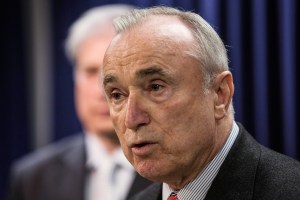 Police Commissioner Bill Bratton is expected to announce Thursday that the NYPD will make 50 officers wear body cameras as part of a pilot program to test the technology's feasibility in the field, according to the Daily News.
Cops in five different precincts will soon sport the video recording devices, although it is not clear how long the program will last, or if all interactions with the public would be recorded.
The action was ordered by Federal Judge Shira Scheindlin, who in August 2013 ruled that body cameras should be tested as a way to curb the disproportionate number of blacks and Hispanics subjected to stop-and-frisk.
Mr. Bratton strongly supports the technology, as does Public Advocate Letitia James, who thinks all 35,000 NYPD officers should be equipped with body cameras.
"This pilot program will provide transparency, accountability, and protection for both the police officers and those they serve, while reducing financial losses for the city," Ms. James and Mayor Bill de Blasio said in a joint statement. They also acknowledged that they "have yet to work out many specifics—such as data storage and confidentiality."
The New York Civil Liberties Union applauded the news, though the possibility that the use of the technology could lead to invasions of privacy was a major concern.
"Body cameras ought to be a win-win for both the police and the communities they serve as long as their use is limited to police interactions and addressing complaints of abuse or wrongdoing," NYCLU Executive Director Donna Lieberman said in a statement. "But we also have concerns about mission creep and privacy."
Cops in several U.S. cities already use body cameras–the police force in Ferguson, MO started wearing them after Michael Brown's death led to worldwide protests.