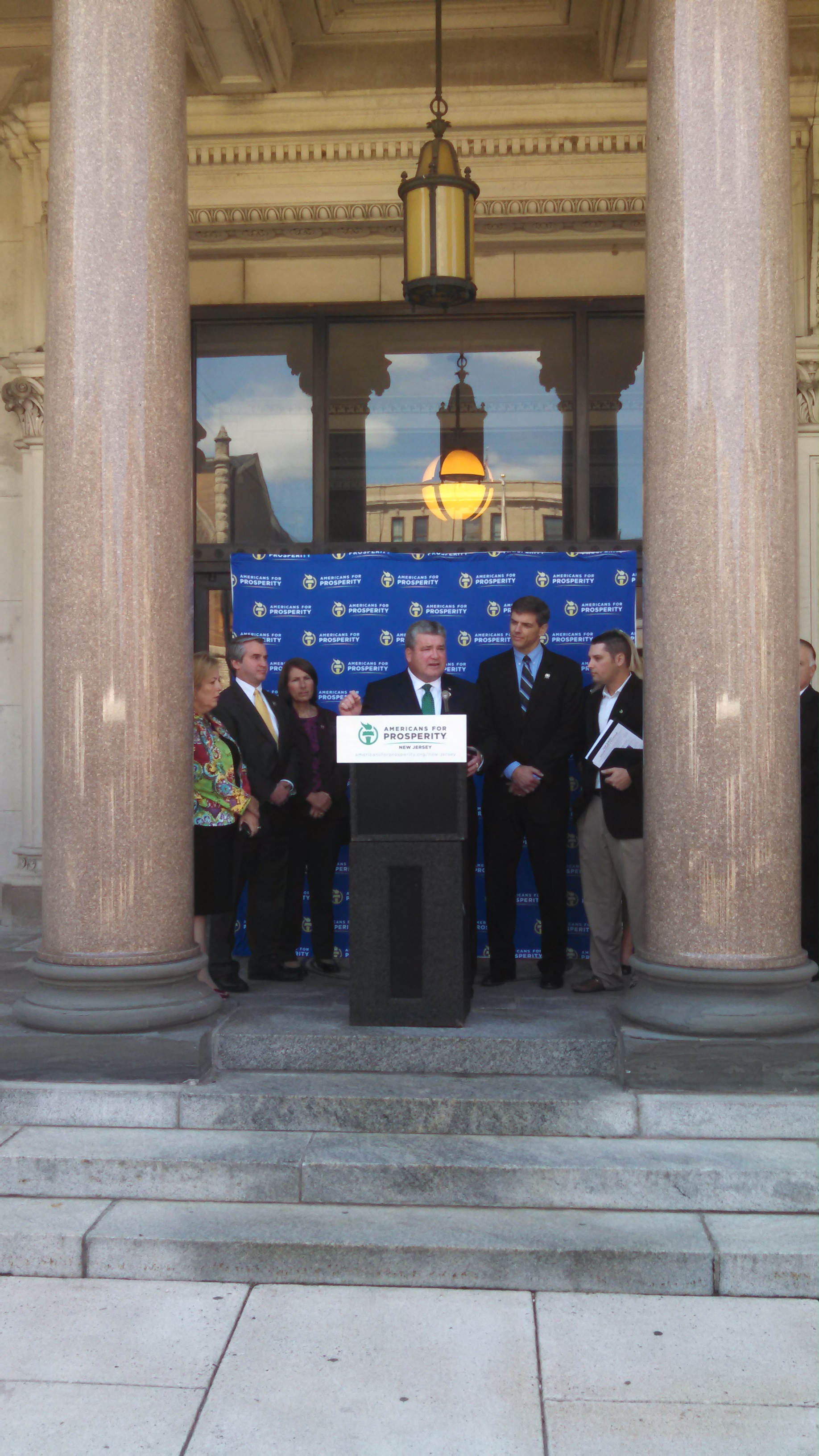 TRENTON – Fired-up Republican and Democratic legislators on this cool Monday afternoon railed against New Jersey's estate tax — or "death tax" — for driving capital out of the state and burdening families during a press conference on the capitol steps.
Hosted by Americans for Prosperity, a taxpayer advocacy group, state Senator Steve Oroho (R-24) and Assemblymen Jay Webber (R-26) joined members from organizations like the 60 Plus Association, Commerce and Industry Association and the Common Sense Institute during the conference in calling for a repeal of the estate tax, which they say is contributing to an exodus of job creators and wealthier residents from the state.
"Now you might not think that the estate tax is going to impact you, even some of those in the media here today, but let me be very clear: the estate tax in the state of New Jersey is one of the most regressive, painful things that a family can go through," said Daryn Iwicki, state director for Americans for Prosperity. "Forbes ranks us time and time again the worst place in the country to die in. And we have an opportunity to change that here in the state of New Jersey."
With an exemption on the tax for earners making under $675,000, New Jersey has one of the worst estate taxes in the nation, Iwicki said.
"Here's my recommendation — go home tonight and add up how you will be affected by the estate tax, and let me tell you ladies and gentleman, you will be shocked."
Lawmakers in New Jersey with the support of Gov. Chris Christie have been slowly mulling a move to get rid of the state's estate tax or increase the exemption thresh-hold, arguing that the current exemption level not only unfairly taxes the state's wealthiest but also falls hard on the state's middle class in some cases. Opponents of the tax recommend following other states in abolishing it entirely or raising the exemption to the federal level of $5 million.
New Jersey is one of two states in the country that still maintain both an estate and inheritance tax — another tax that opponents say is hurting businesses in the state — said Oroho, the other state being Maryland.
"People don't want to stay in Florida for a 183 days. It's hot. It's real hot," said Oroho, arguing that the tax drives the wealthy out of the state. "They want to go down for 90 days, they want to come back. Look at the beautiful day we have here today. They want to come back and enjoy the beautiful falls in New Jersey, the beautiful springs. But no, they have to out of the state for 183 days."
"We want those contributions here, we want that capital here," he added. "New Jersey used to be a great place for business. We lost it. But we can get it back."
Webber lauded recent legislation on the issue for its bipartisan nature, and noted that other states, like Tennessee, Ohio, and Indiana, have already abolished their estate taxes, and that New Jersey should follow suite.
"The Wall Street Journal had a quip a couple years ago for planning advice: Don't die in New Jersey anytime soon," Webber said. "And you can see that unfortunately we're leading the race to the bottom on this issue. And it doesn't have to be this way."
"Legislatures across the country realize that when you punish people for dying in their state you drive people out of the state," he added. "It's not rocket science. If you punish people who are successful they will leave and go somewhere where they are more welcome."
Not everyone is in agreement on repealing the tax, however. In a statement on today's presser, New Jersey Policy Perspective president Gordon MacInnes cautioned legislators who call for abolishing the tax entirely, arguing that it serves as an important source of revenue. The state's inheritance and estate taxes are levied on less than 10 percent of those who die in New Jersey, he said, and noted together they generate over $750 million in revenue a year.
"While it's not unreasonable to discuss adjustments to the estate tax, repealing it altogether would be reckless and would damage New Jersey's ability to pay for the public services its residents demand," MacInnes said. "Policymakers should not sacrifice public assets that benefit all New Jerseyans so a small minority of families can pay less in taxes."