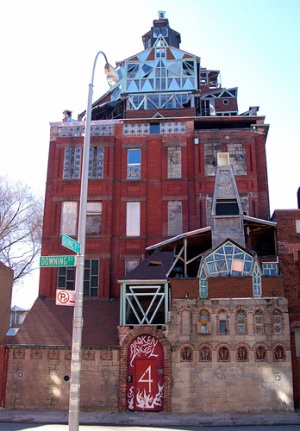 You might think that for $60 million, you would get a Sagaponack estate that was, well, an estate. But The Wall Street Journal reports that the owner of a speculative 16-acre parcel eight-tenths of a mile from the beach has included no such niceties as buildings. Just some plans and renderings pointing to how you might develop it.
Speaking of nascent construction projects still in the theoretical stage… if you were wondering who was going to lead the $3.6 billion redevelopment and operation of LaGuardia's Central Terminal you'll now have to wait even longer to find out. The Port Authority has once again postponed an announcement of the consortium selected to lead the effort, according to Crain's.
Clinton Hill's Broken Angel house, now in the process of being remade into a condo development, will launch sales next month, Brownstoner reports. At which point we will see how much of former owner artist Arthur Wood's legacy is harnessed in an attempt to sell luxury condos in the building he was evicted from by the bank.
And in nearby Bed-Stuy, the real estate broker who is eagerly trying to remake a strip of Fulton Street stores into a bougie hipster mecca, has reimagined the historically black neighborhood without any black people, Brownstoner notes. The brochure used to promote this gentrification boasts of the neighborhood's charms using three photo renderings that include no black people and brag about the people in the community "carrying their own version of cool," promising that "from eating to the outdoor cafes at lunch to enjoying a cocktail at the local bar, the community is filled with friends that feel like family." Just so long as your family isn't black, we guess.
Meanwhile, Dutch Kills, the no man's land of Long Island City, itself still something of a no man's land, has seem a development boomlet, according to The Wall Street Journal, with residential spillover from the more established Hunter's Point section and industrial spillover from Brooklyn artists and manufacturers.
Are East Village apartments sitting empty because renters think they're overpriced? Citi Habitats research would suggest yes, DNAInfo reports, which had a 2.08 percent vacancy rate that actually went up over the summer, a rare thing. We guess there are only so many renters willing to pay luxury prices for cheaply-renovated walk-ups?
The Wall Street Journal's Mansion section continues its trenchant reporting on Americans enlarging different parts of their homes. After previous investigations on super-sized closets, kitchens and garages (as well as just houses in general) this week brings a look at super-sized pantries. Apparently, rich people like every room of their house to resemble a studio apartment, in the event that the pressing need for toilet, food, entertainment, relaxation or storage arises in anywhere in their over-large homes. The Journal blames ballooning pantries on open-floor plan kitchens, which homeowners increasingly want to use as showplaces rather than for actual food preparation and storage. We told you no one liked open layouts anymore!
And while some people have way too much space, The New York Times checks in on Section 8 voucher recipients who have been forced to either downsize or pay the difference to stay in apartments that have been deemed too large for them. While a terrible thing, without the downsizing, the program would be forced to cut rent support to thousands of people, a far worse outcome the Department of Housing Preservation and Development argues.
Lastly, in hospital news: Brooklyn Hospital has affiliated with Mount Sinai, ending its relationship with the New York Presbyterian system, Crain's reports, furthering a growing trend of big Manhattan hospitals looking for footholds in the borough. However, those footholds have been primarily outpatient-focused, with doctors continuing to refer patients to Manhattan for care. As one physician told Crain's : "The emergency service is not terribly enthusiastic about going over the bridge, but getting from where we are to [Brooklyn Hospital or New York Methodist Hospital in Park Slope] is equally difficult."