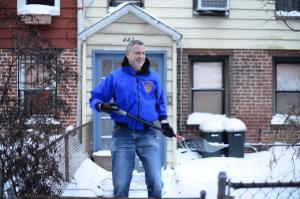 Eccentric investor and hoarder Lewis David Zagor left behind $18 million, the documentation of which is lost somewhere in his extraordinarily cluttered, rent-controlled apartment, his widow tells DNAInfo. By turns a cheapskate and a spendthrift, Zagor paid a mere $1,640.85 per month to live in the pad at Park and 96th while squirreling away a massive fortune (along with tons of other belongings). Naturally, the management company is trying to sue for back rent.
Ridgewood's commercial strip is seeing change, as merchants and local business leaders strategize how to preserve long-term shops while also cashing in on the new hipster contingent, Crain's reports. However, a neighborhood's shifting retail raises the question of who the neighborhood is for—if 99 cent stores are heavily patronized, is it really an improvement to bring in establishments that sell expensive non-essentials?
Not such a fan of neighborhood change? Mayor Bill de Blasio, who despite moving to Gracie Mansion, still spend all his free time in Park Slope, The Wall Street Journal reports. He goes to the gym there, visits its coffee shops multiple times a week and tells the paper "it is our home and it will always be our home," and that Gracie is "not a home per se." As the Journal points out, Mr. de Blasio, "who was born in Manhattan and raised mostly in Massachusetts, has embraced the Brooklyn brand as part of his political persona, touting his residency as proof he was in touch with people who live outside Manhattan as he campaigned last year on a theme of a 'tale of two cities.' "
SL Green has detailed how it plans to make the $200 million in transit improvements to Grand Central Station—which Capital New York lays out—that it will be required to make in order to build a 65-story tower not permitted under the current zoning. The changes focus on better pedestrian flow, more entrances and a grand "transit hall" waiting room on the corner of the SL Green site that would allow the MTA to run one train more per hour on the Lexington Avenue line.
Across Midtown, Times Square characters may have to wear identification at all times and pay for licensing and background checks, if the City Council passes proposed legislation, DNAInfo reports. "This is Times Square. Quirky is fine. Creepy is not," said Tim Tompkins, president of the Times Square Alliance, who apparently does not know Times Square very well.
That $5 million pedestrian bridge connecting the Brooklyn Heights promenade to Brooklyn Bridge Park that always felt like it was going to collapse? Gothamist reports that there may well be some structural issues with the bridge, which is currently closed and being examined by engineers.
News you can use: DNAInfo offers tips on how to pick up the person standing in line with you. Suggestions include talking to more than just the person you want to pick up and trying to orient yourself not to approach from behind. Also, don't be a dick about waiting in line. And if that fails, there's always pole dancing…
A 51-year-old pole dancer who has worked in six states has finally settled down in Greenpoint to teach classes to nearly all ages, from senior citizens to teenagers, DNAInfo reports. She's even offering a class for men. Pole dancing, she claims, is for everyone, though this reporter recalls a class hazarded at an Upper West Side Crunch a number of years ago that was very much not for everyone, at least not for those without stripper heels on.
Outdoor swimming remained popular despite a cool summer this year and upstate, a beach on Lake George at the Southern edge of the Adirondacks will be getting a $6.3 million makeover, The Associated Press, via The Wall Street Journal, reports.