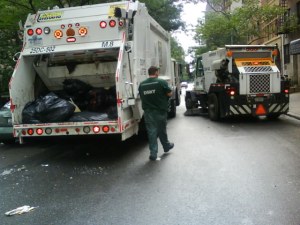 Garbagemen hate it when you let your dog pee all over the trash bags, because it gets all over them when they swing the bags into the truck. "Sometimes you point it out to them and they're apologetic," said one garbage man. "Sometimes, they're like, 'This is where he does it,' " The New York Times reports. New Yorkers apparently don't realize there's a difference between trash inside a bag and trash outside of a bag. Others think that dog pee might repel rats, so they're actually doing the garbagemen a favor.
People hate it when they miss a commuter train and another one doesn't come for an hour. So Governor Dan Malloy has promised that trains will run every half hour on Metro-North's New Haven line, effectively adding seven midday trains per day, according to The Times—a schedule that would be put into effect Nov. 9, five days after Connecticut residents cast their votes for governor. "You won't need a timetable. You'll just go to the train station and there'll be a train along," marvels the founder of one commuter advocacy group.
Neighbors hate it when you undertake years-long renovation projects on your Upper East Side townhouse: retired publishing exec Dick Snyder is suing neighbors Bryan and Meredith Verona for $65 million, according to the New York Post, claiming that the couple's drawn-out renovation (since 2011), scaffolding and construction trash has made it impossible to sell his $25 million townhouse. (Though perhaps the pricetag also has something to do with why the house is lingering on the market.) One can, after all, purchase the 30-foot-wide Charles Schwab mansion, also on the Upper East Side, and with lots and lots of bathrooms, Juliet balconies and terraces, for a mere $22.5 million, the Post also reports.
Speaking of hatred, State Senator Diane Savino, whose district includes swaths of Southeast Brooklyn and Staten Island, finds the bicycling community "arrogant assholes" and their apologies over the recent Central Park death "bullshit," according to a recent post, discovered by Gothamist, that the politician put on Facebook. "Hey, find a f*cking bike lane and get in it," she writes. If only it were that easy to get, and to stay, in a bike lane in New York City.
And fervid opposition: Nine councilmembers have sent a letter to the Clinton Global Initiative, asking it to end its just-announced partnership with Airbnb to provide housing for Americorps members, citing the company's alleged role in diminishing the city's affordable housing stock, according to Crain's. Councilmemebers Helen Rosenthal, Daniel Garodnick, Corey Johnson, Ben Kallos, Rosie Mendez, Brad Lander, Mark Levine, Antonio Reynoso and Ritchie Torres write that the company is "content to flout our laws, put tenants at significant risk, and deal a serious blow to our efforts to make this city more affordable for working New Yorkers." Airbnb says it's proud of supporting Americorps members. The Clintons say nothing.
And more fervid opposition: an UWS shelter at 316 W. 95th Street has been granted a $16 million contract to operate until 2018, DNAInfo reports, but it will be downsized by 100 beds.
Now on to things people love. Like beer: a 250-seat beer hall is coming to Morningside Heights and will open right beyond Columbia's gates at 113th and 114th streets, DNAInfo reports. We're sure the undergraduates will be thrilled. It will have local beers and antiquarian touches, but this is no Brooklyn invasion: the owners operate several other large beer halls in Manhattan and a number of Heartland Brewery outposts.
And mixed-used developments: pair of Park Slope apartment buildings connected by an office building have hit the market for $11 million, Crain's reports. The buildings, 682 Union Street and 641 President Street, have a mix of office and residential spaces, though the buyer must agree to continue providing access to the commercial building lodged between them, which does not have a separate entrance.
And finally, big, airy apartments that they own: inventor/product designer and her 11-year-old actor son look for a spacious two bedroom in this week's "The Hunt" column after deciding that their $6,000 a-month Greenwich Village rent was a little high (either inventing is more lucrative than we suspected or there is a large source of income from someplace else). Spoiler alert, they find one! Best quote: "The building had a liberal sublet policy, potentially advantageous if Dax needed to move temporarily for an acting job."