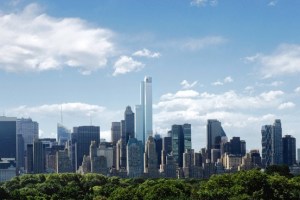 Turns out all the world's elite are not materializing to buy apartments in One57; shiny, new-thing susceptible buyers are all looking toward the new towers rising along 57th Street and sales at the tower that started it all have slowed to a glacial pace, Bloomberg reports. Only two units have gone into contract since the beginning of the year. Jonathan Miller calls the pace abnormally slow: "This building had many price increases when it was the only building out there, so maybe they overdid it. In other words, the sky is not the limit." This does not bode well for the other six supertall, super luxury towers rising in the immediate vicinity.
NYU's endless expansion battle is heating up again; yesterday arguments were heard at appellate court, Capital New York reports. NYU and the city are appealing a state court decision from January that found the university's expansion plan entailed alienating parkland, a taking that must be approved by the state legislature. The university of the city, however, argue that the land, no matter its current uses, is still classified as potential streets and owned by the DOT.
Saks will anchor Brookfield Plaza's retail component and its parent company Hudson Bay companies, will move its office space into the companies, Bloomberg reports, via Crains. The company has signed a lease for 485,000 square feet of the Lower Manhattan building that recently went through a huge revamp of its retail space. Brookfield has also been on the hunt for a major office tenant since Merril Lynch announced it was leaving last year.
Rumor is that Trump might be interested in redeveloping the TWA terminal at JFK, Conde Nast Traveler reports. Which, seems, well, a bit out of character. The Terminal is on the state's register of historic places, requiring approval before alteration, and aviation rules limit its height and size (ruling out towers?). But we'll see… the latest round of bids is due October 18.
More points for Queens: Long Island City's Falchi building has inked another impressive tenant—the Doughnut Plant  has taken 8,495 square feet at the Jamestown Properties' warehouse, according to Gothamist, expanding from their 4,000 square foot production space on the Lower East Side. The LIC plant will also have a retail counter so that visitors can buy fresh doughnuts. Doughnuts for everyone!
Getting married? That's so old-fashioned! Atlantic Cities looks at a recent Pew report that finds 20 percent of U.S. adults over 25 have never been married. Our thoughts: only 20 percent? Too bad the country's housing stock doesn't reflect the changing demographic trends.