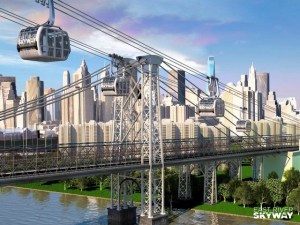 And you thought Manhattan was romantic! Staten Island has been ranked the second best city (well, the designation is a bit off) for couples by rent.com, DNAInfo reports, second only to Newtown, Massachusetts. (Which may also come as a surprise.) The website weighed marriages, divorce rates and proximity to good date activities.
Many are skeptical that the Midtown East rezoning will be completed in a year, according to Capital New York, and some believe that it may meet the same fate as Bloomberg's plan.
Bed-Stuy and Crown Heights are undergoing rampant gentrification, but they remain neighborhoods with high incidences of crime. The New York Post takes a look at the odd, incongruity of having homes selling for multiple millions of dollars whilst nearby there are shootings. Also, out-of-state residents rolling in without much idea of where they're buying: "They walk around as if they own the place . . . then they get robbed."
Meanwhile, Prospect Lefferts Gardens is bracing for a rezoning that will likely bring much more density to the brownstone neighborhood, Crain's reports—not a popular proposition with a lot of locals. As the first neighborhood slated to undergo rezoning during the de Blasio administration, it will almost definitely be a test case for the mayor's plan to expand affordable housing stock by increasing density in the outer boroughs. But locals, understandably, complain that much of that housing isn't affordable to locals, more to relocating Manhattanites.
Of course, wherever you live there are issues. In Queens, for example, a recent change to flight patterns has residents upset, CBS reports. It's unclear, however, what can really be done to mitigate the noise.
Maybe we should all just travel via gondola instead? CityRealty's president Dan Levy has proposed a network of airy pods gliding above the East River as a solution to some of the transit difficulties of linking Brooklyn and Manhattan, according to Gothamist. Hey, it's more exciting than a trolley!
But nothing is without controversy. Take the case of Playground 89, for example, an Upper West Side playground that has been the subject of a long bitter battle over a minor redesign. DNAInfo reports that the Public Design Commission has approved the controversial redesign.