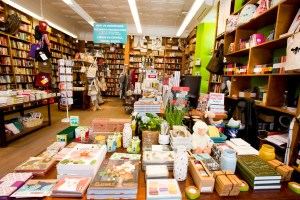 Blackstone is hoping that 1095 Sixth Avenue, soon to host Verizon's headquarters, will be able to fetch some $2 billion on the market, Bloomberg reports (via Crain's). Blackstone bought the Midtown tower in 2007, as part of a $39 billion acquisition of Sam Zell's Office Property Trusts.
In other big deal news, Michael Shvo is burnishing his developer credentials, having secured $240 million in financing to close on Tribeca development site 125 Greenwich, The Real Deal reports.
New Yorkers are so desperate for space, especially non-shiny spaces, that some of them are actively seeking out the spots in parks that are awaiting long-overdue restoration. WNYC reports that some prefer such raggedy spots as Prospect Park's the Vale in Cashmere to more polished park gems because they are rundown and relatively quiet.
In the same vein, there are those who actually chose to eat in Penn Station, The New York Times reports, and don't believe that it needs to be fancified into a dining destination a la Grand Central, but they are few and far between.
One space they haven't been flocking too much this summer? The city pools, where attendance is down 7 percent, The New York Daily New reports. Blame it on the pleasantly unseasonable weather. And just when you actually need a city pool, they close for the year.
Save the falcons! More than 4,000 New Yorkers have signed a petition beseeching the board of 25 CPW not to eject a family of rare peregrines nesting at the co-op, the Post reports. As though co-op boards cared about popular opinion!
Bookstores, another endangered species, may be struggling to stay alive in Manhattan, but The New York Times reports that two Upper West Side staples—Bank Street and Book Culture—are at least hanging in there. Bank Street, which was recently priced out on its long-term home, has found a slightly smaller space nearby and Book Culture is planning to open a third store on Columbus.
A group of Satmars is salivating over a block-long industrial site in Bed-Stuy, close to the Williamsburg border, Crain's reports, and is in negotiations to pay twice what Alliance Private Capital Group paid for site—$60 million—in 2013. But the area's rezoning has nearly doubled the amount of residential square feet that can be built on the site and the Hasidic sect is, apparently, eager to secure space for some Satmar residences.
In other Jewish development news, DNAInfo reports that 770 Eastern Parkway, which serves as the physical and spiritual center of the Chabad-Lubavitch Orthodox Jewish community, has spawned a number of architectural copycats across the globe, who pay tribute to the beloved center by copying the nice enough but decidedly not stunning Crown Heights building.
Gothamist doesn't buy The New York Times' argument that the way to get the affordable is to cut "deals with developers. The rich will get richer, but the poor will get apartments." Gothamist points out that voluntary inclusionary zoning "has generated about 5,000 affordable units" since 2005, according to another article in the gray lady, which is laughably far below the 80,000 de Blasio wants to see built in the next ten years.
This could be the coolest news of the week: Atlantic Cities reports that when we move, we carry our microbes with us, duplicating the microbial communities from one house to the next in as quickly as a day. But we don't only share microbes with the surfaces in our homes; we also share them quite a bit with our housemates!