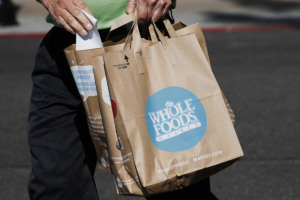 Apparently, the Pierre offering out-of-town runners $6,700 New York City marathon packages is the upscale hotel "showing some love," to the event, as Crain's puts it. The paper explains that the hotel felt obligated to put together some kind of pricey package for runners as Tata Consultancy Services is a title sponsor of the race.
On the subject of relative bargains: Bloomberg confirms what we've long suspected: shopping at Whole Foods is actually a better deal than going to the grubby Gristedes around the corner from your house. For normal groceries—if you can avoid the fancy truffle dips and the salad bar—the bougie grocer is a bit cheaper than Gristedes and Fresh Direct (and at least in the case former, has way better quality and condition). And it's way cheaper than Food Emporium and D'Agastinos (though not Fairway or Trader Joe's). Note that this does not mean Whole Foods is actually cheap. With high prices, crowded stores, long lines and the subway schlep home, New Yorkers are just screwed when it comes to grocery shopping.
Shakespeare and Co.'s Village location closed the book last night, Jeremiah's Vanishing New York reports. Also going, going, gone: St. Patrick's Old Cathedral School, in Little Italy, which has been sold for $32 million to Time Equities, according to 6SqFt.
In other development news, Joseph Chetrit is buying the infamous Hotel Carter in Times Square for $190 million, The Wall Street Journal reports. But it's unclear exactly what the developer has in mind for the property as "hotel experts say the property requires at least another $125 million for safety and infrastructure upgrades to bring the building up to even three-star standards."
Lyft is moving its headquarters to Long Island City, according to Crain's, like every other taxi cab company in the city. Though it's playing to its hipster reputation at the same time, taking space in Jamestown's Falchi building.
It's not only New York where the housing is becoming bigger and more expensive. The Atlantic Cities' Richard Florida reports that the rest of the country also has the same problem: we're building housing, but not housing that the majority of Americans need.
At least affordable housing developers and the unions are trying to work together in New York, The Wall Street Journal reports. Developers have expressed interest in the unions' proposal to accept wages 40 percent lower than usual when building low-cost housing.
Skanska called Forest City Ratner's offer to take over the modular factory that the two companies created jointly a publicity stunt—a move that Forest City Ratner claimed, in a particularly ballsy release they sent out yesterday, was motivated by its desire to "save jobs." But Skanska head Richard Kennedy told Crain's that Forest City seemed "more interested in engaging in a propaganda exercise to take the public's eye off the serious consequences of its failures at the B2 project instead of simply fixing the commercial and design issues that led to the unfortunate need to shut-down the project and factory." The two companies have sued each other, each alleging that the other is responsible for construction delays at tower B2.
One thing is for sure: this "judgemental" map of Williamsburg does not play any such games. The map calls is like it is, no self-censoring references to "change" and "growth."
Soon Jimmy Fallon will own all of 34 Gramercy Park East. The late night host has purchased a fifth unit (five!) in the building he's long called home, The Wall Street Journal reports. But as with many of the units he's snapped up so far, this one is pretty modest, being a mere studio.