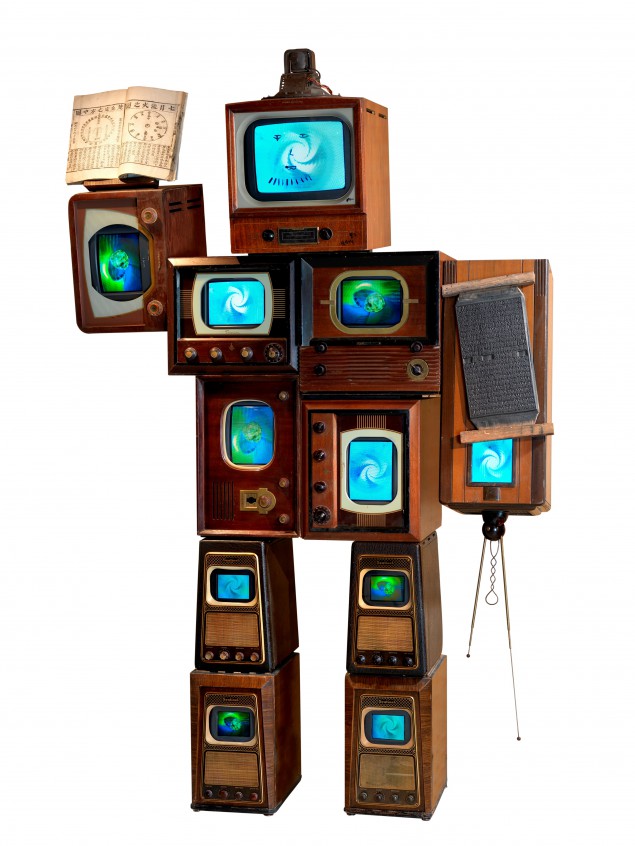 In 1982, as part of a Nam June Paik performance in New York, a large metal robot/sculpture attempted to cross Madison Avenue. A hilarious documentary film made at the time shows Robot K-456 eventually getting hit by a car, but the automaton's partly mangled skeleton continues to lumber down the street practically undeterred, even jaunty. It was entirely ahead of its time, as was its creator.
Paik, the late artist credited as the founder of video art, foretold the advent of personal computers, instant messaging and the proliferation of electronic media. He had a kind of contagious energy and an optimistic attitude toward the development of telecommunications or, his term, the "electronic superhighway" that inspired many.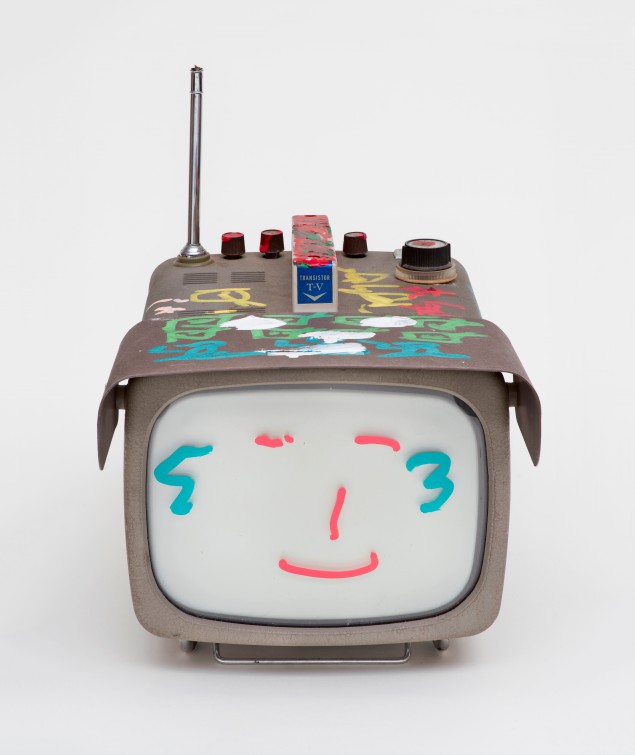 What would he have said about the masses of people on subway platforms today staring with rapt attention at their smartphones? How would he have responded to the Google Age, with its Instagram, YouTube and iTunes devotees? These are the kinds of questions that come to mind while exploring "Nam June Paik: Becoming Robot," an engaging survey of the artist's work currently on view at New York's Asia Society through January 4, 2015. A true techno-visionary, Paik died in 2006, age 73, just before the digital electronics phenomenon reached the feverish levels we know today.     
Organized by Asia Society curator Michelle Yun, the exhibition aims to position Paik within the context of new technological advances. While other artists' works are not included, the show underscores the obvious influence and ongoing relevance the Korean-born New York artist has for a wide range of contemporary international video artists, from Russian collective AES+F to Ryan Trecartin.
The exhibition contains 60 works, including some well-known pieces—a number of examples from his "Video Buddha" series—and several major installations. Lacking the breadth and scope of Paik's 2000 retrospective at the Guggenheim Museum or the Smithsonian's in 2012-2013, this exhibition is nevertheless important to see as the first Paik survey in New York since the artist's death, and it contains some rarely exhibited works, as well as selections from his estate and archives, which have never been shown before. Notable among these are some of Paik's last works: a series of portable TV sets, painted over graffiti-style, with colorful faces and text nearly obliterating the pulsating images on the screens.
The exhibition opens with Robot K-456 (1964), the anthropomorphic kinetic sculpture that can ostensibly walk, talk and defecate dried white beans. Its rather funky design features exposed transistor panels, wires and speakers. On loan from the Hamburger Bahnhof in Berlin, this unlikely life-size humanoid was created in Japan, in collaboration with electronics engineer and physicist Shuya Abe. Working for a year in Japan, Paik collaborated with Abe on various video and electronic programs, including the Paik-Abe Video Synthesizer, which the artist subsequently used in many of his installations.
Throughout his career, Paik sought to humanize technology in various ways. Perhaps the most crowd-pleasing among his works are the iconic sculptures that incorporate dozens of video monitors mounted in antique TV sets, all arranged in configurations that approximate the shape of the human body. Among the best known of these, a trio of sculptures collectively titled Family of Robot, is reunited in this show for the first time since they were made in 1986. With their stacks of old-fashioned TVs flashing random images, the large and imposing Mother and Father (both from the Nagoya City Art Museum), communicate with their Baby (on loan from the Art Institute of Chicago), a more diminutive sculpture composed of small monitors mounted in modern aluminum frames.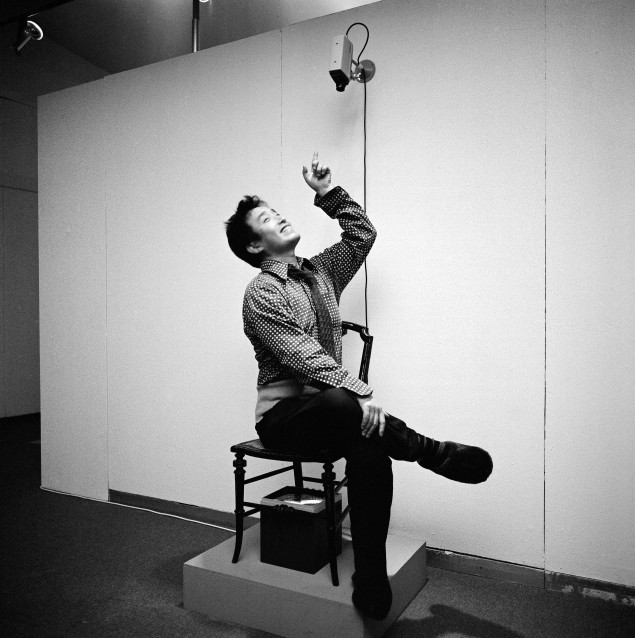 After some years working in Japan and Germany, Paik settled in New York in 1964. There, he connected with members of the Fluxus group, including George Maciunas and John Cage, who he had met earlier in Germany. The group's penchant for irreverence and provocation suited Paik's temperament.
A number of works in the show are devoted to his notorious performance collaborations with musician and artist Charlotte Moorman. The well-known TV Bra for Living Sculpture (1969) is here, along with video documentation of one of their scandalous performances showing Moorman playing cello while strapped into the brassiere made of two miniature televisions. Also on view is a recreation of the famous room-size installation Paik presented as a memorial tribute to Moorman at the 1993 Venice Biennal. The haunting display features some of her costumes, ethereally suspended from the ceiling, videos of performances plus documentary material. One such item, a front-page news story, reports Moorman's 1967 New York arrest for indecency as she performed Paik's Opera Sextronique in the nude.      
It was typical of Paik's endeavors to make technology sexy. His wry attitude toward mass media and his utopian view of its humanizing and socializing potential is sorely missing from the Contemporary art scene. In light of the relentless commercialism and consumerism that defines the telecommunications industry (not to mention the art world) today, one comes away from this show with a strong feeling that Paik would be displeased with the way the "electronics superhighway" is being paved.