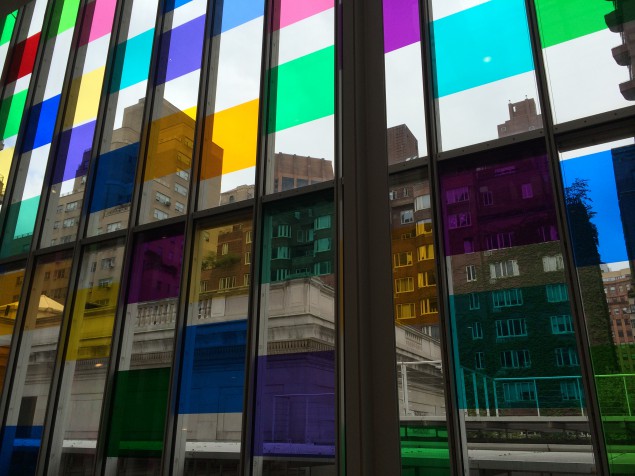 In a surprisingly short amount of time, Spencer Finch has become something of a "go-to" public artist.
Why? The New Englander, 52, combines a penchant for tireless investigation with an abstract aesthetic that simply refuses to offend. No wonder the 9/11 Memorial Museum trusted him to produce a commission for the country's most emotionally fraught space. That recently unveiled colossal artwork, along with Mr. Finch's High Line commission and his newly produced Morgan Library installation, proves that the artist has the perfect recipe of soulful yet scientifically detached art that our public institutions seem to yearn for.
It is serendipitous that New Yorkers right now have a triumvirate of magnetic Finch commissions to ponder.
The River that Flows Both Ways, commissioned by the High Line in 2009, is a quintessential Finch work in that it demands you recognize its natural muse, the Hudson, in dazzlingly new ways. Housed in an old transit passage in the Meatpacking District, Mr. Finch's rows upon rows of multicolored windows took inspiration from the body of water that it stoically overlooks. The piece, which takes its title from the Native American translation for the Hudson's original name, Muhheakantuck, was laboriously created through a unique technological analysis of our grand tributary.
During a nearly 12-hour journey down the Hudson, Mr. Finch took one photograph per minute of the river's churning waters. A color pixel was chosen from each photograph and together they were used to tint the many hundreds of window panes within this rehabilitated station's west-facing windows. The end result is a panoptic capture of seemingly infinite river colors that shift and erupt with the changing sunlight. It's an enchanting meditation on the impossibility of fully comprehending nature—even with our modern technology—and a completely original ode to a river that has been inspiring American artists since the birth of the Hudson River School.
A Finch project that is not quite as successful on these merits is Trying to Remember the Color of the Sky on That September Morning, a commission completed last May for the 9/11 Museum. The premise of this artwork is spelled out quite neatly in its title, with Mr. Finch showing us the evidence of his repeated attempts to represent the color of the famously clear blue sky over Manhattan on September 11, 2001.
This huge work consists of precisely 2,983 1-foot-by-1-foot monochrome watercolors, one for each casualty of the 2001 and 1993 World Trade Center attacks. Mr. Finch's colored blue papers completely tile the wall while also haloing a large quotation from Virgil's Aeneid that states, "No Day Shall Erase You From the Memory of Time." The most powerful takeaway from Trying to Remember…, which is situated four floors underground within the low-lit museum, is the sheer magnitude of the lives lost on that tragic day.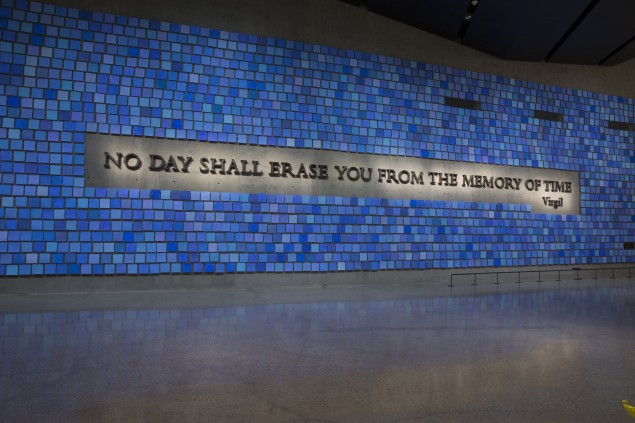 The piece works as a powerful metaphor for the complex memories of lost loved ones, but it's the constraints of the museum itself and its dank, mausoleum-like design that seem to ultimately limit the possibilities of the work. Mr. Finch's use of watercolor as a medium seems a bit beside the point, with flat washes that give the artwork a somewhat studied feel instead of a God-like warmth that could've benefited such an emotional commission. Furthermore, the subterranean location of the work and the fact that it adorns a wall concealing remains of many of the victims of the 2001 attack, elicits a mixed reaction of sorts: a heavy dose of reality surrounding a metaphysical attempt at airy transcendence. But perhaps this is appropriate for a site that exudes conflicting meaning: a high-security checkpoint and yet a symbol of freedom.
Fortunately, Mr. Finch returns to manipulating natural phenomena for his sublime installation now on view (through January 11) at the Morgan Library and Museum entitled A Certain Slant Of Light. Here we see Mr. Finch, again turning to his trademark grid structure, powerfully activating a space with color and natural light. This he utilize's the Morgan's sun-filled Gilbert Court: a four-story glass-encased courtyard built as part of the its 2006 Renzo Piano-designed expansion.
Mr. Finch created A Certain Slant of Light to mimic the role of a type of medieval Christian prayer book known as a Book of Hours, a fitting model since the Morgan Library owns one of the largest collections of these illuminated manuscripts in the United States. Many of these rare books, which were used to organize prayer for the liturgical calendar year, were lavishly decorated artworks unto themselves, exhibiting extraordinary calligraphic images and symbols. 
For the piece, Mr. Finch organized the days of the year via our modern calendar form, while literally "illuminating" the glass atrium with colored films representing seasonal changes and important occasions. "Just as an actual Book of Hours is both functional and decorative," according to the artist, "the glass installation functions as a calendar as well as a purely visual spectacle of light and reflection and color." 
As the sun passes across its glass facade, the Morgan's courtyard lights up in an assortment of hues that evoke its treasury of ancient manuscripts. Ever-changing montages of fiery reds, fulgent blues and incandescent golds bend and fold over the atrium with a warm glow—a spectacle that's never quite identical yet always ebullient. A Certain Slant of Light is further proof that Mr. Finch is at his best when he enlists organic media, like sunshine, to reference the natural world.