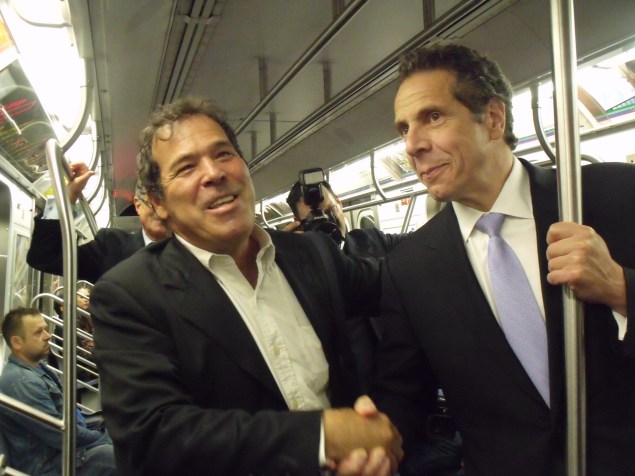 What are the odds?
Gov. Andrew Cuomo took his first real subway ride in years today and found himself on the same train car as Randy Credico, the comedian and perennial candidate who challenged him just weeks ago in the Democratic gubernatorial primary.
"I concede!" Mr. Credico — who netted just about 4 percent of the primary vote — declared with a smile.
It felt like the awkward gubernatorial equivalent of running into an ex on the subway, the kind of chance encounter that might be enough to turn Mr. Cuomo off public transit for a while — lest he run into Zephyr Teachout, the law professor who earned 34 percent of the vote, on a cross-town bus.
Given Mr. Credico's penchant for crashing events — and since it's mind boggling that in a city of eight million, two out of three people on the gubernatorial primary ticket could somehow wind up in the same train car at random — some may suspect the run-in was planned. But Mr. Credico, who was sprawled out on the train bench when Mr. Cuomo walked in, insisted the meeting was by chance.
"This is too much. In a million years I couldn't do this. In a million years," Mr. Credico said.
Making their run-in even stranger, Mr. Cuomo, who was on his way to discuss counter-terrorism measures at 34th Street, said that except for photo-ops, this train ride — which was also photographed — was his first real public transit commute since he took office almost four years ago.
Mr. Credico stayed out of the governor's way for much of his ride — letting Mr. Cuomo, who stood and held onto a subway pole, chat with a young man from his home borough of Queens and wax historical about the graffiti-covered, un-air-conditioned trains of the old days with reporters. But the comedian approached the governor again before arriving at his stop.
"This is my old buddy, man, one of the heroes of the Rockefeller drug laws movement right here," Mr. Credico said, referring to the effort to reform those strict laws.
"My political opponent," Mr. Cuomo responded, laughing. "You want to debate as long as we're here?"
Mr. Cuomo was criticized during the primary for refusing to debate Ms. Teachout and Mr. Credico. In fact, Mr. Cuomo managed to avoid shaking Ms. Teachout's hand at an event shortly before the election — but seemed to take this encounter with good humor.
"We could have a really good debate here. I was hoping," Mr. Credico said, before saying Mr. Cuomo is the "best debater of all."
"I grew up debating. It started at the family table," Mr. Cuomo said. "'Pass the bread.' Why?"
After Mr. Credico exited, the governor asked Metropolitan Transportation Authority Chairman Tom Prendergast, who was also riding the train, if he knew who Mr. Credico was. Mr. Prendergast did not.
"He ran against me in the gubernatorial primary — just now," Mr. Cuomo laughed. He added: "He was very upset that I wouldn't debate him."
Mr. Cuomo recalled working with Mr. Credico on the push to reform Rockefeller drug laws, which also involved rappers and hip-hop moguls, some of whom hail from Hollis, Queens, like Mr. Cuomo did — though the governor said he was more into rock growing up.
And now?
"That, and Miley Cyrus," Mr. Cuomo said. "My daughters put the songs on my iPod. You'll be clicking on along and then you run up on 'Miley, I'm just being Miley.'"