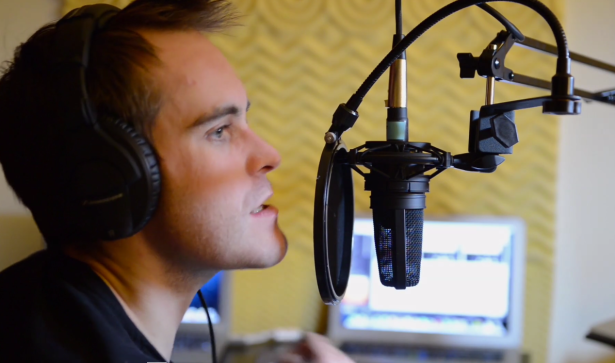 Tech podcasts are nightmarishly boring. Most either lifelessly emulate glossy, Ira Glass-style documentary segments or simply broadcast 45 minute dialogues between founders and investors while they safely rehash the week's think-pieces. For only a couple of years, Paul Carr's NSFW Live offered a respite — an unpolished daily call-in show where the editorial brigands of the now-defunct NSFWCORP would rant about the day's news slog.
Fans rejoice: NSFW Live is coming back under a new banner, with new studios and a little spending money. The show will come back as "PandoLIVE," and Mr. Carr told Betabeat it will merge "NSFW ethos with Pando professionalism and sustainability." Mr. Carr will cohost the new show weekly with longtime bestie and more crowd-friendly counterpart Sarah Lacy, the founder and editor-in-chief of PandoDaily.
The show was a part of NSFWCORP, a weekly online news mag that billed itself as "the future of journalism, with jokes." From 2011 to 2013, NSFW brought together an atypical star team of long-form writers, including the eXile's Mark Ames, sex and science writer Leigh Cowart, The Daily Beast's Olivia Nuzzi and Gary "the War Nerd" Brecher. Mr. Carr bet that if he put premium content behind a total paywall, he could rack up enough subscribers — the target was 5,000 — to actually pay his writers and cover the basic costs.
NSFW eventually lost that gamble and joined the ranks of defunct news mag experiments when it was bought last year by Ms. Lacy, Mr. Carr's best friend and long-time collaborator. The NSFW crew became PandoDaily's investigative team, and Mr. Carr took the position of Pando's editorial director. The merger pulled Pando in a new editorial direction, finding a sweet spot between Pando's original aspirations of becoming Silicon Valley's news site of record with NSFW's growing interest in "speaking aggressively to these tech fuckers who are trying to destroy the universe," as Mr. Carr put it.
Until now, the only thing that didn't make the transition was the call-in show. Even when the news site only had about 3,000 paid subscribers, up to 10,000 people were tuning in to NSFW Live to hear the reporters sound off about their work "from high above the Las Vegas Strip." Ever since the shuttering of NSFW, Mr. Carr has felt the absence of his on-air pulpit.
"It's a great way to talk about the fights we get into and stories we report on outside of the fucking comment fields," Mr. Carr said.
But NSFW Live was also costly and time intensive. The DIY studio handled multiple mics, live streaming and a call-in switchboard. When NSFW Corp would pick up and move offices, the news team became de facto roadies — long-time listeners got to hear the British tech journalist's slow and adept transformation from audio noob to able disc-jockey, and the show hit major milestones when its rotating stable of hosts would finally learn what that button did.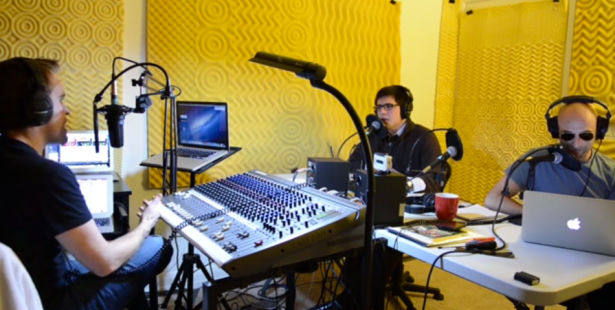 On top of technical demands and a meager budget, NSFW Live also went to air nearly every day. Mr. Carr admits that sure, it was fun and wildly popular, but it was also impractical, expensive and exhausting.
"I've tried at Pando to learn from the mistakes at NSFWCORP that put us out of business," Mr. Carr said, "It has to make sense as part of a company, not just something we were doing for fun."
What the show needed was a sponsor — one of those "tech fuckers" who could pay the bills and provide a little recording space without trying to censor Mr. Carr and his merry band of vulgar, shit-talking guests.
"It's surprisingly hard to pitch something like, 'We're gonna not tell you what we're going to do, or who we'll talk to, and there will probably be lots of fights and swearing, but you should trust us,'" Mr. Carr said.
But now that Mr. Carr is with Pando, the sponsor finally came. Cloud service company Rackspace had already been sponsoring Pando's monthly event series, which have gone scandal-free so far. Then again, Mr. Carr is usually hiding in the green room while Ms. Lacy handles the guests and audience.
We're not sure if the Rackspace leadership ever heard episodes of NSFW Live, but we applaud their decision to pay for a call-in show that could turn on them after even the smallest slip-up. The old show had a habit of verbally maiming everyone available: founders, politicians, other journalists and even its own investors. It's certainly given Mr. Carr his fair share of enemies.
But if anyone has a bone to pick with Pando, they don't have to blog it as a fake news item anymore. They can just give Mr. Carr a ring while he's on air. After all, he loves a good fight.