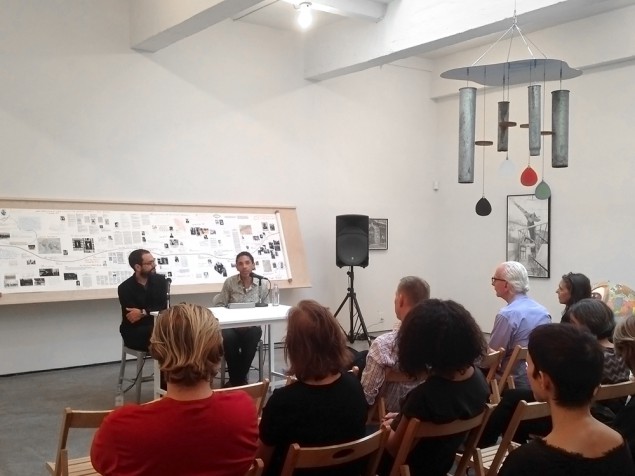 On Saturday, history buffs and art enthusiasts gathered at Paula Cooper Gallery to hear artist Sam Durant, whose exhibition "Invisible Surrealists" just opened at the 521 West 21st location, and historian Robin D.G. Kelley in a refreshingly academic conversation amid the art world's party filled first weeks. Mr. Kelley's essay "Keepin' it (Sur)real: Dreams of the Marvelous" was the foundation for Mr. Durant's newest body of work, which focuses on the often excluded figures of Surrealism hailing from the Francophone colonies like Wifredo Lam, René Ménil, Aimé and Suzanne Césaire, Jules Monnerot, and Joyce Mansour. The show combines drawings (inspired by iconic photos), sculpture (some even made from the remnants of the Gulf War), and trench art from the First World War to make revisions to commonly accepted version of the Surrealists' history.
The conversation was a free-form meditation on surrealism's overlapping political and artistic lineage, what it means to make historically-based "archival" art work, and what's so inspiring about the movement and its members to both men in their work.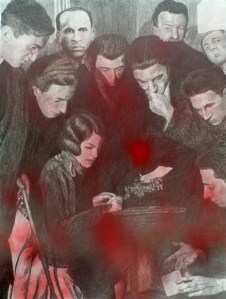 Mr. Durant acknowledged that his use of drawing for the work was somewhat ironic, given how much the Surrealists embraced photography, but pulled it back to the recent surge of artists who have been embracing drawing by saying, "There was a whole generation of artists in the early 2000s who couldn't draw, and now we're turning back to that." He also remarked, "There's something deep down in my psyche that can't deal with photography."
For all you heady, philosophy kids, the conversation veered toward Herbert Marcuse's 1964 book "One Dimensional Man" more than once, and Mr. Durant cited artist Adrian Piper as the "single most important person for learning about 'What is the point of art?'" Take notes kids.