Nearly 400,000 people took to the streets of Midtown Manhattan on Sunday to demand large-scale action on climate change, complete with banners, hand-made signs, floats and elaborate cardboard props in hand. 
Actor Leonardo DiCaprio was there. So was British anthropologist Jane Goodall. Sen. Charles Schumer (D-NY), United Nations Secretary-General Ban Ki-moon and former Vice President Al Gore also showed up for the People's Climate March, which is now being hailed by organizers as the largest demonstration of its kind. It was passionate and exhilarating.
Then came the morning after and some corners of the city looked like this:
As with all things, especially those involving nearly half a million people, there are bound to be spoilers in the crowd. And, while you wouldn't expect it at a climate change rally, these particular kind of spoilers decided to leave said banners, hand-made signs, floats and elaborate cardboard props behind for the neighbors to wake up to.
While the organizers of the march had strict rules about what could be brought (only cardboard tubing or string could be used to carry signs, banners, flags, etc.) there wasn't any direction on what people should do with these items when the march ended. Nor did it seem that there were enough trash cans in the first place.
And as with all polarizing issues, the 2014 People's Climate March in NYC drama did not go gently into that good night. Instead it fueled online finger-pointing, with Twitter users on both sides of the aisle weighing in about which party is the most hypocritical–and which one hosts the tidiest demonstrations.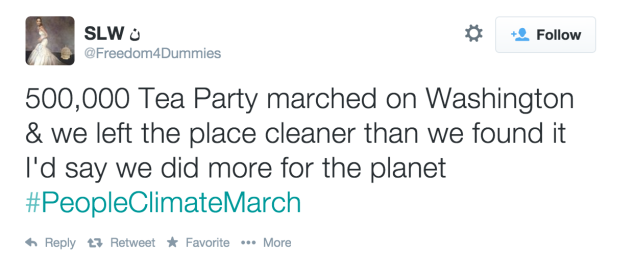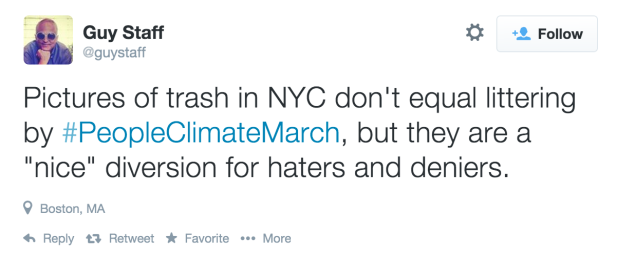 So, who's ready for next year?