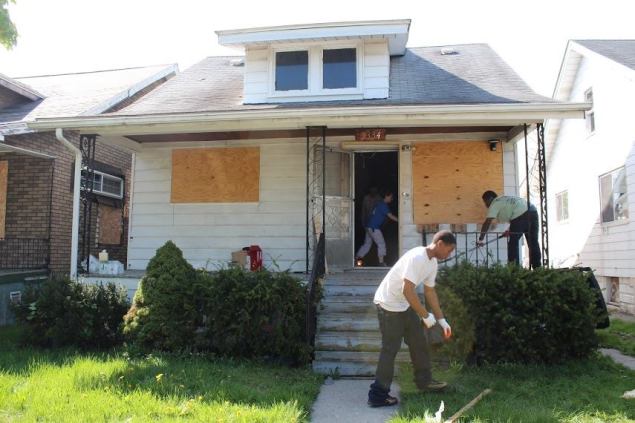 Poet Casey Rocheteau will leave Bed-Stuy for Detroit in early November to move to a house that she was awarded through Write A House, a program that, in a twist on the traditional writer's residency program, gives a writer a place to live….forever.
Ms. Rocheteau is the first beneficiary of the program, which began in 2012 as a way to reenergize Detroit's literary community and uses vocational training to renovate the vacant homes. Writers with low-to-moderate incomes were encouraged to apply and the winner was decided by a panel of judges that included former United States poet laureate Billy Collins.
"These are witty but deeply serious poems. The poet uses straightforward language and clear syntax to address some of the more frightening aspects of racism," Mr. Collins said of Ms. Rocheteau's work when she was named one of the 10 finalists late last month.
The 900 square foot house, which Write A House bought through a foreclosure auction for $1,000, has a front and backyard, a garage, and a front porch, which is something that Ms. Rocheteau said she has dreamed about having her whole life. In addition to income restrictions, there are some other requirements. The winning writer must make Detroit his or her primary residence, which is defined as living in the house for at least 75 percent of the time, pay the taxes and insurance on the house (a combined estimate of less than $5,000 a year) and be engaged in Detroit's literary community. If all goes well during the two year probationary period, the writer is given the house title, free and clear. The guidelines also specify that Write A House will be given the first option to buy the house if the writer decides to sell within five years of moving in.
Ms. Rocheteau, who grew up in Cape Cod and moved to New York two years ago for a Masters program in history at The New School, applied to the program after seeing a post by fellow poet Airea Matthews. She had only been to Detroit once before, for just 24 hours after a slam poetry competition in Ann Arbor. Today, Ms. Rocheteau is making a second trip to the city, also for just a day, for a ceremony to accept the award. Tomorrow, the poet will fly to Italy for a weeklong retreat in Sicily hosted by Middlebury's Bread Loaf writers program.
"New York is wonderful and amazing, but it's its own vortex. It's fast and urgent," Ms. Rocheteau told the Observer. While living in New York, Ms. Rocheteau said that her writing has reflected the pace of the city. Ms. Rocheteau expects that her new hometown will affect her writing.
In addition to the literary benefits, Ms. Rocheteau is also looking forward to moving to a more affordable city. "The cost of living, even in Brooklyn, is really high," she said.
A geographer friend told Ms. Rocheteau that her new house is in one of the most diverse zip codes in the country. "That will make it less of a culture shock coming from New York," she said. But one thing that will still take some adjustment is moving to the Motor City, since, at 29, she has never gotten a driver's license.
But she plans to learn after she moves to her new home.