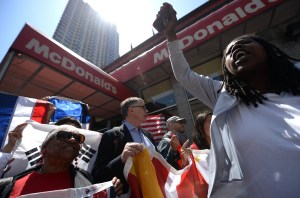 About 400 fast food workers campaigning for higher wages protested outside the Times Square McDonald's Thursday morning, but the robust police presence cancelled a planned second demonstration.
The protesters gathered at 7:15 a.m. at the McDonald's on West 42nd St. as part of the "Fight for $15" movement. They were advocating for a wage hike to $15 an hour, and the right to unionize.
"We work for a billion-dollar industry," Darrell Roper, a fast food worker from Brooklyn who makes $9 an hour, told the Daily News. "They can pay us a living wage!"
The protests soon turned ugly, however, as 19 people were arrested for disorderly conduct when they linked arms and sat peacefully on the street. A police officer had to read the workers their rights through a bullhorn.
This police action shut down planned protests later in the day. More demonstrations were scheduled for 11:45 a.m. at both the Times Square and Hell's Kitchen McDonalds, but these, though publicized, did not occur.
"You're wasting your time, because it's not going to happen," a worker at the Times Square McDonald's told the Observer.
The fast food workers' fight for a higher wage has the support of politicians like Manhattan Borough President Gale Brewer and gubernatorial candidate Zephyr Teachout. #StrikeFastFood was a trending topic on Twitter on Thursday morning.
Joel Berg, executive director of the New York City Coalition Against Hunger, released a statement saying he also stood in solidarity with the protesters.
"Today, a person working full-time at minimum wage is not able to lift themselves out of poverty," Mr. Berg said. "That's not only morally repugnant, it's bad economic policy."
Restaurant trade groups are against a $15 wage, saying it would increase prices, decrease profit margins and result in fewer jobs in the long run.