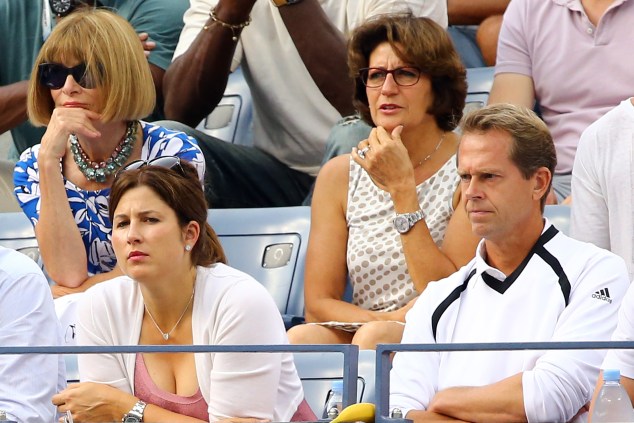 As New York Fashion Week kicked off for style movers and shakers, the US Open sidetracked several from the front-row. Par exemple: while Shindigger darted off to the Alexander Wang show, mid-Roger Federer's losing match in the semifinals, his most devoted fashion fan Anna Wintour stayed put.
A few days later, Shindigger toasted Carolina Herrera at the luncheon awards for The Couture Council of the Museum at the Fashion Institute of Technology. The designer's most glamorous devotees, Renée Zellweger, Donna Karan, Ralph Lauren and Martha Stewart, congregated at the David H. Koch Theater for the crème de la crème style moment.
"It turns out getting a ring from me was less exciting than having Carolina Herrera design your wedding dress," presenter Seth Myers joked when his wife elected to wed him in one of Ms. Herrera's confections.
"I am deeply touched," said Ms. Herrera. "Fashion is a dream that becomes a reality," Ms. Herrera articulated in her rich Venezuelan accent. "I want to thank you all."
Anna Wintour, Oscar de la Renta, Carolina Herrera and Graydon Carter at the 2014 Couture Council Award Luncheon Honoring Carolina Herrera. (Photo by Patrick McMullan/PatrickMcMullan.com)

Just Under $1 M
Amount raised at this year's
FIT's Couture Council luncheon


$38.3 M
Total prize earnings from the
2014 U.S. Open
Afterwards Shindigger mingled with guests including André Leon Talley, regally seated to the left of Lucy Liu.  "Not going. Venus and Serena used to invite me to their family box, but that was years ago," he sighed, when Shindigger enquired about the tennis/fashion conflict.
At Absolut Elyx's private dinner event in Nolita with Style.com, Prabal Gurung shared a secret.
"Besides the collection on Saturday, I'm launching shoes," the designer explained to Shindigger as we sipped stingingly potent boissons.
"Are you tuning into the tennis at all?" we inquired.
"Unfortunately, I haven't had time! If I did watch, I'd go see Roger Federer," he offered.
Shindigger used our French to approach Purple magazine's style god, Olivier Zahm, who had mistaken a fountain of booze for a gimmick to wash one's hands.
"Don't put your hands in that!" we cautioned en français. "We are drinking out of it."
We chatted about his steamy new coffee table tome of modish photographs, and, what else? Tennis.
"I am not going but Gaël Monfils is such an adorable kid and very joyful and fun," he enthused. "We love him in France, but he never makes it so far."
As the action on the catwalks began to heat up last Thursday, Orange is the New Black actress, Uzo Aduba (also known as Crazy Eyes), could be spotted all over town. "I was just at the US Open yesterday," she confessed backstage after Honor's fashion show.
"My mom was a tennis player in Nigeria, so I love it!"
Thanks to the BAZAAR black tie party, ICONS, Shindigger got a much-needed dose of decadence and glamour. Host Carine Roitfeld's splashy celebration at The Plaza saw  Nicki Minaj, Karlie Kloss and covergirl Emma Ferrer enjoying the Moët & Chandon and Belvedere-fuelled fun, culminating  with a dynamic, live jazz performance by Lady Gaga.
"We always enjoy celebrating women," Jeff Koons reasoned to Shindigger before listing the many ladies in the room he was a fan of.
"Are you a tennis fan by chance?" Shindigger prodded, and the artist nodded.
"Well, the Williams sisters have always been fantastic."
"I love Federer," his artist wife, Justine Wheeler-Koons, interjected.
Brooke Shields passed by, "Who's your tennis icon?" Shindigger questioned.
"I already married him!" she retorted with a cackle, referring to her ex-hubby André Agassi. "I've got nothing left!"