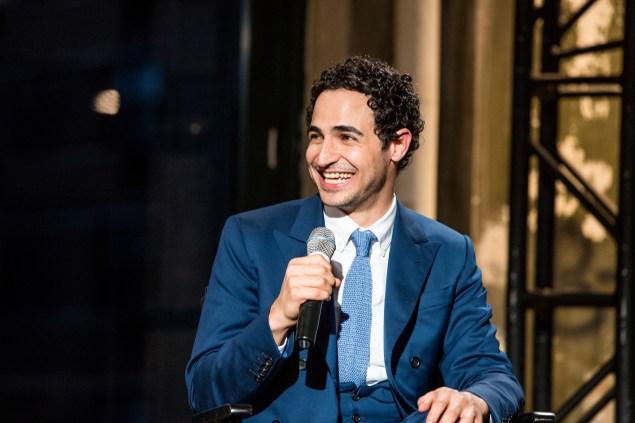 Zac Posen brought his giant smile and a blue three-piece suit of his own design to AOL headquarters last night for a sit-down with Lady Kinvara Balfour.
The cheerful Mr. Posen seemed giddy with Fashion Week Eve butterflies — or maybe he was just riding high after accompanying Heidi Klum to the Emmys last week. He gushed about the experience to Lady Balfour, saying it was an amazing experience.
"Heidi is an international superstar and I think that she is, right now especially, the princess of NBC," he dished. "It was NBC-produced, so I liked seeing how really well-treated my friend was."
Last year, he was invited to the Emmys and brought his friend Gia Coppola, who'd never done the red carpet thing before. All that changed, of course, last spring when she released her amazing debut feature film, Palo Alto, which Mr. Posen dutifully plugged last night.
Mr. Posen also mentioned a few of his own side projects. He was recently named creative director of Brooks Brothers, meaning he'll oversee the iconic label's image and advertising — "everything," he said. He also spoke of his label's own lower-priced sister brand, Zac Zac Posen, and his wedding line for David's Bridal, Truly Zac Posen.
Still, Mr. Posen remains most renowned for his stunning red-carpet-ready runway styles. Lady Balfour asked him how he determines who'll wear what each season.
He recalled his first meeting with Rachel Zoe. After he'd presented his collection, "she said, 'Please, please, please lend me a dress for this event.'" He admired her hustle — and that ambition, he said, is why she went on to turn the celebrity stylist into a celebrity in her own right.
"I like people who have an ambition and a plan and they're gonna get it done," he said. "I choose actresses that I like their performance or who they are. They can be trendy, and I take that into account, or cool at the time. But I have to have some personal bond."
Take Anna Chlumsky, for example. "I love Veep, she's great on it, and she's My Girl!"
But on Emmy night, "I didn't dress Lena Dunham in that thing," he says of his longtime friend's… er… thought-provoking awards night getup. "I fixed her. I tried. I pulled down the shirt before she went out there."
All in all, red carpet dressing "is an incredible square dance," he said. "Things fall out, things come in, it keeps moving until the last moment. Zippers break, something falls out. People get insecure. One day, I will write my LA book of experience."
Mr. Posen made it clear that he's got plenty of business savvy to go with his creativity. He realizes, of course, that most women can't afford his most decadent creations. But his red carpet moments are still his bread and butter because they boost his profile enough to create demand for his offshoot, lower-priced lines.
"That makes it fun," he said. "That's, like, the nerd-alert level."
The designer destresses by cooking for his partner, he said. Even on the day of the Emmys, he used his minimal downtime to take advantage of California's top-notch produce by visiting a market in LA. As Lady Balfour pointed out, many of his creations are sorted under the #cookingwithzac hashtag on Instagram.
Mr. Posen also shared an anecdote about his time at design school in London. Once, when he was standing in the hall at St. Martins, "Alexander McQueen walked in and smelled me and kept walking," he said with a laugh. "I was terrified."
The designer also talked about Instagram, fashion's favorite app. On his own feed, he not only posts every image himself, but also deletes homophobic, racist or otherwise nasty comments that result.
He noted that as much as he loves Instagram, there's no "click-to-buy" option and it's tough to make sense of what Instagram likes and comments mean in terms of profit. But the medium is undeniably valuable as a communication tool because it's "direct, viral and international," he said.
He was quick to note, though, that Internet hasn't necessarily killed the need for journalism.
"There's different purposes for messaging and getting information out there," he said. "The press is a trained authority and an eye. You'll always have that."
Fashion bloggers, too, have their own place in the style ecosystem. They have a major effect on accessories sales, he said. But they should be sure to stick to their own points of view and voices — no matter who's paying for the ad banners atop their blogs.
He ended the session with an anecdote about himself and Ms. Dunham, who grew up together. They wore outlandish outfits and commuted to school on the same train every day, he said. They'd talk about their clothes with the businessmen traveling downtown in the same subway car, and Ms. Dunham would theatrically deliver the daily weather report. It was during this time that Mr. Posen realized he wanted to make clothes for a living.
"I have a message that is about loving women, that is about loving your body, that is about promoting the beauty of diversity and in general about the happiness that creativity can bring you, or experience, or glamour," he said. "I wanted that message to be heard really loud and clear."