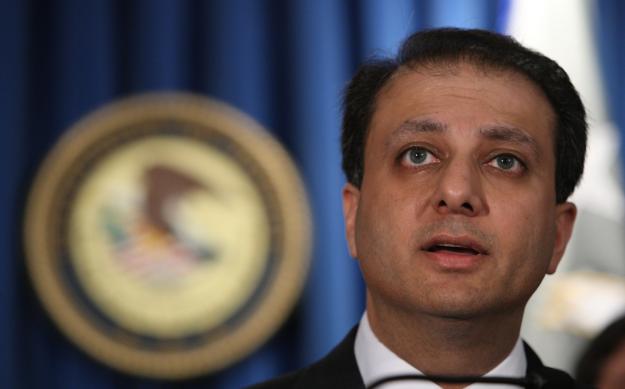 U.S. Attorney Preet Bharara is keeping mum on whether he's interested in taking over for Attorney General Eric Holder.
"Here's the problem, when you have a very proud Indian mother and a vacancy seems to be coming open, she will call the newspapers and say please put me on the list," Mr. Bharara joked during a Crain's New York Business breakfast forum this morning at the New York Athletic Club. "I've told my mom to stop calling them."
Mr. Bharara's name has appeared on numerous newspaper shortlists of potential replacements for Mr. Holder, who announced last week that he would retire after a divisive tenure leading the Justice Department.
During a question-and-answer portion of the event, NY1 host Errol Louis asked Mr. Bharara — well known for going after Wall Street banks, political corruption and most recently Rikers Island in his Southern District office — if he was interested in any recent job openings at DOJ.
"I'm very happy, and I'm doing my job, and that's all I'm going to say," Mr. Bharara said.
Asked what he believed the Justice Department ought to focus on, Mr. Bharara said he thought the agency's priorities "are pretty well set." But he pointed to the issues the he said his office was also looking at — including national security, cyber threats, and civil rights.
"I think all of those things are incredibly important. I think it's good that the department is taking a look at how incarceration is done, is taking a look at what the penalties are, is being open-minded about whether or not the criminal justice department on the federal level needs to be reformed," Mr. Bharara said.
Mr. Holder recently addressed problems with the country's prison system — though he did not mention Rikers — and the need to perhaps reconsider how often people are sent to prison given the less than optimal outcome of jailing people.
Mr. Bharara also seemed to praise Mr. Holder for pushing, unsuccessfully, to try 9/11 mastermind Khalid Shaikh Mohammed in New York's Southern District when asked whether he believed history would judge Mr. Holder right.
While that case never came to be — scuttled by unclear reasons determined decision-makers at a "higher pay grade," Mr. Bharara said — he pointed to the successful prosecution of many other terrorists in the same courtroom where Sheik-Mohammed would have been tried.
"Inn the five years-plus since I've been in the job, and the almost five years since that call was made, the career prosecutors and the JTTF and FBI agents and New York City police officers have quietly convicted terrorist after terrorist after terrorist in the same court, and held in the same holding facility, the Metropolitan Correction Center, where KSM would have been charged," Mr. Bharara said.
That includes the son-in-law of Osama bin Laden and a guilty plea last week from a man responsible for bombings in Tanzania and Kenya.
"The sky hasn't fallen, and people don't have the platform that people thought they were going to have, and five years later, we have, I think, an incredibly proud track record of trying really, really bad terrorists, convicting them, sending them to prison for life in most cases," Mr. Bharara said.
The trial against Mr. Mohammed, meanwhile, has yet to begin, Mr. Bharara said.
"And those are just the facts," the lawyerly Mr. Bharara said. "And other people can judge what should have happened in that case."